The best horror movies of all time don't stick to the rules. Surely, that strange chilling soundtrack, twisted camera angles, and amazing cast performances all contribute to a great horror movie, and the best scary movies are designed to break the mould. There are a lot of things that make horror amazing film experience, but with a touch of reality, it becomes more intriguing. The tiniest elements of truth to these stories put viewers in a cold sweat with shivers running down their spine. We have drawn up a list of horror films based on real events that are sure to have you thinking twice before you turn off the lights.
1. Ragini MMS:
One of the most controversial Indian horrors is Ragini MMS. This film is inspired by the 2007 American supernatural horror film 'Paranormal Activity' and is partially based on the real story of a girl from Delhi named Deepika. It is similarly established on Stephen King's novel 'Gerald's Game' as well. Ragini MMS is directed by Pawan Kripalani, produced by Balaji Telefilms and was released on 13 May 2011.

Image Credit: IMP Awards
In a conference with several media channels, Balaji Telefilms and Deepika revealed, that how the storyline of movie revolves around Deepkia's real-life experience. And she likewise gave an interview to Mumbai Mirror in 2011 and confessed, "Yes, Ragini MMS is inspired by what happened to me one night when I went out with my boyfriend. And I was 19 then," disclosed the girl.
Like in Ekta Kapoor's film, Deepika and her boyfriend had gone out for a weekend to an abandoned house in the outskirts of Delhi, for their first night out as a couple. Both of them faced various dreadful paranormal experiences while Deepika was shocked after she got to know that she's similarly being filmed by her boyfriend.
This film faced a lot of criticism because of its bold scenes and Deepika who inspired the film's storyline, lived a nightmare after the day they decided to reveal that Deepika is the 'real Ragini'.
2. Bhul Bhulaiya:
Bhul Bhulaiya is a 2007 Indian comedy horror film directed by Priyadarshan. It is an official remake of the 1993 Malayalam film, 'Manichitrathazhu' and was partly based on several Bengali legends. Akshay Kumar and Vidya Balan starred Bhool Bhulaiya movie was a huge hit and people loved it a lot, the film showed Vidya Balan possessed by the spirit of "Manjulika" who wanted to take revenge from the king.

Image Credit: Navbharat Times
The story of Manjulika is largely a part of Bengali legends. And according to these tales, she was an elegant Bengali dancer who came from a very poor family & was kidnapped from her country and taken to what is now India, where she learned Hindi and met Shashidhar. They both were fluent in dancing & then slowly fell in love, but she was so beautiful that even the king fell in love with her. Manjulika hated the king for many reasons and when the king proposed her, she refused to marry him. Manjulika and her lover were planning to run away, and they did the last dance for the king. Her lover bowed down to the king and the king chopped his head off! Manjulika still refused to marry, but one last thing she did is killed herself.

Image Credit: Filmy Mantra
She wrote a letter saying that she swore she won't let any king survive in that palace. Just a few days after her death the king died! but the cause of his death is unknown. This story has been made out to be a tragic love story. Thus, in 2007, Bhool Bulayia adapted this story in its plot.
3. Trip to Bhangarh:
Trip to Bhangarh is a 2014 horror-thriller film directed by Jitendra Pawar and produced by Rock N Rolla Films. The film depicts the horrifying real-life incidents of Bhangarh fort of Rajasthan. And it is likewise influenced by a thriller Hollywood film, Final Destination. In a college reunion party, six friends plan to visit this place and they come across a unique history and a number of unknown things about the place.

Image Credit: Pinterest
There is a legend of Rani Ratnavati and a tantric whose attempt to charm the princess through his black magic was defeated by her. As a result, before dying he cursed the town with forthcoming downfall and in the upcoming years, the town was entirely destroyed in various battles and calamities.
Trip to Bhangarh was not an easy film to shoot for the director and his crew. The cast and crew of the film shared some of their strangest experiences with a news channel named, India Today in 2014. The crew of the film had spooky, unusual happenings throughout the shooting. And nightmares, accidents and scary experiences haunted the stay of the film's team at Bhangarh fort.
4. Raaz Reboot:
Raaz Reboot is a 2016 Indian horror psycho-thriller film written and directed by Vikram Bhatt. The film is the fourth instalment in the horror film series, Raaz. It features Emraan Hashmi, Kriti Kharbanda and Gaurav Arora in the lead roles. In the film, a couple returns to Romania after a few years of their marriage. And they decide to spend a romantic break, but events take a sinister turn.

Image Credit: MakeMyKaroke
In a report of India.com, the film makar Vikram Bhatt made a statement and shocked everyone present at an event, where he made this disclosure that his upcoming film starring Emraan Hashmi is drawn from his personal experiences. Vikram also revealed an unusual incident from his past were an Indian based girl from Thailand contacting him through psychic meditation. And adds that his journey with the supernatural world occurs simultaneously with Raaz's.
5. Tumbaad:
"The rain never stops in the cursed town of Tumbbad." Probably the most promising horror film in India which was critically acclaimed, even being from the genre of horror. The film was directed by Rahi Barve and shot by the incredible Pankaj Kumar.

Image Credit: PinkVilla
Based on the tales of Marathi horror writer Narayan Dharap and the title coming from Shripad Pendse's novel "Tumbadche Khot", the elegant village of Tumbbad is the story of a boy who grows up obsessed with the temple's treasure. But a real Tumbad exists too. Perhaps not the way it does in the Sohum Shah-Aanand L Rai production, but it surely makes its presence known in Ratnagiri's Khed district in Maharashtra's Konkan division.

Image Credit: Rediff.com
The village is about six and a half hours away from Mumbai. According to a report of Times of India, local people in the village say that there is an ancient treasure that's buried deep underground at some prominent region in the village, but no one knows the exact location. Or more so, people are afraid of speaking about it because of reasons unknown.
6. Stree:
Stree is a horror-comedy film made in recent times which was loved by the audience and the critics too. The 2018 Indian film directed by Amar Kaushik, written by Raj Nidimoru and Krishna D. K. is a horror-comedy with a spirit and further a great motive. Amidst all the chuckles and screams there are indications regarding the role of women in Indian society. In the movie, villagers try to keep themselves away from the ghost and they paint the walls of their homes with 'Oh Stree, Kal Aana'.

Image Credit: TOI
Now, as spooky as this may sound, the story takes inspiration from an urban legend that happened in Bengaluru in the 1990s. The myth says that a witch would come knocking at people's doors every night and she would speak in the voices of their friends or family members. If they opened it for her, she would murder them. To ward her away, the town's inmates would write on their walls, "Nale Ba" which means 'come tomorrow' in Kannada. In a conversation with The Quint, the director Amar Kaushik said, that Stree is based on the 'nale ba' legend, but similarly on a combination of such myths from all over India. In that context, in today's world, there's not much better than seeing a man walking home alone at night, constantly watching over his shoulder, concerned about his safety because of a "stree".
7. Bhoot - Part One: The Haunted Ship:
It is a 2020 Indian horror thriller film written and directed by Bhanu Pratap Singh and is the first film of a planned horror film franchise. The film features Vicky Kaushal in the lead role. It is said to be inspired by a true incident that took place in Mumbai, about the 'MV Wisdom' incident in 2011, and tells the story of an officer who has to move an abandoned but haunted ship lying static on Juhu Beach.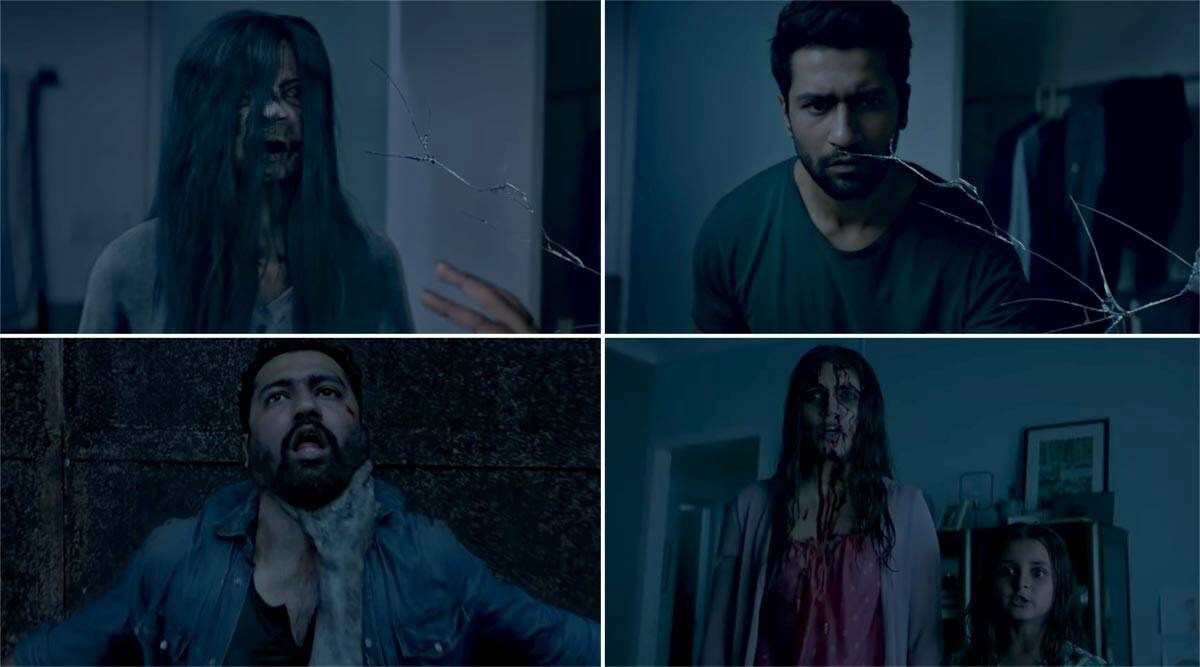 Image Credit: Quora
In an interview with Bollywood Hungama, Vicky confirmed that the incident was the "germ" for the film. "When MV Wisdom sailed into Juhu Beach in 2011, Bhanu (Director of the film) was the guy who was standing in a rickshaw and he was very intrigued by what was there and he went on the beach to click pictures," he said.

Image Credit: DNA India
Just a slight over a month later, on the evening of July 30, an unmanned oil tanker named 'MT Pavit' drift undetected into India's coastal waters before wedging itself at Juhu Beach.

Image Credit: IndiaToday
The vessel, with a Panama flag, was abandoned off the coast of Oman earlier that month despite the 77-foot-tall MT Pavit passing numerous merchant liners and navies operating in the Arabian Sea, it somehow went unnoticed. These two incidents heavily inspired the idea of a haunted ship in Bhoot - Part One.