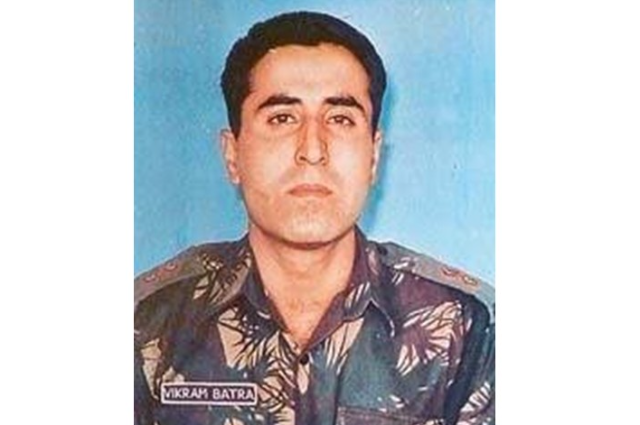 "Our Tiranga don't hover because the breeze blows it, it hovers and therefore the sniff of every soldier who expires defends it."
On July 26, 1999, the Indian Armed Forces won a tough and final battle against Pakistan. In a fierce battle, many brave young soldiers risked their lives to defend their country on the battlefield of Kargil. It's been eighteen years meanwhile, as the unrivalled bravery and sacrifice of Kargil's stars is still etched in the cooperative memory of the world. Among these many courageous hearts was a man who would be the face of all the young Indian soldiers who struggled fiercely and courageously died.
This is the story of Param Vir Chakra Vikram Batra, an incredibly brave soldier whose actions on the battlefield with great heroism. Vikram Batra, born on September 9, 1974, in Himachal Pradesh, disbursed his childhood in Palampur. The eldest of the twin sons (born 14 minutes before his brother Vishal), was the third child of Girdhari Lal Batra, a public school headmaster, and Kamal Kant, a teacher.
Well-known among schoolmates and teachers, Vikram was an enthusiastic schoolboy, an academic genius, and a keen athlete who actively participated in academic activities. He grabbed the NCC cadet in northern India, and held a green belt in karate, and played table tennis at the countrywide level. Intensely concerned in the country from a young age, Vikram was strong-minded to join the Army.
"Currency isn't the whole thing in a lifetime; I have to do something boundless in life, something immense, something strange, for my country."
Ten years later, his choice was to be honoured in a movement to print Indian Oil, which much-admired him for declining to take on a lucrative job. In 1996, his vision came correct when he negated a CDS exam with hovering colours and united with Indian Military Academy where he was chosen, lieutenant. His first task was to protect the city of Sapor in Jammu and Kashmir in the Baramulla area.
In 1999, when the Kargil War started, Vikram has finished Commando studies in Belgaum and took a discontinuity to have a good time in Holi with his family at his house in Palampur. "Don't worry. I will come back after hoisting the Indian flag with victory or I will be wrapped up again, but I will definitely come", was Vikram's response to his worried friend's words.
Shortly thereafter, Vikram's unit received orders to move to Kargil and report for duty on June 1, 1999. After 18 days, on June 19, 1999, he was given the order to recover Point 5140 in his first chief fight. The foe camp was evacuated, their soldiers were killed and 13 J&K Rifles won a strong victory that strengthened the Indian occupation in the area (and would later lead to the fall of Tiger Hill, as well as India's eventual victory).
Excited that all his men were alive, Vikram told his local commander - "Ye Dil Maange More" - using the famous slogan of Pepsi's advertising campaign to express his desire to do more. The image of a young captain, laughing out of an anti-aircraft gun taken from Pakistani soldiers, has also become a permanent feature of India's first television war.
Vikram's father will never forget the call he received on the morning of June 20. It took him a while to understand his son's vague words, crying over a satellite phone. Vikram's succeeding movement was one of the furthermost tough foothill warfare movements throughout the Kargil era - the apprehension of 17000 feet Point 4875 tall. 16000 meters tall.
On the evening of July 7, Vikram and his menfolk started their vicious hike to reinforce the Indian army, which was previously aggressive in the 16,000-foot-long [16,000 m] invasion. The foe conventional the impression that the formidable Sher Shah (Vikram's code name) had inwards and strengthened his struggle, intensifying the mud and involuntary fire from overhead. They identified who Sher Shah was - at the time, the power of a beginning military captain was a myth on both sides.
Vikram was brutally attacked, with the support of his friend and colleague Anuj Nayyar. The work was about to end when a young officer injured his legs during an explosion. As Vikram ran out of the basement to free him, his subeder begged him not to go and said he would leave. But Vikram said to him: "Thank you, hat ja peeche." (You have children, step aside)". Under heavy fire, he hurled grenades at the enemy's machine gun and killed five soldiers in a nearby battle while targeting an injured lieutenant. He had just reached out and wanted to lift his partner when he was shot in the chest
Despite severe injuries, he attacked the enemy and threw bombs to remove the position completely disregarding his personal safety, leading the way, mobilizing his men and pressing on the attack, and gaining military service that was impossible when faced with heavyweight enemy fire. However, a police officer died in his injuries. Inspired by his daredevil action, his troops retaliated against the enemy, exterminating him and taking Point 4875. Captain Vikram Batra, thus, showed personal courage and outstanding leadership in the face of the enemy and made him supreme. altruism in the peak civilizations of the Indian Army. Captain Batra has been recognized nationally for his bravery and courage. Considering his role in the capture of Point 4875, the mountain has been named the Batra Top. The Service Selection Center in Allahabad has named the hall Vikram Batra Block. The IMA in Dehradun has named the cadet riot Vikram Batra Mess.
Today, a portrait of his son adorns a square within the city of Palampur, across from a portrait of another famous soldier - Major Somnath Sharma, India's first prize Param Vir Chakra, also from Palampur.
"The enemy is only 50 yards away. Very few. We are under a destructive fire. I will not give up an inch but I will fight to reach the last and final round, "said Major Sharma, before laying down his life against the enemy looters during the 1947 Indo-Pak war. His great legacy would not have found a more worthy follower than Captain Vikram Batra, a vicious soldier who gave the nation its war cry and the younger generation its motto.
For his continued demonstration of outstanding personal courage and outstanding leadership in the face of adversity, Captain Vikram Batra was awarded the dead Param Vir Chakra - India's highest prize for military prowess. Captain Anuj Nayyar was awarded the Maha Vir Chakra - the second highest medal in the nation.
. . .