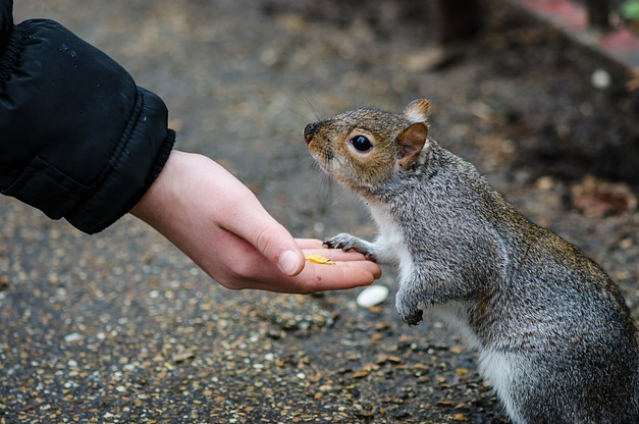 Animal rescue means any firm, person, or corporation that accepts pet animals for the purpose of finding permanent adoptive homes for these animals and does not maintain a central facility for keeping animals.

An animal rescue group or animal rescue organization is dedicated to pet adoption. These groups take unwanted, abandoned, abused, or stray pets and attempt to find suitable homes for them.
Animal welfare is the well-being of non-human animals. Formal standards of animal welfare vary between contexts but are debated mostly by animal welfare groups, legislators, and academics. Animal welfare science uses measures such as longevity, disease, immunosuppression, behavior, physiology, and reproduction, although there is debate about which of these best indicate animal welfare. Here's the short story of pretty Squirrel, the story here's. One day, Kumar went for collecting some wood sticks in the forest when he suddenly saw a little Squirrel stuck in a manmade plastic thing.
The poor animal was struggling to get out. So, Kumar gave started helping to get Squirrel out. But the Squirrel started scratching Kumar's hand. Kumar pulled his hand screaming back with pain.
The situation was becoming worst and the Squirrel was now tired, after watching that Kumar did not stop; he tried to rescue him again and again.
Kumar was with his son Ashish, Ashish was watching the scene from the end, After a point, Ashish screamed with surprise, "For god sakes! Please help this Squirrel! He's going to get himself out of there".
Kumar was shocked about him, he just continued saving that animal until he finally succeeded, And then he walked to Ashish and said, "Son, it is Squirrel's Instincts that make him scratch and to hurt, and it is my job to love and care also these manmade things always hurts these animals, so if we have such belongings then we should carry the stuff with ourself so that no animals get hurt".
Ashish and Kumar were happy seeing that Squirrel is free from the stuff and roaming around happily.
Here are some Animal welfare:
Animal Rescue & Shelter Foundation - Andheri East Mumbai
Freedom Farm, Citizens for Animal Protection Foundation in Thane
RESQ Charitable Trust - Pune
. . .
Reference: