What is Art? To my mind, Art is anything that conveys one's emotion, idea, or perspective to the world. There are seven traditional forms of art, namely – Music, Literature, Sculpture, Painting, Architecture, Film, and Performing.

Among all forms of art, the most influential form is 'FILM'.
Films are most influential because they are apparent. Especially in India, the craze for films is sky-high. No other part of the world celebrates films as much in India Here, films are celebrated as mini-festivals during the time of their release. Only a few amongst these hundreds of films are celebrated over decades and these films are called 'MILESTONES In Indian Cinema'. What makes a film a milestone? I think it's a true artist who molds an idea into an art that is later transformed into a milestone. Who is a true artist? As said by Salvador Dali – " A true artist is not inspired, but one who inspires others".
One such milestone in Indian Cinema history is a film directed by a true artist Mani Ratnam sir, Music by Maestro Ilayaraja sir, staring Thalaiva Rajinikanth, Mammotty, Shobhana, Aravind Swamy, and others; titled 'DHALAPATHI', the dubbed version of ' THALAPATHI'.
Dhalapathi - The Masterpiece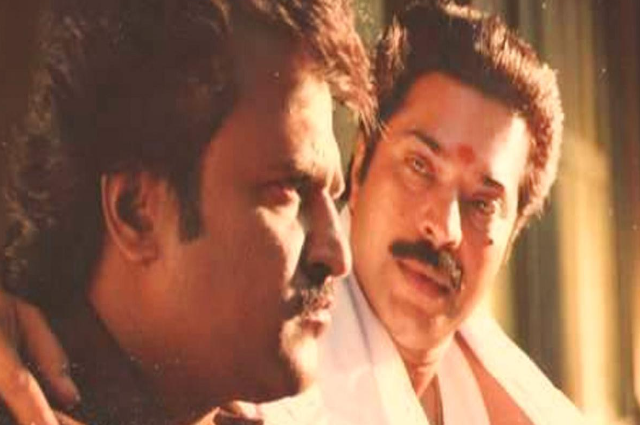 The film was released in the year 1991, it's been two decades since then but Dhalapathi still enjoys a cult fan base. This movie was the first of its kind. It marked the beginning of a new age crime drama. Presently, we are in days where even a blockbuster film streams on OTTs within forty-five days from its release, days where directors are failing to attract their language audiences to theatres, days where a film is released as 'PAN-INDIA MOVIE' in multiple languages when ticket prices are hiked to get back the invested money but at that time when ticket prices were just 10/- rupees, Dhalapathi managed to get a profit margin of 104% just by releasing it in two languages. Not just in terms of money, Dhalapathi was the second Tamil film that ran for more than a 100days in Mumbai Aurora theatre and the film ran for 66 days in Malaysia. That is the impact created by 'Dhalapathi'. Many people see 'Dhalapthi' as Contemporary Mahabharata.

Contemporary Mahabharata
Dhalapathi and Mahabharata have multitudinous reassembles. The most prominent similarity is the storyline – replicating the friendship between Karna and Duryodhana. Many renowned filmmakers recite that the character of protagonist 'Surya' in Dhalapathi is inspired by the well-known mythological character of 'Daana Veera Sura Karna'. Similarities between the character 'Surya' and 'Karna' – firstly, we all know that Kunti Devi places Karna in a small boat-like thing and lets it into a river, leaving him to his fate immediately after his birth. In Dhalapathi, the first scene itself is the birth 'Surya', and he will be placed on a Goods train while his mother sloughs him off her life. Surya has all the three traits like Karna : 'DAANA VEERA SURA'. In the initial scenes, Surya [Played by Rajinikanth] lives in a slum where he helps the people, depicting his giving nature (Daana); He fights against all odds who privileged in their area, every person who ruled over him and his fellow mates, showcasing his warrior like nature (VEERA); once he gets close to Deva [Mammotty], in a very short time he becomes his advisers and extensive strength (SURA). Though Karna knows that Duryodhana isn't fighting for a good cause, Karna prefers to stand alongside him respecting their friendship likely, in Dhalapathi, during pre-climax though Surya knows that Deva's revolution against police isn't exactly a good cause he doesn't think twice to fight for him and with him. During Kurukshetra war, though Karna knew that Pandavas were in fact his brothers, he chooses to stay on the side parallely, Surya is aware that Arjun [Aravind Swamy] is his brother diligently doing his duties, however, his actions represent his immense respect and gratitude towards Devraj.
Not just as Contemporary Mahabharatha, Dhalapathi is even well-known for its magnificent technique of articulating the story through Metaphoric shots. Sun is used as a background during most of the scenes in which Rajinikanth is in the frame; this has two meanings- one being, Sun is considered as the universal father and this is a commonality between Surya and Karna as we know that Karna is the son of Lord, Surya Deva. The train is even a character in the film; whenever Surya meets his mother, we could hear the sound of a train in the background. Not just through shots, but through song lyrics Maniratnam unveiled story proceedings.

In the song 'Yamuna Naadilo' which is sung by the character Subbalaxmi, a line tells that though Subbalaxmi and Surya love each other in the end, they can never be together in another song Singarala Pairullona', the character Deva sings a line which means that he would love to die for his friend and in the end, he dies in order not to agonize his friend's family.
Subjectively, I consider Maniratnam sir to be a daredevil. He convinced the fanbase of Rajinikanth who were expecting a commercial movie off of him were themselves made aware of the fact that Rajinikanth is not just a performer but also one of the finest actors we have in our country. This unconventional combination boggled everyone's mind and became a huge box office success. It gained praises from critics as well. Decades passed away but the movie is still fresh in the minds of every movie lover. As the saying goes fortune favors the courageous, Mani sir practically won a lottery here.
For an aspiring film director like me, Dhalapathi is Bible. It excels in all the twenty-four crafts of film. I consider myself as ill-fated because I couldn't cherish the experience of Dhalapathi in theatres. I feel Dhalapathi is for sure a film that rose the standards of Indian Film even outside India. Even after a century, I guarantee people that Dhalapathi will still be loved, worshipped, and will have the same cult fan base. It has been my lifetime dream to invent the time machine just to experience the most fascinating visual feast, with marvelous storytelling, stunning performances by actors, soothing and consequential music by our very own Maestro Ilayaraja sir, and exceptional direction by Maniratnam sir. In brief, Dhalapathi is wonderfully written, created, and executed flawlessly by all the cast and crew. If Dhalapathi has a huge fan base, I am one amongst them. In a country like India where films are commemorated, it's always a gigantic chore for anyone to build such a milestone and Dhalapathi's cast were triumphed in doing so.
. . .