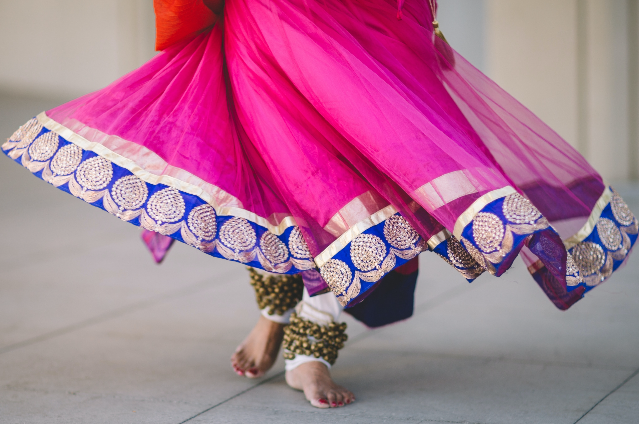 Kathakers are also known as storytellers and for obvious reasons, the ability to use footwork, hand gestures, and expressions, to feel the beats of the music through the heart and express them in the most opulent forms. Kathak is visual poetry. Kathak has survived ages and passed through generations, and still thrives. Sculptural evidence from walls of ancient temples suggests that Kathak actually dates back to the 4th Century BC. Even Mythological stories like Mahabharata give traces of this Dance Form.
The earliest text that preserves the roots of the ancient form is the popular book by the sage Bharata called Natya Shastra. However, it was during the Great ruler of the Mughal Dynasty that Kathak received its royal patronage. During this period, Kathak adopted some elements from Persian dance forms, became richer in its postures, movements and texts while still preserving its integrity and its fascinating nature. Kathakers gradually shifted from performing in temples to courts of the Mughal Rulers. It became associated with passionate, sensual, and erotic moves and the use of lavish costumes became significant. However, many among the Kathak Dancers chose to preserve the form in its purest state, away from the sheer entertainment that the eyes of the Mughals sought.

Kathak has mainly 3 Gharanas: The Lucknow Gharana established by Nawab of Oudh, Wajid Ali Shah, The Banaras Gharana developed by the Popular dancer Janakiprasad and The Jaipur Gharana developed by Bhanu Ji Maharaj.
The British Era led to the decline of this form and it was strongly discouraged. The Britishers proposed to substitute the tales of Lord Krishna and Shiva which were depicted by Kathak, and instead to substitute them with Christian Tales. During this period, the sensual and erotic expressions were highlighted which the Christian Missionaries resented and thus, started a movement to stop this form from flourishing. This movement was termed the "anti-dance movement". However, the cultural aspects attributed to Kathak remained preserved in the hearts of the Indian Family as they chose to teach their kids Katak privately, most of them boys, as the resentment was clearly directed towards "girls".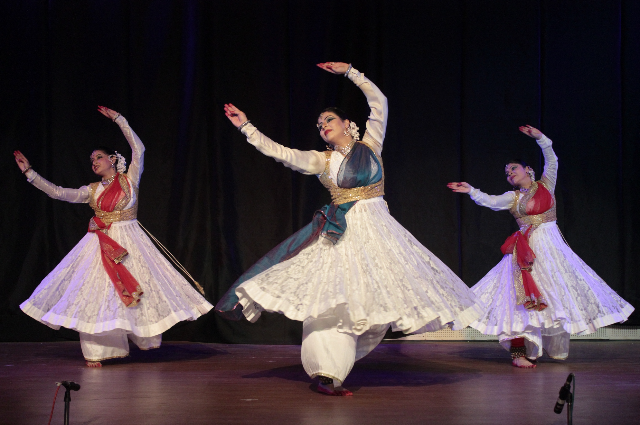 The Kathak form was revived by the royal family consisting of Shambu Maharaj, Birju Maharaj, and other such great personalities:

Shambu Maharaj: Shambu Maharaj was a teacher of the Lucknow Gharana. His father, Kalkaprasad was a Tabla wizard and his father's elder brother Binda Din was also a Kathak performer. Shambu Maharaj made his debut in 1926 in Lucknow for the All India Music conference where he had bagged the first prize. Shambu Maharaj died in November 1970 due to Throat Cancer though he had left his talents to his students namely, Uma Sharma, Maya Rao and Ram and Kishan Mohan (who were his two sons). He was awarded Nritya Samrat, Abhinaya Chakravarti, Padmashri and Academy award.


Sunder Prasad: Sunder Prasad was the guru of the Jaipur Gharana. His Father's name was Chunnilal who taught him dancing. He was also a teacher, imparting his talents as a guru for almost 30 years. He was honoured by the Natak Academy of Delhi.


Kalkaprasad: Kalkaprasad was a resident of Banaras and is regarded as one of the most beautiful dancers. His Brother, Bindadin was a court dancer of the Nawab of Oudh but he instead chose to stay at Banaras and propagate the ancient form from the place. He was best at expressing Thumri while dancing and singing at the very same time! He has three sons: Achhan Maharaj, Lachhu Maharaj and Shambu Maharaj.


Damayanti Joshi: She learnt to dance from Sitaram Prasad of Jaipur Gharana, later from Shambu Maharaj and Lachhu Maharaj. She was the first person who established the concept of wearing a "saree" as a costume in the Kathak dance. She was also a guru at a dance school in Mumbai. She was honoured with the Sangeet Natak Akademi award and the Padma Shri. She was also the guru to Pandit Bireshwar Gatum who remained a dedicated and faithful student all through his life.


Pandit Birju Maharaj: Pandit Birju Maharaj is the only son of Achhan Maharaj of Lucknow. He gave his first performance at Dehradun at an early age. He joined the Sangeet Bharati, a school in Delhi as a teacher. He has since then composed many kathak dramas and is a really great teacher. He has also been honoured with numerous awards, including the Padma Vibhushan by the Government of India. He is a really famous dancer with really great students who have won international fame. He has propagated the beauty of Kathak at an international level.


Sitara Devi: Sitara Devi was an actress, a kathak dancer and a singer as well! His father, Sukhdev earned his livelihood by teaching Kathak dance. Sitara Devi was persuaded by Rabindranath Tagore to revive the lost dance form. As per the norms of that time, Sitara Devi was to be married young, but she refused and continued her studies and passion for dance dramas. She started giving performances at a very tender age. Her debut was at the Jehangir mall. She also gave dance sequences in various Bollywood movies. She is still inscribed in the hearts of many as the Kathak Queen.
. . .