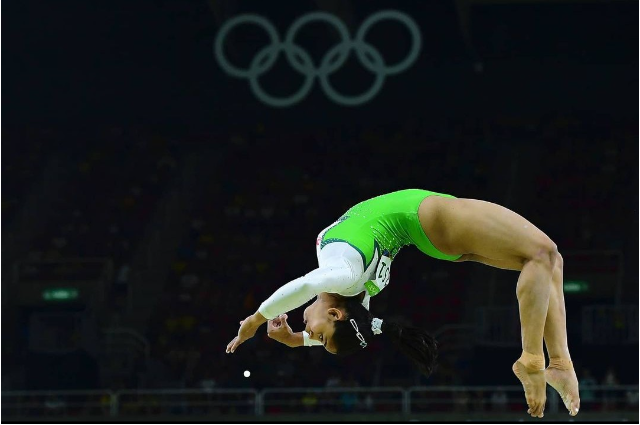 "IF YOU DON'T LEAP, YOU'LL NEVER KNOW WHAT IT'S LIKE TO FLY"

Gymnastics is a beautiful and yet most difficult form of sports. It requires balance, flexibility, and strength on equal levels. It involves lots of twisting, tumbling, and flipping. But it is unsettling to know that it's not valued like other forms of sports including basketball, tennis, football, etc. Gymnasts have to put in hours and hours of practice but recognized hardly.

THE INDIAN DIVA OF GYMNASTICS - DIPA KARMAKAR:
"I saw my coach standing and clapping for me, with his eyes filled with merry tears, in that very moment I realized that I have achieved my goal" - Karmakar
Being born in a small village near Tirupur, where no training centers, or specialized equipment was available, didn't stop this brave woman from practicing. Her father Dulal, introduced her to gymnastics at the age of 6. "It started just as a hobby, but now it turned out to be a significant part of my life," says Karmakar. She says that she used to practice eleven to twelve hours daily, and used to get hurt a lot, as she couldn't even afford a landing mat. But she never complained, No matter what misfortune and hardships lie in her way, she never stopped, and never gave up. instead, she turned them into a motivation to move forward.

Karmakar won her first bronze medal in the 2014' Commonwealth Games' in Glasgow, by performing one of the most treacherous vaults in gymnastics called 'Produnova'. Until this year, only five people have successfully mastered this skill. In the year 2016, she participated in Olympics as the first Indian female gymnast in the history of the Olympics and won fourth place. She might not have won the gold, but she won many hearts. After this glorious victory, a storm blew in her life as she met with an accident and injured her knee. She couldn't do gymnastics, not even stand. The doctors said that she will not be able to perform gymnastics anymore. Her family, friends, everyone gave up. Karmakar was crushed, but she never lost hope. She pushed herself, she fell many times but never gave up. Slowly, after lots of practice, she was able to walk again. That gave everyone around her a glimpse of hope. And slowly as time passed, she was able to do gymnastics again. " The doctors said that it was a miracle that I started to do gymnastics, as they never thought I could do it. Forget gymnastics, they didn't even think that I could walk again"… says Karmakar, with a smile on her face.

"Hope is being able to see that there is light despite all darkness"
In the year 2016, she won gold in the Artistic Gymnastics world challenge. That's not all, she also won the marvelous' Arjuna award', 'Padma Shri',' Rajiv Gandhi Khel Ratna award 'in the followed years. . She is indeed the Indian queen of gymnastics. She is a perfect example of 'Pearl in the oyster'. Her determination and perseverance are what made her. She is once again, the Indian diva of gymnastics!!!!

It's upsetting that the sports like gymnastics are not appreciated much, especially in India. Many people have misconceptions that it's an easy sport or as a sport for only girls. But they are not realizing the toil and dedication that each gymnast possesses to achieve their goals. Even the slightest disformity in their legs and balance could result in handicap disability. The mind and body should be aligned in the same way to perform gymnastics. It can be achieved only with an enormous amount of practice. But of course, no one cares about the process, everyone mind is the result. But if everyone understands how laborious the process is, that's when the sports will really be appreciated.
For some people, sports is just a hobby, but for some, it's a part of their life. So let's try to appreciate all forms of sports and all kinds of people who strive to perform and excel in it.

"IF YOU TRAIN HARD, YOU'LL NOT ONLY BE HARD, YOU'LL BE HARD TO BEAT" - Hershel Walker
. . .