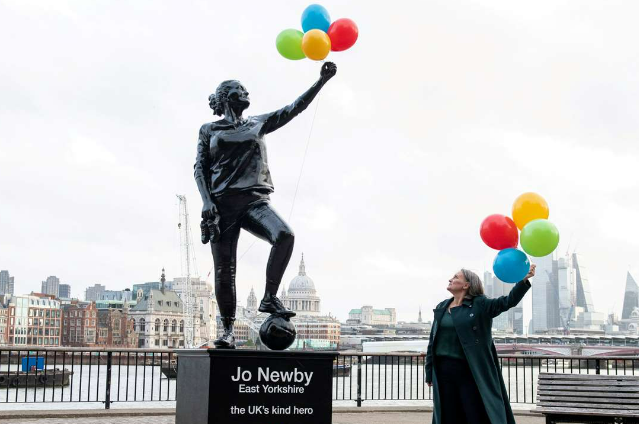 Recently, a towering statue to honour the UK's kindest hero has been unveiled on London's Southbank - and there are great chances of you not having heard of them.

The unsung hero, Jo Newby, 52, has received the incredible accolade thanks to her tireless efforts to help hundreds of members of the physically challenged community and also recognising her efforts in improving the lives of such people.
Big-hearted Jo was bestowed the honour following an extensive judging process. She was nominated by her husband in the search.
The statue was arranged by a healthy snack bar brand. It stands four metres tall and was created using 3D scanning technology and is made from recycled materials.
The design encapsulates the ways Jo has gone above and beyond in her selfless acts.
She has fostered around some hundred children to date. She also went to adopt a child. Simulatenously, she also stood by her husband while he was battling with the pancreatic cancer.
To support and help the disadvantaged, she also became a founder of competitive pan-disability teams for children and young adults in the area.
Jo's statue holds 92 balloons with one hand-each symbolising one child she has fostered and a pair of children's football boots to represent the football teams she has helped to pioneer.
She says that all her experience spent here was surreal. She says that she never stops working thinking of the larger impact it will play in.
She thinks all about is that her acts in course are making children happy and safe.
She says, 'I am so honored to be chosen as the UK's kind hero, and for my husband Chris to have nominated me without my knowing. The world is full of sadness and anger. I just hope that people can see what an impact kindness has on others.'
Her husband recognizes her as the most amazing, kind and selfless woman in the world. She being recognized as UK's kind hero brought immense pride for her husband.
She has definitely laid a phenomenal impact on countless people and on the lives she has touched.
KIND Snacks has launched the commemorative statue to inspire many more to commit more acts of kindness.
The character of Jo Newby has highlighted the fact that despite the shadiness that's spread all over, there's always something good that awaits us. It's just that we need to recognize that. We all should be happy to help celebrate someone so deserving of recognition.
. . .
References: