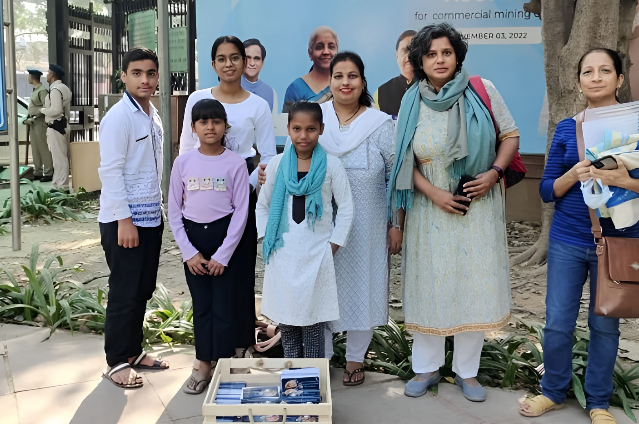 As the country celebrated Children's Day on Monday, a delegation of concerned mothers signed 4,936 postcards demanding clean cooking fuel for all and safe and healthy children for women and children.

Warrior Moms, a nationwide mother's network for clean air visited the Ministry of Petroleum and Natural Gas on Monday and handed over the postcards to the officials present there.
The mothers say that they were concerned about the issue of Household Air Pollution ( HAP ), caused by the burning of solid fuels such as wood which is used as cooking fuel in many rural and urban households across the country. HAP affects in different measures both women and young children as they are surfaced to the toxic fumes coming out of brick stoves. They face serious health consequences including many respiratory diseases. They wanted to draw the world's attention to this serious yet neglected issue.
Mothers from various states, including Maharashtra, Punjab, Jharkhand, Tamil Nadu, and Haryana signed the postcards. We often talk about the air pollution caused by factory emissions but we never talk about the pollution that happens at our places every day. Strict policy interventions are needed to ensure that everyone has access to cleaner cooking fuels. Studies have concluded that women cooking on brick stoves are exposed to greater pollution. In cities, that are badly polluted, domestic biomass burning takes up 40% of the peak winter pollution which becomes a serious issue for all.
The postcards read, 'Over 40% of Indian households cooking using dung cakes, firewood, agro-residue, kerosene, and charcoal did to the unaffordability of cleaner fuel.' The prolonged exposure to all these is turning out lethal for all the people out there. They have humbly requested to prioritize the health of women and children and cleaner fuels should be made affordable to all. The postcards that arrived have been written in several languages across India.
The Warrior Moms said that they demand the government look into the issues of access and affordability for cleaner fuels. Other renewable energy alternatives should be put into action.
The Warrior Moms have received a positive response from the Ministry of Petroleum and Natural Gas officials, who will continue the conversation to carry forward their agenda of sustainable livelihood.
. . .
References:
lifeandmore.in
timesofindia.com
www.theguardian.com