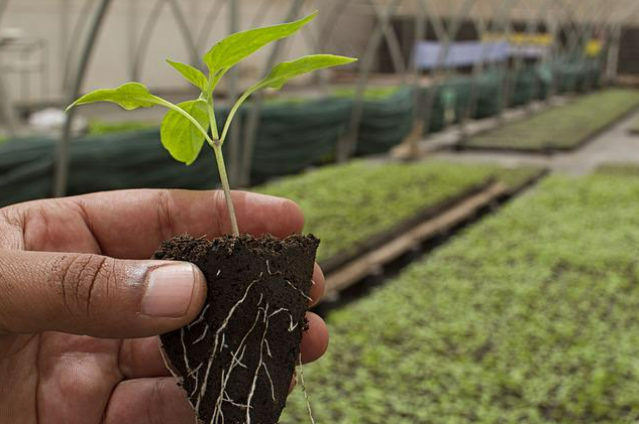 A few years before his retirement, Sureshchandra Patel started thinking of building his own house. Being a government officer, working in thermal power plants across Gujarat, he was transferred across the state for work.

His childhood was also nestled in greenery and farms in Valsad, Gujarat. Taking enthusiasm from that, he wanted to build a house on the farmland he had in Dungri, Valsad.
His affection for the farm town was obvious. But then now he had a family who had been living in an urban atmosphere. He wasn't sure that his family would be able to establish a compatibility with the countryside. To his surprise, they were more happy to move to their village.
Accordingly, the family shifted to their newly constructed farmhouse permanently in 2013. Here, they had three bighas of land which was used together for the construction of the place and also keeping space for farming and gardening.
On the farm, there were about 150 mango trees. Passionate about his gardening and farming, Sureshchandra embarked on a post-retirement project to add as many plants as possible. In nine years, he has planted more than 8,000 saplings. More than 80 variety of trees were established. The varieties that were included were like Alphonso, Kesar, Amrapali etc. He also grows fruits like guava, apple, green apple, pomegranate and jackfruit etc. Almost all sorts of plants are grown in their garden.
Sureshchandra himself grew up on a farm. They would give fodder to the cattle and the other essential requirements. He has been accustomed to the use of spade and shovel. He says that he loved that life and he finds greatness in the fact that he is reliving it.
In every government quarter where he was shifted in, he used to develop small gardens.
Sureshchandra is fond of variety of roses. He also grows other ornamental plants like Bonsai and adenium (desert rose).
Sureshchandra doesn't look his age. The secret behind this is that he waters the plants regularly and does other farm activity too which keeps him rejuvenated as doing all this was his dream.
Handling the farm all by himself although taking occasional help from the farmers. At a time when people are increasingly moving to cities, this family is enjoying farm life, living with nature. There's no pollution or traffic in the region. It's all greenery spread everywhere. Many of their friends and family members regularly visit them and all of them love seeing the progress. The family eats everything that is grown on their farms as they are organically grown.
On the roadsides even, he has attempted to employ the techniques of gardening. In some cases, the plants are in a perfect circle. There are different structures of plants in the garden.
The family has grown up eating healthy food and never ate out much. They are infiltrating the same values to their next generation. The activity keeps them channelised with energy, enthusiasm, positive and rejuvenated.
In the times of drastic climate change, people like Sureshchandra are really becoming an icon to defeat the negative outcomes of the change. Organic farming which although is in its baby stage is pampered by such great men. Let's all of us lend a hand of support to this iconic figure who lives for himself and for the world.
'If you build up the soil with organic material, the plants will do just fine.' - John Harrison.
. . .
Reference: