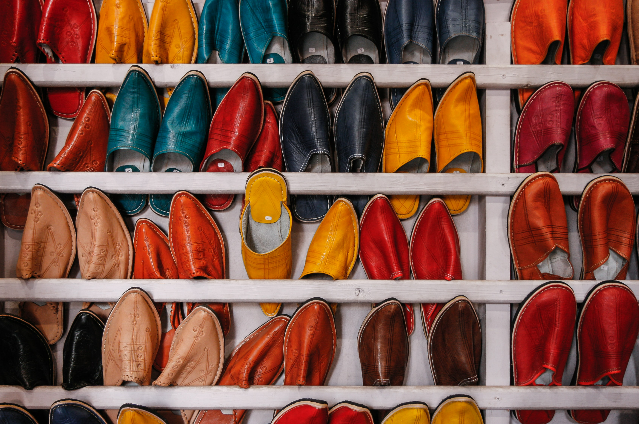 Poverty had forced Mukutmoni Moirangthem of Kakching to knit shoes for her daughter and now after three decades, her expertise has found her markets not only in India but also outside the country.

Her entrepreneurship skills and efforts to empower poor women have earned her recognition and she was awarded 'Padmashree' for her art.
Moirangthem said she had taken up knitting shoe uppers as she could not afford to purchase shoes for her school-going daughter.
Like any other woman she also used to knit mufflers or woolen socks for her children whenever she used to get some time after the household chores.
Let alone the matter of purchasing the shoes, she also did not have the purchasing power to even go for repair work on these shoes. Hence, she removed the shoe upper and substituted it with a hand-knitted one.
This innovation caught the eyes of a teacher at the school and she ordered a pair for her own daughter. And she says, 'This is how it all began.'
In the beginning, she would work with simple hand-held tools. Her hand-knitted shoes were spotted by army personnel deployed there. Some of the army members even went ahead purchasing some pairs. Then later came back to order more. She says, 'This is the way my hand-knitted shoes first made their way outside Manipur.'
Feeling empowered, she set up her own company Mukta shoe industry in 1990 and showcased her handknitted products at a trade fair in the town of Imphal. Her shoes grabbed the maximum purchase at Imphal. Later, her shoes made their way to be purchased in the capital of the country. Her shoes are sold at big fairs organised in the cities of the country. Orders have also been received from countries like Japan, Russia, Singapore, and Dubai.
The wool for the shoes is procured locally and the yarn to stitch the shoes mostly comes from Punjab. Her shoes have also found customers in Delhi, Rajasthan, and Bengal too. Currently, some 15-20 women work for her. There are times when she is unable to meet the supply as per the demands of the consumers.
The prices are not too high. It's moreover moderate on a scale.
Stockpiles of shoes are required to meet any random orders from online stores. They have to be ready for different designs, sizes, and colors. At times, financial constraints and lack of resources have hampered their endeavours. Her biggest fear is that large firms with better resources will one day copy her style and sell the product at a cheaper quality but with poor durability and quality. In the process, she says, 'Her creation will be lost.'
Here it is an appeal to all those who are reading this. Please, be empathetic for such people so that quality can win over quantity. Purchasing all the time from big firms and sometimes purchasing from such beautiful stores will not cause us any loss. Time and again, it is again proved that artwork always finds its way. Nevertheless, there are some unsung artists. Yet, we as rational consumers should learn to respect every art form as every art piece is always a masterpiece.
. . .
Reference:
m.timesofindia.com
assamtribune.com