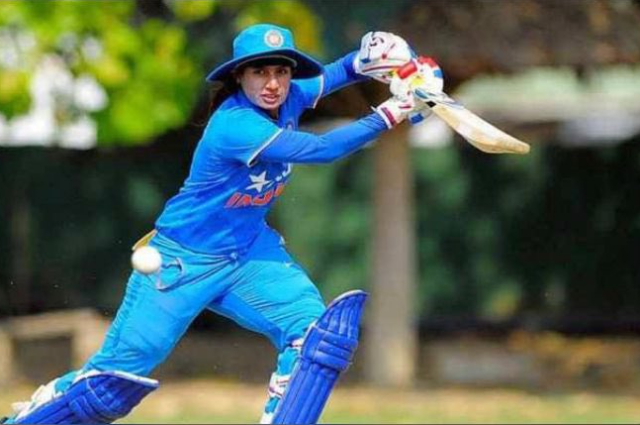 The Beginnings
Mithali came into existence on 3 December 1982, in the city of Jodhpur, Rajasthan. Being born in a South-Indian family, she had to face criticism from elders notably her own grandparents for taking part in sports because of the pre-existing mindset forbidding women from engaging in outdoor activities and forcing them to stay at home. They were mistaught that their sole responsibility was to be obedient housewives. She did her schooling at Keyes High School for Girls in Hyderabad. Later she went to Kasturba Gandhi Junior College for Women in Secunderabad for further studies. Mithali developed an interest in cricket at the age of 10. She accompanied her brother, Mithun Raj, to St. Johns High school in Hyderabad for cricket coaching. Her father, Dorai Raj, was an Airman in the Indian Air Force and it was initially his decision to get his kids out on the field. Unlike herself, Leela Raj, Mithali's mother made sure that her precious budding cricketer was kept at bay from negativity and that her daughter could be much more than just a housewife.
A Glimpse of The Talent
Mithali was analogous to every other kid, in a sense that she disliked studies. It was not her cup of tea. She used to complete her homework sitting at the boundary lines of the cricket field at her coaching. Her restlessness would often provoke her to pick up a bat and smack the balls as far as possible. The ever so innocent and happy-go-lucky striking caught the eye of the coach, Jyothi Prasad. What was so eminent about it? The prompt footwork moments before the bat meets the ball was a treat for one's eye and rare at such a youthful age. It was promising enough to persuade Jyothi that the talent must be nurtured.
Sowing The Seeds of Greatness
A 13-year-old playing in the Under-16 and Under-19 category was astonishing to think of but what came as a surprise was the ease at which she performed. She was not to be messed with. Her progressiveness earned her a call up from the Andhra state team in 1995. Jyothi Prasad suggested Dorai Raj to enroll Mithali under the head coach of the Hyderabad team, Sampath Kumar. He did not think twice and immediately welcomed her. He found her to be a future prospect for the Indian team if she puts in appropriate work.
Ever given up on your passion? It is heart-breaking, isn't it? Likewise, it was for Mithali, dance, particularly Bharatnatyam was her passion but she had to get her priorities in place and cricket was gradually garnering her loyalties. She had found a new home. She lived a disciplined and tranquil life, from voluntarily missing family functions to not paying attention to school events, one thing was persistent for her, it was cricket.
Sampath left no stone unturned to train her. The foundation of her success was laid in these determined moments, practicing with stumps to perfect her gap finding ability, using stones in place of balls for catching, practicing even after dusk and around-the-clock sessions, each bit was a part of the foreseen plan by Sampath, but not so by Mithali herself. She never lacked grit and willpower, but would often go home crying after a hefty session.
Encountering Roadblocks
1n 1997, Mithali got shortlisted for the World Cup probables camp. It was a step in the right direction but all was not well, a contrasting and poignant news hit her in a short span, her beloved coach, Sampath Kumar, had died in a motorcycle accident. She was flabbergasted and Dorai Raj took it upon himself to get her back on course.
Unfortunately, she failed to hit the lottery of the blue jersey just yet. Making an international debut at a World Cup was out of the question for such a young girl, the pressure and intensity of the biggest stage was something she could not have soaked in, officials believed. It could have been demotivating but not for the daughter of an army man. Taking positives out of this situation, she kept pushing.
The Dream is Realized
Waking up to a dream, sounds foolish right? Against all odds, a 16-year-old juvenile was inducted into the playing XI of the national team. Indeed, she had woken up to a dream, a dream which seemed out of reach a couple of years ago. On 26 June, 1999, she made her international debut at Milton Keynes, scoring an unbeaten 114 runs against Ireland in her first One Day International (ODI). The team manager had a short conversation with her before the match, reminding her of the heroics of Mohammed Azharuddin (who grew up in Hyderabad as well), he had scored three 100s in his first three test matches and hence, ignited the fire in her to deliver an absolutely commanding performance.
A year later, she joined Railways, an all-star team with the likes of Rajani Venugopal and GS Lakshmi. She was backed by the former India captain, Diana Edulji, who promoted her up the order to bat at No.3 replacing Rajani. It proved to be a morale booster for Raj as Venugopal was the mainstay of the Railways team. Boasting an average of 96 in 18 innings, she had well-established herself in the team.
On 14th January, 2002, Raj was handed over her maiden test cap against England at Lucknow. She went on to throttle the world record of highest individual test score (previously held by Karen Rolton with 209* runs) in only her third test match against England piling up a mammoth score of 214 runs. Mithali recalls, "I came back in AP Express from Delhi to Hyderabad. I was telling my friend there are so many people, maybe a minister was arriving. Later I realised they were there for me! That was the first time my mother had come to receive me. I was not used to so many people receiving me. My dad would drop me and pick me up. And, he was lost in the crowd! People had started to know women's cricket."
Twenty20 (T20) was still a fresh format and India Premier League (IPL) was not operational just yet. On 5th August 2006, Mithali stepped into her inaugural T20 International match against England.
The Guiding Force
Shanta Rangaswamy, the chairperson of the selection panel back in 2003, had presented an offer for captaincy to Mithali but she was hesitant and had declined. Her relentless stretch continued and in 2005, earned her yet another leadership tender, and rightfully so, she took it upon herself to lead the team. This was a trailer of what lied ahead.
Raj's captainship was put to test at the 2005 Women's World Cup hosted by South Africa. India walked into the semis off the back of 4 victories out of the 7 matches played in the group stages. India was up against fiery New Zealand, they too were coming in hot, with proportionate wins in the bag. Mithali led from the front scoring 91 not out and helped India post a total of 204 on the scoreboard. The bowlers racked up New Zealand for just 164 runs under 45 overs and India emerged victorious by 40 runs. Mithali was adjudged man of the match for her anchoring knock. While India concluded the tournament with a defeat to Australia in the final, Mithali had proved her mettle and as the former Indian captain, Mamatha Maben said, "We knew then that here was a role model in the making, one who would inspire the future stars." It was the commencement of a new era in women's cricket for India.
In the following year, Mithali marshalled the team to a test series victory in England for the first time. Winding up the year with an Asia Cup triumph without going down in a single match. These glories entrenched her as the paramount member of the Indian squad.
Milestones
Throughout the tenure of her grandeur career, Mithali led India to glaring triumphs and in the process of doing so, she achieved remarkable feats both individually and with the team. The most memorable conquests and records have been mentioned here:
The only captain to lead their side in two Women's World Cup Finals – 2005 & 2017.
Named in the International Cricket Council's (ICC) 2017 Women's ODI Team of the Year.
She remains the youngest woman cricketer to score a century on debut in ODIs - 114* vs Ireland in 1999.
59 half centuries in Women ODIs, the most by any player in this format.
She went on a record-breaking streak of 7 half centuries in 2017.
The first player to go past 2000 runs in the WT20Is as well as in T20Is including male and female categories.
Mithali is also known as the "Lady Tendulkar of India" for being the all-time top scorer for India across all formats.
The 5th woman in the world and 1st in India to get across 1000 World Cup runs.
Charting the ICC Batting Rankings in WODIs for several years and peaking at #1 in 2013.
Highest run getter in WODIs overall with 7,391 runs in 220 matches.
The first female cricketer to play 200 ODI matches.
First woman to play for over 20 years in women's cricket.
She left behind Charlotte Edwards record of 10,273 runs to become the highest run scorer in women's international cricket.
Awards & Recognitions
The enduring splendor displayed by her over the course of her commitment towards the country and the sport has earned her numerous prestigious accolades.
Arjuna Award – 2003
Padma Shri – 2015
Youth Sports Icon of the Excellence Award – 2017
Vogue Sportsperson of the year – 2017
BBC 100 Women – 2017
Wisden Leading Woman Cricketer in the World – 2017
Khel Ratna Award – 2021
Retirement and What is next for her?
Raj publicized her retirement from the shortest format of the game in late 2019 and her zeal to lift the Women's Cricket World Cup trophy has her sedulously training to bring the cup to India. It is speculated that the Women's Cricket World Cup 2022 will be the final frontier in this sporting chapter of her life. Mithali has refused to comment about retiring from the sport but she acknowledged that the World Cup in 2022 will be her last major championship event in Indian colors.
Mithali has pioneered women's cricket in India for over 20 years and her serenity on and off the field has been hailed by many. Her undying moral fiber has ushered and inspired her close ones and aspiring young girls for generations. She continues to elevate the benchmark set by herself and henceforth, has become a role model for budding cricketers around the globe. She is rightly accredited for revolutionising women's cricket in India.
. . .
References
Quotation Citations:
(1) Telegraph India.
(2) The Cricket Monthly.