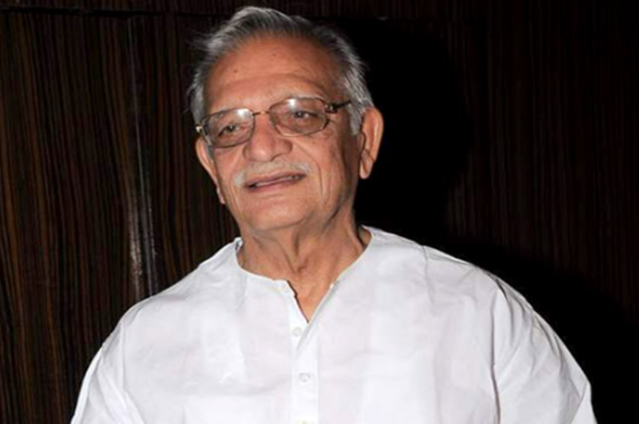 थोड़ा सा रफू करके देखिए ना
फिर से नई सी लगेगी जिंदगी ही तो है
A simple yet beautiful masterpiece by Gulzar, his name has kept ruling the hearts of millions over the generation. He is a writer, filmmaker, lyricist, and poet who has captivated India with his talent and even won international acclaim. His poems are so beautiful that anyone who reads it feels the depth of it and his lyrics show how poetry and music share a long history of mutual inspiration. This article covers the story of Gulzar Sahab, the man who truly has his way with words.
रोज़ रोज आंखों तले, एक ही, सपना चले, रात भर काजल जले आंख में जिस तरह ख्वाब का दिया जले

THE BEGINNINGS:
Sampuran Singh Kalra, who writes under the pen name of Gulzar was born on 18 August 1934 in Dina village of Jhelum district in undivided India, now in Pakistan popularly known as 'the birthplace of Gulzar, the author from India'. His father's name was Makhan Singh he ran a small business. Gulzar's mother died when he was an infant and his stepmother did not treat him well. Therefore, Gulzar spent most of his time in his father's shop. He was not very interested in textbooks and failed in intermediate, but he found his vocation in literature. From childhood, he was deeply connected with Rabindranath Tagore and Sharat Chand who were his favorite writers.
लगता है जिंदगी कुछ खफा है, चलिए छोड़िए कौन सी पहली दफा है
COMMENCEMENT OF WRITING CAREER:
Love and enthusiasm for literature, poetry, and Shayari started to boil while Gulzar was only a child and in school in Delhi. He participated in Shayari competitions whilst his love and interest in poetry started. Soon after, he adopted the pen name Gulzar, meaning 'rose garden'.
At the age of 10, he discovered Tagore through an Urdu translation of "The Gardener" and instantly fell in love with his poetry. He said " Jis insaan ne mujhe ye kitaab di use ye nahi pata tha ki vo meri zindagi ko ek naya mod de raha hai. Us din ke baad se kitaabon ki meri talaash badal gayi." Since his first encounter with Tagore, Gulzar has read a number of works and considers Tagore to be one of his greatest inspirations. He believes that even the translations by Tagore himself do not do justice to his original works in Bengali. Gulzar's fascination with Bangla grew in the company of Bengali friends at school and also later in life he married a Bengali."Writing love letters to my beloved in Bengali made me more fluent in the language and I think that's the perfect way to learn a language. Fall in love with a girl who speaks the language you want to learn," Gulzar chuckles.
दिल में कुछ जलता है शायद धुआं धुआं सा लगता है|
आंख में कुछ चुभता है शायद सपना कोई सुलगता है||
HIS BEST WORKS AND AWARDS:
Gulzar Sahab is such a magnificent writer that it would be difficult to select some of his works. His writings are considered the landmark of Indian cinema. His penmanship manages to evoke an enchanting feeling even years after the creation. Let us dive into some of the best works that earned him a lot of fame.
As a poet: Gulzar is a significant presence in the world of Urdu poetry. His poems have been translated into various Indian languages. His best poems are contained in the books mentioned below,
Raat Pashmine Ki (Urdu and Hindi), Rupa& Co., New Delhi, 2002
Triveni (Urdu and Hindi), Rupa& Co., New Delhi, 2001
Chand Pukhraj Ka (Urdu), Rupa& Co., New Delhi, 1995, (& Asateer Publishers, Lahore,1993)
Kuch Aur Nazme (Hindi), Radhakrishna Prakashan, New Delhi,1980
Jaanam, Vanagi Publications, New Delhi, 1962
As a lyricist: Gulzar Sahab has a passion for music and art. His lyrics have made Bollywood movies and songs more meaningful and magical for almost six decades. Since starting his career as a songwriter in 1963, he has worked with several generations of filmmakers, music directors, and actors. He has penned the lyrics of some of the most popular and evergreen Bollywood songs while also being a dialogue writer par excellence. Some of his lyrics which earned him recognition are:
Humne dekhi hai un ankhon ki mahakati khushbu
Haath se chhu ke ise rishton ka ilzaam na do
Sirf ehasaas hai ye ruh se mahasus karo
Pyaar ko pyaar hi rahane do koi naam na do from film "Khamoshi" (1969)


Tere bina zindagi se koi, shikwa toh nahi
Tere bina zindagi bhi lekin zindagi nahi from "Aandhi"(1975)


Woh yaar hai jo khusbhoo ki tarah, jiski zubaan Urdu ki tarah,
meri shamo-raat meri kaynaat woh yaar mera saiyyaan- song chhaiya chhaiya from "Dil se" (1998)
Apart from these he has written songs for various films such as "Aashirwad (1968)," "Mere Apne (1971)," "Namak Haraam (1973)," "Khubsoorat (1980)," "Rudaali (1993)," "Slumdog Millionaire (2008)," "Raajneeti (2010)," "Jab Tak Hai Jaan (2012)," "Raazi (2018)," "The Sky is Pink (2019)," and many more.
As a director: "Aandhi" is possibly one of the best movies Gulzar ever directed. Also "Mirza Ghalib"- not a film but a TV serial that would remain a timeless classic and one of their masterpieces created by him. There are so many more amazing movies directed by him such as "Angoor", "Parichay", "Koshish", "Namkeen"
Although he stopped directing movies after "Hu tu tu"(1999) because according to rumours the producer of the movie cut many scenes during the edition which Gulzar Sahab wanted to keep. This made Gulzar Sahab lose faith in the system where he did not have the final say in the scenes/script.
His Feminist Crux: Gulzar has also written strong female characters for films like Namkeen and Ijaazat. His feminist side is evident in Baaghbaan. Once asked why he wrote, Tagore attributes his poetic impulses to the virahani naari (a lonely woman with unrequited love) who resides in his heart, a woman who compels him to tell stories of longing and separation. Through Poems for Baaghbaan, it is the virahani naari in Tagore's heart that cries out in anguish.
AWARDS AND RECOGNITIONS: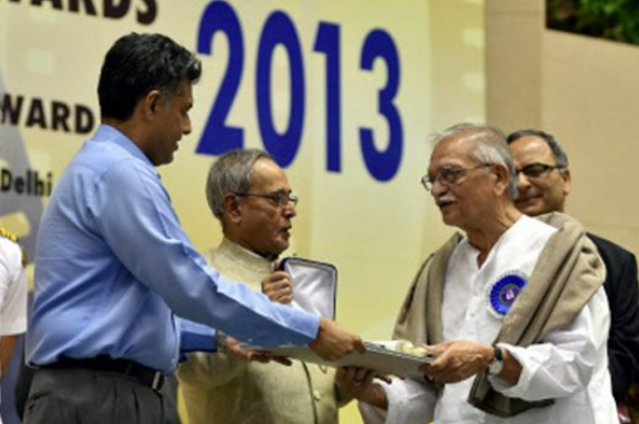 कब आ रहे हो मुलाकात के लिए मैंने चंद रोका है एक रात के लिए

I AM CONVINCED THAT GULZAR SAHAB'S PEN USES GOLD INSTEAD OF INK
The beauty of his lines and the power of his imagination make him India's most sought-after lyricist and poet. His incomparable writing reaches into the deepest recesses of your heart and leaves your soul captivated. Such is the magic of Gulzar Sahab's writing I've carried his songs, memories, and ridiculous flights of fantasies like treasures from my past. They've travelled with me from childhood into adulthood, and I hug them close as I navigate a wildly confusing world as a grown woman.
. . .