Poetry. The word evokes different thoughts in different people's minds. On one end of the spectrum are those that take to poetry like a fish to water. On the other end are those that think poetry isn't for them because they don't get it. But here's the newsflash: poetry is for everyone. The forms and styles of poetry vary, but the undeniable truth that remains underneath it all is that poetry is an expression of life. The poet might only have expressed her own life in her poem, but because people relate to her words, poetry opens up a universal fellowship that transcends all boundaries.
The oldest known poem in the English language is said to be Bewoulf. The poem talks of a heroic warrior and his legendary exploits against monsters and dragons. We in India have our own much-loved epic poems in the form of Mahabharata and Ramayana. But even before our civilization came up with the written script, poetry flourished in the form of songs and ballads among the various cultures across the world.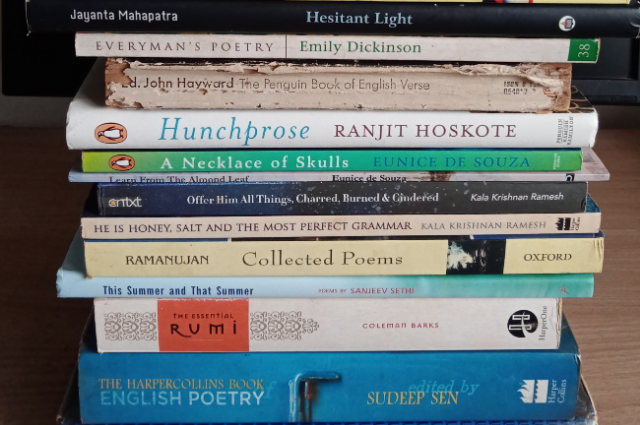 In what follows I present five reasons to substantiate my take on poetry being for everyone. Here's reason number one: Hope. The vagaries of the Covid pandemic are still fresh in our minds. This was the first instance in the modern times when the entire world was beset with an uncertainty of such gigantic proportions. In the face of disillusionment and our reckoning with our mortality, our helplessness was vivid. This was the time when poetry came to the forefront to offer hope. The literati the world over put their pens to paper to come together as humanity, and what I want to highlight here is this poem by Jane Hirshfield written during the early days of the pandemic titled Today, When I Could Do Nothing. It is a poignant poem where Hirshfield, probably speaking for all our vulnerable and fragile selves, says with her characteristic self-awareness and humility:

Today, when I could do nothing,/ I saved an ant.
Love. I want to offer love as the second reason why we turn to poetry. Widely regarded as the greatest poet in the world, William Shakespeare is said to have written his sonnets for his love-interest. Written more than four centuries ago, these sonnets are much quoted even in the contemporary. The extent to which Shakespeare was besotted with his partner is evident in the opening quatrain of his Sonnet 18: Shall I compare thee to a summer's day? Another English poet Edmund Spenser wrote Epithalmion, an ode for his bride to celebrate their wedding. This poem, is even to this day, regarded as a noble wedding hymn par excellence. Not to be left behind are our very own Bollywood lyricists who elevate their words to a level that make us sit up and take notice. Majrooh Sultanpuri wrote:
Bahon ke darmiyaan do pyaar mil rahein hain
(In the space between a hug, two loves are meeting)
When we listen to this song, we don't necessarily need the lead actors on screen to convey the inherent sensuality. The magic here is in the poetry.
Loss. An inevitability of human life is loss, and poetry has time and again helped us deal with the loss of our loved ones. History is a testament to poets writing elegies and monodies on the deaths of those they loved, and these poems have passed on into posterity cementing their places as masters of verses. The most famous poem that springs to mind here is Elegy Written in a Country Churchyard by Thomas Gray on the death of his friend Richard West. In times when it feels like the ground beneath our feet has disappeared, poems like these offer us succor and hold us together.
They say, the only thing constant in life is change. Accordingly, our lives continually give us new experiences. It is the bedrock of such experiences that determines the direction of our lives. These momentous experiences deserve commemoration; they need to be recorded. Barack Obama made history when he won the US presidential election in 2008. He was the first black president the United States ever had. The world was buoyant with optimism at this change. Correspondingly, his presidential inauguration was marked by Elizabeth Alexander's Praise Song for the Day to signify the epoch making day the world was witnessing.
Still on the track of witnessing, I offer attention as my fifth reason for poetry being integral to all our lives. Attention at the personal, everyday, mundane level. We like big, spectacular things, but in the fast paced lives most of us live, we forget that everything big and spectacular starts small. It starts with paying attention to the small things that constitute our lives. Mary Oliver, the American poet, passed away in 2019 at the age of eighty-three. Her life and her poetry were shining examples of her fidelity to attention. She wrote:
To pay attention
this is our endless and proper work.
And elsewhere she gave us a succinct primer on how to live.
Instructions for living a life: Pay attention. Be astonished. Tell about it.
Hope. Love. Loss. Change. Attention. Pretty basic things, one would say. It wouldn't be an exaggeration to say there can't be even one person alive who isn't affected by these things. To be alive is to feel. And poetry is an expression of these very feelings. And so I say poetry is for everyone.
On this wide general palette I presented above, there are individual hues that appeal to each of us depending on our temperament, mood, life situation and multiple other factors. A common metaphor used to signify our short stay on earth is the journey. The metaphorical journey aside, we also undertake literal journeys when we feel lost and need to sort our heads. If in that spot, take Arun Kolatkar's Jejuri as your companion. He will have a thing or two to advice you. Talking of advices, Eunice D'Souza has one especially for women who are bewildered at where their romantic relationship is headed. Upto you how you read her, but D'Souza declares: "Keep cats". Still on advices, how can one forget Khalil Gibran who gave us the ever pertinent nugget of wisdom to navigate life when he said: "Let there be spaces in your togetherness". Or maybe there are times when you wonder where home is. Arundhathi Subramaniam wondered too as she desired a hospitable home that could be worn lightly. And there are the big grand questions of our lives pertaining to our existence and the meaning we accord to it – how do we make sense of it all? Good for us, there's Rumi to handhold us as we work through our thoughts, waiting for something to crystallize out of that tangle in our minds. "Out beyond ideas of wrongdoing and rightdoing,/ there is a field. I'll meet you there", he wrote. As always, we interpret Rumi the way we can and the way we know. And that is precisely the beauty of poetry. It lets us make our own meaning. As in life, we are the creators and composers of meaning here, and poetry, by telling the truth slant (as Emily Dickinson said), makes us rise above the things that hold us back. No wonder then that poetry has its roots in the Greek poiesis which means: to make.
To make a self, a life, a world. To make things better and beautiful. That's the power poetry gives us. The conviction, as Robert Browning implored:
A man's reach should exceed his grasp, or what's a heaven for?
Or closer home, and closer to our times, as Prasoon Joshi proclaimed, exhorting us to believe:
Abhi abhi hua yakeen
Ki aag hai mujhme kahin
Hui Subah main jal gaya
Suraj ko main nigal gaya
(I now believe
There is a fire in me
It dawned, I am burned
I swallowed the sun clean)
To swallow the sun, to birth a new self, to birth a new world. Onward and upward. That's poetry for us. That's poetry for being. That's poetry for becoming.
. . .