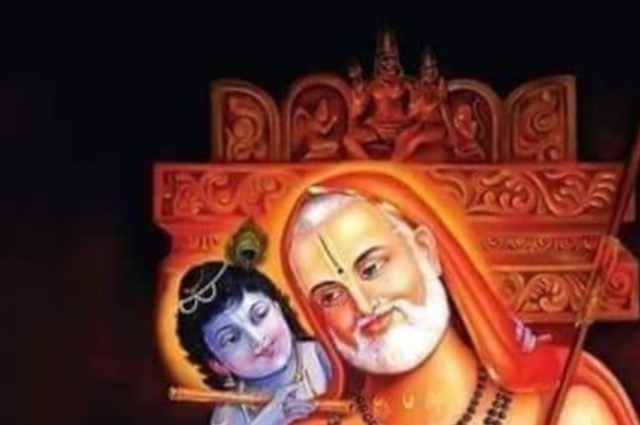 In this Kaliyuga, he is one of the great and most famous Hindu religious Dwaita philosophic Guru who enlightens the core principle of 'Hari Sarvothama and Vayu Jeevothama' to all people. He is 'Aparoksha Gnani' who knows past, present & future.

Sri Sri Raghavendra Swami always has a special place among the Dvaita priests. Even today, Sri Raghavendra Swamy is the most revered and most powerful Guru in all over the world.
His Parama Guru (Guru's Guru) was Sri Sri Vijayendra Tirtha. What is strange about this is that Sri Sri Vijayendra Tirtha is a disciple of Sri Raghavendra Tirtha's previous incarnation Sri Vyasatirtha. When he incarnates as Sri Raghavendra Tirtha, Sri Vijayendra Tirtha becomes his parama guru. What a weird look. Guru as Disciple and Disciple becomes Guru. Its Wonderful coincidence beyond our imagination.
"Deverendare Tirupati Thimmappanu ...
Gurugalendare Mantralaya Raghappanu ... "
(Just as the deity refers to Tirupati Venkatachalapathy, the Guru refers only to Sri Sri Raghavendra Swami)
"Sangu Karnakya Devastu Brahma Sapasya Poothale
Prahlada iti Vikshyatho Pooparaksha Pane Radhaha
Sa Eva Raghavendraksha Yathirupena Sarvatha
Kalavyuke Ramaseva Gurvan Mantralaye Pavath "
- Nrusimha Purana
In the Brahmaloka, the deity Sri Sangukarnan for not bringing flowers and pooja material on time to Brahman's Vishnu Puja. Because of that, he was cursed by Brahmadeva. So he took 3 incarnations to get rid of Brahmadeva curse viz, in the Krutha Yuga he became Sri Prahlaatharaaja, in the Dwapara Yuga he became Sri Paahligaraja and in the Kaliyuga he became the two incarnations, Sri Sri Vyasaraja Tirtha & Sri Raghavendra Tirtha respectively and fulfills all of our desires with the help of The Supreme lord Sriman Narayana.
Born in 1595, In South Arcot District Bhuvanakiri which is located near Chidamabarm in Tamilnadu to the pious Brahmin couple Thimmanna bhatta - Kopikambaa in the Balgunasukla Saptami Tithi Mrigasheersha Nakshathra with the blessing of Tirupati Sri Venkatachapathy. Many auspicious signs appeared when he was born. His previous incarnation, Sri Vyasatirtha was worshiped Tirupati Venktachapathy for 12 years continusly. As a result, by the grace of Sri Venkatachalapathy, the same Sri Vyasaraja Tirtha was born as Sri Raghavendra Swami in his next incarnation.
'In the future, Maanchaala Village will be world famous. It will be glorified by the tomb of a famous person'. The same was predicted in the 13th century in the 20th chapter of the Sri Sri Patha Sri Vallabha Charitamrutham, then we can understand his immense fame.
His Unimaginable Miracles
He was very poor in his early days. When he was in the grip of poverty, he was ridiculed in a house especially for not having anyone to grind the sandalwood. While grinding the sandalwood, he chanted the 'Agni Sukta Mantra' those who anointed it were irritated all over their body and he subsequently chanted the 'Varuna Sukta Mantra' then everyones irritability subsided.
One of his disciples wants to marry and ask for his blessing. He also gave him a handful of soil and sent him back and instructed him to keep it safe. He was lying on the porch of a house with it. A woman in the house had given birth that day. When a Brahma Rakshasan came to kill the child, the soil given by Sri Raghavendra Swamy stopped the Brahma Rakshasan and protected the family. That is why even today in the Mantralaya Moola Vrindavan this sacred soil is offered under the name of 'Srimruthikai' and cures incurable diseases and ailments immediately.
Venkanna, an illiterate herdsman boy, into 'Diwan Venkannapand' Through this Venkanna he got the Village of 'Maanchaala' (this is the holy land where Prahlada performed Yajna in his previous life) given to him by the Nawab of Hyderabad.
He kept the dead child alive while he was doing 'Sri Moola Rama Pooja' at his devotte home.
The meat sent by the Mughal Emperor to test him was turned into beautiful fruits and fragrant flowers.
He is fulfilling the legitimate demands of millions of devotees with the help of Sri Hari who worships with pure Bhakti, Faith and Devoation.
Salivakana Sakam in the year 1671, Sravana month, Krishnapaksham, Dwitya, on Thursday Supreme Lord Sri Krishna Paramatma took Vrindavana through his hands into the temple of Sri Mantralayam located on the banks of the Tungabadra river. He is the third Dwaita pontif who enters Jeeva Vrindavan prevesam after Sri Sri Jayatirtha (Incarnation of Arjuna) and Sri Sri Vadiraaja Tirtha (Ruju devata's incarnation).
Even today, Manthralaaya is one of the world famous temple and thousands of people are visiting daily for getting blessings of Sri Guru Raghavendra Swamy.
Mantralaya Temple address


Sri Raghavendra Swamy Mutt,

Mantralayam, Adoni(Dt),

Kurnool District, Andhra Pradesh, India.

Phone: +91-08512-279459
Poojyaya Raghavendraya Satya Dharma Radayasa |
Pajadam Kalpavrukshaya Namadam Kamadenave ||