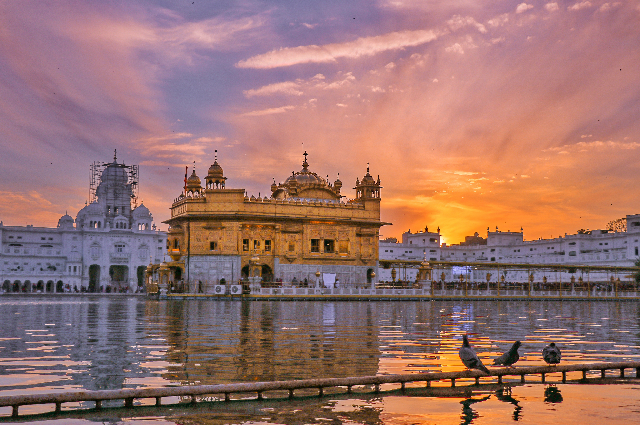 I recall refusing to go,
remember brooding on the way.
Took my shoes off, washed my hands,
wanted it to be over.
I stepped, distrust in my head,
"what's going to change"?
My mother, conversational as ever,
stepped ahead of us.
A "boy" reading "Guru Granth Sahib",
captured my ears, not my eyes.
A woman with chunni on her head
sat far from that "boy", eyes on the ground.
Moving, adapting to the harmony,
I sat on my knees, peaking at the samadhi.
A moment,
it drew me to notice.
The "boy", granting me the chunni,
exposed head, considered bad in Gurudwara.
His chants continued,
my mother and sister recited and moved away.
I sat quietly, letting the pain take over
until tears went down.
Masking my face, a woman crossed by,
muttering something.
I wasn't ready, I wanted some time alone,
informing my sister, I stayed.
They left, I remained at the end of the hall,
now, noticing the "boy".
His moderate phrases, "bewitching",
the truce overflowing in my body.
The need of staying longer and receiving peace,
caused me to gawk at the samadhi.
Words became heavy, eyes became distant,
not lacking anything.
The joy, the tranquillity inside the hall,
composed me to recognize and forget.
My obstacles got known and evaporated,
the truth of reality was exposed.
I asked God why, how, and what,
all around me, acts as a prison.
I'm caught, the normal is too much,
an escape seems inaccessible.
More women came young girls and boys,
with no patience at all.
The chants, undisturbed as chatty women, arrived,
their behavior disturbed me more.
Their delight, greed, all discovered to me,
their real self, it told me.
My head and thoughts,
made me feel like I'm losing.
Not even a minute, they spent with him;
they came and quickly went by.
Kneeling, praying, and pleading,
they did it all.
One by one, Young or old, they all want something,
entirely for themselves.
That's when I noticed a similarity,
between the Lord and me.
Alone, we both,
or maybe that's what he seems to me.
Everyone comes and goes, asks and gets,
but not everyone stays.
A few minutes the lord gets, "their children"
for something, are always late.
All around the world,
it happens, the same.
How do we never wonder?
what does God want?
Maybe an incredible memory
or a little chat "the God craves".
That's how I saw our creator,
powerful, giving, everything, and "alone".
The truth of reality, wondered in mind,
even the richest pray.
But all want something,
not trying to give.
A shiver of peace ran in me,
the joy I got, set me free.
I'm happy suddenly, to know that I stayed,
free from the world, now, and not afraid.
. . .