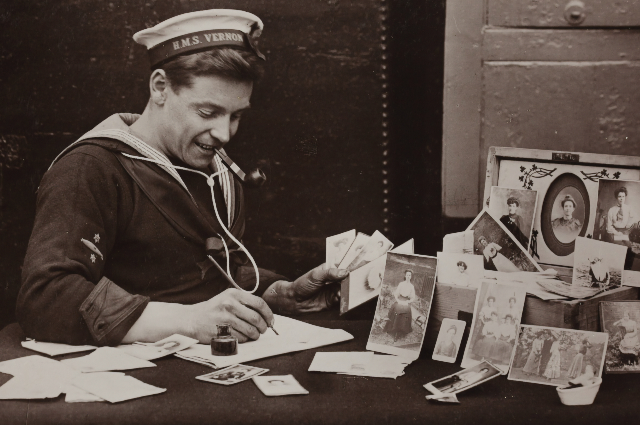 Upon the waters...

Amidst the waves...
Slicing through harrying winds...
Where no one dares...
There was a Sailor...who thought of snow...
"If it was everywhere...Can my men row?.."
"I see a desert...but with white sand..."
"This ocean turning into...some squishy land."
"Why did I think this?...
Afar from shore...
Is it December?...
Wish I were home..."
"But I ain't got a missus....
No toddler scavenging the floor...
No tree with glitters...
No fire lighting up the fore...."
"These seas are my home"...
Said the matelot aloud...
"Aye Aye Captain"....
His crew never had a doubt...
"What if it truly snowed....
And the boat had to yield...
High waters all frozen...
To the nature, we men heed"....
"I am glad that we traded some cocoa for Royal silks of the East....
For this blizzard is crunching on us like a mangling beast...:
"What if the dust of water started to fall...
I can't stop dreaming this much...no time for me brawl..."
"Tis just a deliberation, don't dwell in it my sire...."
"Can't help, I'm neck deep into these thoughts, just let them transpire...."
"On a stranded boat, in the middle of nowhere, what am I to do?...."
"Even if I were a Shellback, this flurry has to thaw to get through..."
The intuitive sailor kept on day dreaming, his self installed near the bow, though staring at the horizon vacantly, he was indeed gazing at his own presumed reality, wonderful yet a bit chaotic, when suddenly a pronounced wave hit the vessel dragging him back under the sun in a jounce.
As if awake from an untimely recess, the amateur master, hoping to see the truth he desired, manoeuvred his fingers into the pocket of his not so weather beaten coat...to find the compass.
There was something else too in there, besides, but it has to wait for some more time to be felt by the moist palm of the voyager.
That piece of metal was pointing north, though a bit skeptically, but enough to assure the inept seafarer to go back into being recluse.
And then he dreamt.... again.
On the frozen ocean, in a gallop....
the sailor landed, with a shawl, his self all wrapped....
He left his men, but with inspiriting hope...
That he'll get some bread, from down the slope...
An Igloo is what he was hoping to see...
A cozy household on this tundra sea...
He marched, he slipped, he jumped, he flipped....
Not knowing the ends of this blazing cold sand....his heart skipped...
Foraging the void of this antithetical dry land....his mind tripped...
It is not a jiggity jig for a sailor, to voyage the imaginary Arctic, when on the sea, in the middle of nowhere, especially when out of mind.
Though lost himself, for a fleeting while, he found an imaginary adventure to bask in where he was limping through the ice bed, not noticing that he crossed a pole which read North.
God knows why this has anything to do with his transitory theoretical quest but in a few yards, he saw a cottage drenched in snow, with a femerell jutting upwards from the burdened roof, smoke scooting out, like the kalian from the lips of the Persian sultan with whom he had the privilege of doing some barter trade, when all things were normal and he was not lost in this kind of detailed delusion.
But there isn't any need to go that far, as his mouth too was manufacturing visible breath, but the only vice is that what the chimney made, looked a trillion times cozier to the eyes of this hungry and novice nomad.
Somehow, he crawled through, to that alluring house, but didn't knock the wooden door, as he wanted to see first who inhabited that haven and so he went near the windowpane.
That house was emanating radiance like it was on fire, not devastating but just warm.
Even from the crevices of that timber entrance, assuaging light was oozing. The whole house was like a fire fly. On that cold, dark, abhorrent wasteland, only a tiny speck. But if we try and catch one, within our almost closed palms, it would be glimmering and he knew this feeling, somehow.
A layer of light was smeared all over his pale and stiff face, as his eyes were breaking in through the glass into that cottage, looking for an inviting living entity.
There was a table with bread and butter for two. He was starving.
There were more fluffy loafs waiting in the translucent cupboards.
His men were hungry too.
Something hot was brewing up in a pot on the stove.
He was thirsty.
His men too are, well.
With some heavy footsteps, a man slowly walked into his vision, to the stove, stirring what seemed to be hot chocolate.
Big, round, dressed in all red and a funny hat, with luscious and flowing white beard, he looked like a man who is all about extravagance.
Nothing like this wise sailor, who has seen the world and got bored and started roaming the avenues in the clandestine depths of his conscious.
That old man was murmuring something.
"No, humming" he guessed.
But in fact, he was singing.
And those lines were faintly audible to him - "Upon the waters...
amidst the waves...
Slicing through harrying winds....
Where no one dares....
There is this sailor...who thought of snow...
Which froze the ocean...making it all shore....
Struck in the coldness....
He called this a wasteland....
Not knowing a tad that....
This is my homeland.....
Well I don't mind him, calling it so....
Many a times, even I close the door....
Out of the millions, or even more....
I owe him a toy, before he grew old....
This is a bid to appease the kid...
mistakenly hiding under his heart's lid....
Oh my lad come in...let's have a drink...
I don't have your usual...notice my wink...."
The sailor trembled, not because of the blizzard or any kind of fear, but with nostalgia.
His heart was pounding with happiness though draped in sorrow.
And he doesn't know why.
But he was sure it felt that way.
He ran inside the home, and hugged the merry old man who was ready with open arms like an aborigine white bear.
As they snuggled, that old man whispered in a crunchy tone "it is December, my lad".
They laughed, in delight. Ate and yackety yakked, as the pint-sized elves served the Mariner's crew edibles and warmth.
Meanwhile, in the life that is truly seeping up, the seaman's men couldn't decide from the countenance of their master, if he was in some plight or just alright.
One of his minion, went closer to the captain with the pretence of wiping the floor, lightly bopping the feet of his master with the cane, saying "sorry, my sire".
The sailor was now here with his men, along with his mind, which was now leashed with contentment.
He needn't travel anymore as he held the old, musty pirate doll safe within his not so weather beaten pocket, just beside the compass.
A wooden leg, an eye patch, a hook for one hand and a sword in another, it looked exactly like what he wanted to be and nothing close to what he had become.
He didn't take it out. Just felt it with his fingers, caressing the delicate fuzz of the fabric, hoping to stick it back, like it was new, as he was careful.
"Until next December", he murmured.
Under the stars, amongst the waves...
I've got a story, don't ask the names...
I may look grumpy, but don't dare to fall....
Even a sailor like me, has got a doll...
I don't let my men, see what I hold....
A captain can never be, nothing but bold....
This is December, and I had to see...
If my toy is doing fine, far on this sea....
Upon these waters...
amidst the waves....
Burdened by childhood memories.....
Cruising with sails....
. . .