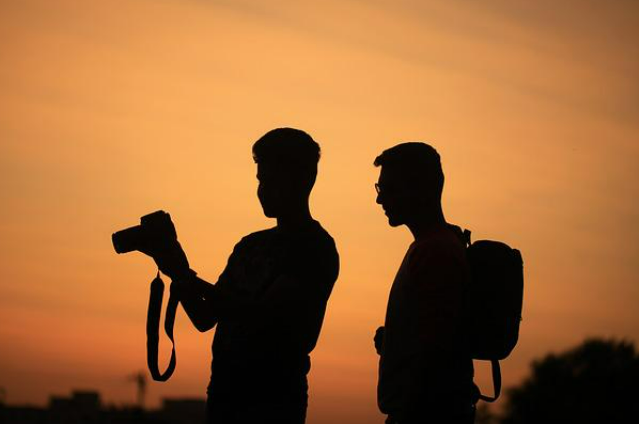 I and some of my friends went for a tour approximately 10 hours ago. We went to make a visit to our pride Buxa Tiger Reserve which is nearby our small beautiful and peaceful town Alipurduar. I and my friends gathered together at 10 Am but before that I and My Mentor friend Babulal Kol ate together in his home. We ate some well-cooked vegetables such as broccoli and cauliflower and with it we had some sweet tortillas as breakfast. Then I tried to capture some photos of a spotted dove who just laid eggs some days ago. She was alert and I too waited for the moment when she will give me a good pose. I took a very good angle and very careful to not interfere with her and her unborn babies. I then finally took some beautiful photos of her. After that my mentor friend finds a parrot nearby a tree but I could not able to clicked the parrot because of crows. They alert the parrot about some danger and then the parrot leaves quickly fly away.

Then we left for North Point to meet other friends. At first, we decided about which place we will go to today then we decided to go to Rajabhatkhawa and after that, we will visit Dima for some wildlife photography. I and my friends started our journey at 10:30 Am with a bicycle. We went through some mesmerizing places and the first place where we took some photographs was Panijhora but They didn't give them permission to enter the picnic spot or more deeper because of the protection and conservation of wildlife animals and birds. We took some magnificent landscape photos with our Camera. Everyone had their own cameras. My mentor friend used his One plus Ce 5g mobile for photography, Subhankar Biswas another friend of mine who used his DSLR, and An experienced talented photographer named Jayanta who used a Super zoom Camera with Gimbal. They took some mesmerizing landscape photos while I took some photos of flowers and most possibly the flower was some kind of morning glory but I am not sure. I couldn't identify the flower.
After taking some photos we left for Rajabhatkhawa and there we ate some local food of the Nepali community. The street food we ate was the most famous Nepali Cuisine and the name of that food is Momo. It has many varieties such as chicken momo, vegetable momo, fried momo, etc. We choose a full plate of vegetable momo for our lunch and it has vegetable soup though they mix chicken into it but not all shopkeepers. We ate momo and took some photos of ourselves. The shopkeeper said his shop is the best in Rajabhatkhawa though he didn't lie as per my choice and quality they are given are very good compared to other shopkeepers in Rajabhatkhawa. Then we left for our main destination which is called Dima Bridge. We took our cycles and went for Dima. We found some exotic big trees such as Pine and Banyan trees etc. Subhankar and Jayanta took some beautiful photos and made a video of our journey from that time. People drive very fast there so we were alert because these places are notorious for accidents. I took a photo of pine trees with my super zoom camera Nikon Coolpix P 900. We were talking to each other about our next photograph. I told them that I am interested to click photos of every object especially flowers of many species. They choose to take photos of big trees and they took some exotic and well-structured images of big trees with their graceful sense of angle. I took some photos of macro flowers and I don't even know the names of those flowers. My friend Subhankar said with a laughing face "Hey, don't release urine like old women" but it was just a joke because a journey can't be fulfilled with joy and laughter. I took some photos of other flowers and went more deeply into the forest to take some photos of China roses. After getting exhausted we took some rest and then clicked some group photos together. We were gossiping for at least 20 minutes then left the place for home. We left in a hurry because we scheduled a time that we will go home before 3 Am but a schedule doesn't work when you are going on an adventure so did, when we left for home we saw a Van which was an ice cream van which is from Rajasthan state and they sell special Rajastani Ice cream name faluda, malai lassi etc.
One of my friends told us "let's eat some ice cream It will recharge our body organs" because we were very tired after the 30 km journey along the way and we had to go more 20 km. We ate ice cream and it was so delicious that we added other flavors into faluda. We took many photos there even the seller took our photos because he liked our polite behavior and they were also very polite. After we left from there, One of my friends tried to take a photo of a lady who was carrying leaves and wood on her neck then she said " don't click my photo" She had a smile on her face. She was very shy that's why she said it but he still took the picture of her. Then we clicked some pictures of ours on the road and we had a memorable moment at the time while taking pictures of me, Babulal was capturing my photo from the front and Jayanta was capturing my photo from the back and then Subhankar clicked all of ours photos in a single click at this position. We then left the place and came to the home. We spent a very good time today and created some memories which will never be erased from our memory. I understood one thing that photography is not easy but it can be easy if I get more patience and calmness then I will be a good photographer. I learned some lessons from everyone. I learned about other states' people and their culture and cuisine. I learned the behavior of the local tribes of Rajabhatkhawa.
I learned about the craze of photography and what is the basic idea of becoming a good photographer. I understand and explore the wild closely which I never experienced in my life. I understood that how to interact with local tribe and the animals of the forest and the beauty of nature from front. The eyes and ears are the most dependable organs during the exploration of wildlife and forest. We all need to travel and explore wildlife and nature because it is the only way to meditate and feel inner spirituality. A wise human the pride of India ( The light of Asia) Lord Goutama Budhha said before "Learn from your own experience and trust your own experience" and I just understand the value of wildlife and nature and why we must respect nature to get respect from nature. Our development and future depend on nature but we are destroying vegetation and wildlife for our personal profit in the name of development. We must stop this and promise to ourselves that we are human and we are a part of nature but not above nature. We will respect nature and its laws and won't harm nature for our selfish development. There is always a hope for better future and what we need is to keep up with good morals. Whatever bad or good things happened to us always teach us a valuable thing if we can feel it from our inner soul or what we call spirit. Selfish desire always ended up by destroying our bright future and gives us negativity but we can overcome the negativity if we just listen to our inner being and the experiences we gathered from our failure or trauma or bad act. Spread love, humanity and explore wildlife to get experienced and help others to understand this.
After this exploration, I went to another place which was also from Buxa Tiger Reserve but the time was evening. I went to Buxa Tiger River Forest ( the part called Garam basti) to visit the wildlife and ever-flowing River during evening to get the feeling of sunset weather and how birds, trees and animal behave or react at this time. I and some of my elder folks (One was my friend and others were my uncle's friends) went deep into forest. We were walking till we reached the River of BTR forest. We just stand at the Bank of River and look around the beauty. We clicked many photos of Wildflowers and the mesmerizing beauty of Big trees including Pine, lebbec, and drumstick tree ETC. Then one of my uncle's friends told us to silent for at least 2 minutes and hear the sound of animals, birds and the flowing river. We just silenced for a moment and we hear many sounds of many birds including peacocks, cuckoo birds, doves and many more which we couldn't identify. We hear also some frogs sound and insects with the sound of a flowing river. We didn't close our eyes to listen instead we heard loud chirps of birds when we just got silenced even what we can't even hear with our eyes closed in the mudra position. In mudra position, my thoughts always get into my way and distract me from meditating. Then I understood Lord Goutama Buddha's principle of meditation where he said "be a watcher and focus on the object you are seeing because it is the meditation". When we focused on nature we heard many soft sounds in large frequency sound because we just became a perfect watcher and focus on the object which was hearing and seeing the sound and the object. To meditate you have to become a focused watcher then your spirit will flow in all parts of your body and you will become an energetic person with that positive energy which was within you.
After both of these journeys, I understood one thing why many Indian legends and philosophers love the nature, especially of India. Our diverse culture and Nature which differentiate us from other countries yet we are so united but some unworthy and anti-social extremists politicians and terror activists are not letting us leave in peace. We just need focus on our legendary philosophers like Goutama Buddha, Swami Vivekanada, Rabindranath Tagore, Sri Ramkrishna Paramangsha Dev,Raja Rammohan Roy, S,Radhakrishnan,Kautilya, Tulsi Das and Many more. They taught us how live a life when you got so many heartbreaks, Depression and anger which dismantle us from reality and that's how we got independence from The British. The likes of Netaji Subhash Chandra Bose, Chandrashekhar Ajad, Bhagat Singh, Chatrapati Shivaji Maharaj, etc followed their philosophy which builds the Anti-British Empire and forced the British to retreat from India. We need to remember them because they taught us to respect every living beings whether its humans, Animals or Plants. They all loved nature because grew up watching and understanding Nature.
Thank you very much Namaste.
. . .