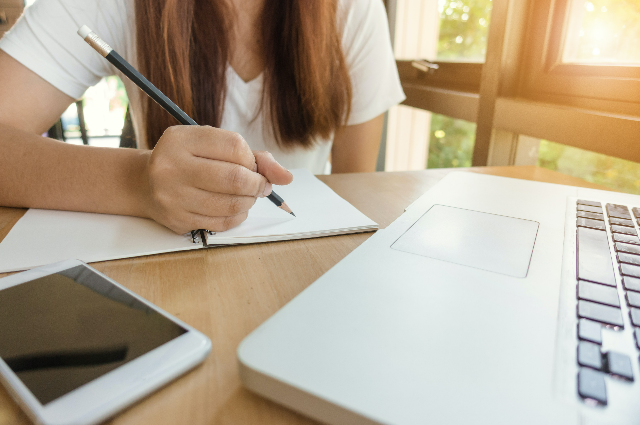 Choosing a career is quite easy for some. But it is quite a dilemma for some. Dilemma because liking or disliking certain subject or subjects does not always match with aptitude. When there is a mismatch, excelling in the field chosen may turn out to be a Herculean task.

My Journey
The beginning of the journey of learning...
My memories of going to playschool are reciting the rhyme twinkle twinkle little star en route, watching all the Gul Mohar trees by the side of the road. The bright red flowers would brighten my day. All through I had the support, and encouragement of my teachers. This was an inspiration that motivated me to become a teacher. I was not actively into sports. The job satisfaction of becoming a teacher cannot be put into words. Imparting knowledge is the best possible action. Teaching is not just from books. It is being able to put across knowledge and expertise even through practical learning. The quality required the most is patience. The subtleness of speech makes a great difference. A teacher cannot be sarcastic or blunt. Teaching is not like to task which has to be accomplished. If teaching is a passion, it is the best. The element of anger has no space in a teacher's profession. Bursting out at anyone is the last thing a teacher would want to do. Analysis of my qualities revealed that patience is lacking. Getting angry at the drop of a pin is more in my nature. These qualities were a hindrance in the choice of becoming a teacher. I changed my mind. I thought of becoming a pilot. This thought struck me out of my habit of being a bird watcher. A bird flapping its wings and flying caught my eyes. What does it take to become a pilot? Researching on this thought had to be done. This research showed that having a moderate height is required. Being tall is luck. But my short height was a drawback. Having good eyesight is another prerequisite. This requirement also I failed as I am a short-sighted person. Courage is a trait required to give power to your wings, the ability to fly. Knowledge of swimming is compulsory. This is because there is a huge responsibility on the shoulders of a person whether a pilot or a cabin crew. The motto should be passengers before self. Neither I was a courageous person not I knew swimming. Again, I had to change my mind. My next option was choosing to study electronic engineering. A strong base in Mathematics and Physics is an advantage for both engineering and an aviation career. My performance in both Mathematics and physics was not good due to fear of the subject, fear of going wrong. This fear was like a roadblock in my focus. A shift in my career choice was inevitable. I decided to take up Medicine. This was up to my journey in school.
College life – a step towards seriousness and hardwork
Studying Medicine is not a cakewalk. Enormous hard work and efforts go into it. What does it take to become a doctor? Attitude is the most important. By attitude, I meant a strong heart. This is the ability to handle another's difficulty. Remaining practical is very important here. It is of vital importance to not let emotions take a stand and influence the decisions of a person. These are the decisions concerning the health of the person who is in difficulty. Decisions driven by the heart have no place in the profession of Medicine. Logical decision-making should be backed by rational thinking. Out of all my subjects in the curriculum, the fear of not performing well in Physics still existed. This fear led to anxiety attacks. Appearing for the medical entrance exam was tough. My rank in the medical entrance exam was not satisfactory due to this subject's fear. This is where I made the mistake of not judging my capability appropriately. After securing a not-so-good rank, I landed in B.Sc Microbiology. I was not happy here. I decided to leave and give another attempt at the medical entrance exam once again. It was also important to decide before itself what will I do if I am unhappy with the result of the medical entrance exam? It needed a proper analysis. I was ready for anything related to Science without properly analyzing whether I can give it my best.
The difficult phase – either you make your life or you break life
What was I pondering now was will I get a good rank in the medical entrance exam? The results were declared. As expected, my performance was not good. I thought not to make the mistake I made earlier. Getting into something for the sake of doing it, not putting your heart into it, leads to disastrous results. You end up breaking your life. A proper evaluation of options and goals enables you to make your life. Thereby, either you make your life or you break it. I took this decision because never did get the desired result in practical classes in Life Sciences. I questioned myself; will I get the desired result in practical classes in the medical curriculum? I chose to study Commerce. I was very happy with this decision of mine. A surprise unfolded after the exams. My performance was better than that of Science. It was better than expected.
Post-graduation – A step which I considered necessary
Upon completing graduation, I wanted to do post-graduation. Mere graduation will lead you nowhere in this world of tough competition. Studying MBA was my chosen path. When it came, to opting for specialization, confusion prevailed. It was which branch of specialization to opt for? I had to choose between HR and Finance, one as a major subject and one as a minor subject. While a majority of my family suggested opting for Finance as a major subject I did the unexpected. I opted for HR as a major subject and Finance as a minor. This is because fear of numbers or basic arithmetic continued. After completing my studies, I had to prioritize between family and career. My family needed me more than I needed to find a job.
The phase of job hunting - is a mandatory step to remain in the working world and not become unskilled.
This phase began two years after completing post-graduation. This is considered a career gap in the growth of professional life. Companies tend to become hesitant when there is such a career gap as skills may become outdated. After attempting a few banking exams, I realized that it is not my cup of tea. I continued giving interviews as appearing for an interview itself is a learning experience.
Entering the world of writing – what made me think of it
I made a beginning as an email marketer. Next, I took up the opportunity of a content writing intern. I am still a content writing intern. My current position is SEO writing. This position sparked my interest in writing. Writing is the best way to let out emotions. This solves an emotional turmoil. Words can become a weapon same as the pen is mightier than the sword.
. . .