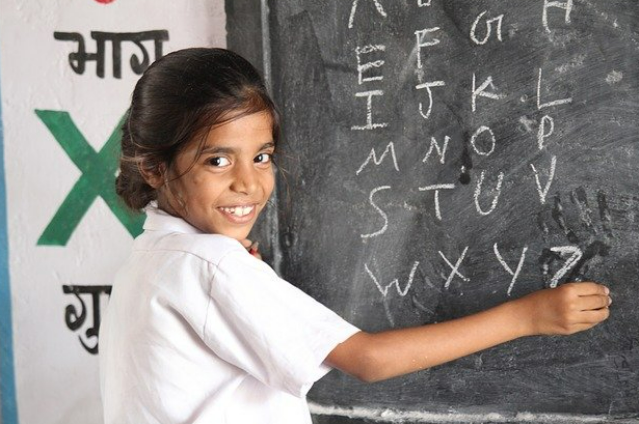 "Educating a girl means educating the nation, let girls perceive education" Education is regarded to be the grounds of our community because it is one of the quickest and most efficient methods of encouraging economic growth in any nation. It is perceived to be the important key to terminating poverty and crime against females. We have often seen or heard of people who create barriers to girls' education and in fact, maybe we are the ones. Education offers strength and versatility which allows the nation to improve at a quicker rate from any dispute. The overall quality education can even assist prevent disputes in the first place by giving knowledge on social skills, problem-solving, and critical thinking at the schools. A child whether it be a girl or a boy, needs access to these skills to perform well in society but often when it comes to girls' education, the first question that strikes our mind is, "What's the need for educating girls?" We often consider girls' education to be futile, pointless, and impractical. But we need to understand that girls' education is equally important as the education of a boy. Education for girls is about more than access to school. It's also about girls feeling safe in classrooms and supported in the subjects and careers they choose to pursue – including those in which they are often under-represented.

Most of the girls have some ambitions, some goals which they should be encouraged to fulfill and not held back with the thought of their marriage, and most importantly their inferiority to men. Poor families often favor boys when investing in education. They are often expected to depend on the men for the money and let them make decisions for them. In many countries, girls are expected to help at home with cooking, cleaning, taking care of other family members, etc. Many families consider only their sons as the breadwinners of their own future families and the supporters of their aging parents, which is an incentive to educate boys. Also, in many cultures, marriage means that a daughter becomes part of her husband's family, and the chances of her education then fall to zero. This adds an obstacle to girls' education.
The second obstacle to girls' education is meant to be poverty when the family can't afford the education. It is often seen that when the families can't afford the cost of school then they're more likely to send boys rather than girls. Although they can't send girls to school, when the family can't even afford the basic necessities of a girl child, like sanitary napkins and food, then the second thought that perceives their mind is of girl child marriage. For girls married off as children at times well under the age of 18 – often without choice or consent – the prospect of remaining in formal schooling is usually remote.
Compared to those married at the age of 18 or older, girls who marry as young as twelve are 21 percent less likely to go to secondary school. Not surprisingly, education can have a powerful impact on the social skills and personality of a child. Girls with higher levels of schooling are much less likely to have to marry early or have children at an early age. Gender-based violence can take many forms, including physical and sexual abuse, harassment, and bullying. Surviving rape, coercion, discrimination, and other types of abuse affects girls' enrollment, lowers their participation and achievements, and increases absenteeism and dropout rates. So most parents are less likely to let their daughters travel to school if they have to travel long unsafe distances. The reasons are many. Barriers to girls' education – like poverty, child marriage, and gender-based violence – vary among countries and communities. Poor families often favour boys when investing in education often leads parents to think of a better side. Every cloud has a silver lining.
Let's look at the brighter side of girls' education. Today more girls than ever go to school, study, perform well in academics, and achieve great success. So when I come to talk about the ways to overcome these challenges and social norms formed by the society or self problems, the first thing required is motivation. We can look for various girls in different fields achieving greater success than ever. Let us have a look at Kalpana Chawla. Who can forget this lady? Kalpana Chawla was an Indian-born American astronaut and mechanical engineer who was the first woman of Indian origin to go to space. We have many more examples in sports- Mary Kom, Mithali Raj, Saina Nehwal, PV Sindhu, etc. and even other fields be it businesswomen, politicians, actresses, authors, etc. So we can have an overview to let every girl child make our name bright in the society and make us feel proud of educating them and providing them the best of education. Policies should be focusing on sending more girls to school while also paying close attention not just to enrollment but their attendance. We must begin to incentivize families to send their daughters to school and support their higher education. Furthermore, policies should focus on banning harmful practices like FGM and child marriage, and tackling gender-based violence and child trafficking.
In conjunction with community-level support, we can provide information and open up the conversation, and hope to prevent it altogether. As always, we must focus on dismantling patriarchal values, which oppress women and girls and prevent them from reaching their highest potentials. Girls and boys should both be valued equally and have the same opportunities as each other. The narrative has changed in many ways, as girls now see themselves as more than capable of having an education and have a strong desire to attend. However, we must continue to create awareness surrounding the benefits of educating girls, as well as informing communities about the harms of child marriage and early pregnancy. These conversations are crucial to have within the global community in order to implement sustainable change for gender equality. "Every girl, no matter where she lives, no matter what her circumstance, has a right to learn. Every leader, no matter who he or she is or the resources available to him or her, has a duty to fulfill and protect this right."
Now we all are aware that girls' education is not a burden and neither useless. It is important and in fact necessary for a better society. Education can even change the life of a girl. It can be that pearl to the life of a human which gives us all the happiness and contentment. Let's all of us support the campaign "Beti Bachao Beti Padhao" that aims to generate awareness and improve the efficiency of welfare services intended for girls in India. Educate a girl and brighten the future of the country. Educate a girl to promote the weak section of society. Educating a girl in the present can be a miracle in the future. Every girl has the right to education Girls are the future. Let them grow and educate. Education is the only key to empowering girls. Focus on education to develop the nation. Education shapes a girl's life. Education is the only utility that can empower girls. Educate a girl child; she can be the best leader in the country. Girls are the base of life, educate them and empower them!
. . .