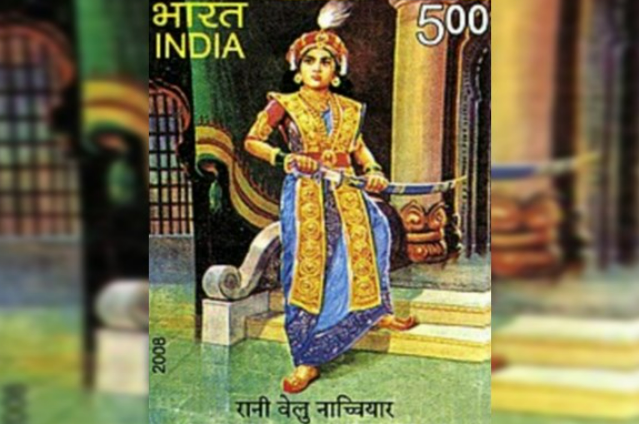 Prof. Sanjeev mentioned in his Maruthiruvar book that, the bravery of Velu Nachiyar raised revolt against English Emperor and fought for the freedom of India 85 years before Jhansi Rani's freedom struggle in North.
Vellu Nachiyar (1730-1796) the first Indian queen who fought against the Britishers against colonialism and for the freedom of her state 'Shivganga'. For her gallantry, she is well known and called as Veermangai (brave woman). She was born in a royal family of Sethupathys in 1730; who used to rule over the region of Ramanathapuram, Sivaganga, Virudhunagar, and Pudukkottai districts of present-day Tamil Nadu. Her father was the Raja of Ramanathapuram and his name was Chellamuthu Vijayraghunatha Sethupathy and the name of her mother was Muthathal Nachiyar. And as she grew up she was married with the king of Shivganga, Muthu Vaduganatha Periyavndaya Thevar.
As we know that during the time of the 1770s and 1780s Anglo-Mysore war was going on in which Haidar Ali was fighting against the English East India Company in which Nawab of Arcot was with Company. With the treaty of 1772 Nawab of Arcot had authorized to collect Satlam Kaval and Desakaval. This Affected the local rulers and Palayakkars which led to letting them to arouse in rebellion. In the meantime, in 1772, a battle broke out between the company under the leadership of Lt. Col. Bon Jour and the king of Shivganga in which his was killed by the soldiers of the Company at the palace of kalaiyar koil and it is also said that in that battle the troops of Nawab of Arcot were also incorporated. In this battle Dalavay Thandavaran Pillai and Marudu Brothers also hot bruised.
On account of the death of the king, the queen had to flee and took shelter in Virupachi near Dindigul for 8 years. Meanwhile, the Britishers were assaulted, in 1780, Rani Velu Nachiyar fought the battle and defeated the Britishers with the help of Gopal Nayaker and Haider Ali.
Over a period of time, she endeavored to accumulate an army to revert her state. She needed a huge army to defeat the Britishers and for that Thandavaran Pillai, (who was the son of the honest former accountant of Shivganga) on the behalf of Rani asked help from Haider Ali by writing a letter, however, due to old age he demised and after his death, Rani herself went to him and illustrated all the conflict with Company in pure Urdu which impressed Haider and he promised to assist him and in that concern, he ordered Syed Karki of Dindigul to provide her army of 5000 infantry and the same number of cavalry.
Veermangai marched towards Shivganga but in the path, the troops of Nawab of Arcot tried to put hindrance but he overcame all those and captivate him. Till now, she reached in front of the fort of Shivganga. Velu was looking for the ammunition store as she knew it that it is important to take it under control or destroy it to secure victory.
Velu Nachiyar had also formed a women's army and one of her followers Kuyili doused herself in oil, set herself alight, and walked into the storehouse. She also employed another agent, Udaiyaal and she blew herself up along with the barracks.
She won and enthroned herself. Along with that, she deployed Marudu Brothers her administrative assistance. Chinna Marudu was employed as adviser and Periya Marudu as commander. In 1783 Britishers again attacked but it was failed by Marudu Brothers by some diplomatic moves. In 1790, Rani Velu's daughter got married with Vengan Periya Udaya Thevar who became king of Shivganga or Shivgangai. Velu Nachiyar died due to illness in independent Shivganga at the age of 66 in 1796.
According to Ventakam further stated that Velu Nachiyar is India's Joan of Arc.
. . .
Reference:
History book of State council of Educational Research and Training, Tamil Nadu Board.