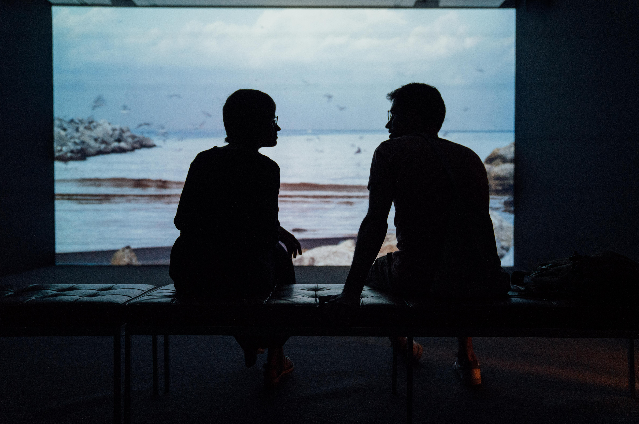 Her mind flashbacked to the events that had led up to her lolling on the bed. She started to giggle even as the immediate past unfurled. She pushed away her fat cat who always travelled with her and sipped ice-cold water and popped a headache pill. That took care of her pounding headache... The tooth had been fixed. The spouse would wait!

Weekend getaways were something of a break for Sid and her but this time she had come on her own to Kolkata. Being a writer of sorts she had managed a pool facing room in the Taj Bangla and soon was safely ensconced with her school and college friends. The dinner and drinks had been long and the camaraderie even longer. It was towards midnight that Shovon, her best friend whispered, "hey, Avni, do you remember Ritwick?" How could she forget? Ritwick, oh Ritwick… had been her hero, her friendly neighbourhood hero. Ooh, even now the thought of his lean mean physique, his piercing eyes, hawk-like nose, and husky voice gave her the shivers. How many moony months and years she had spent dreaming of him. Whenever their eyes met she would blush beetroot red and shiver like an aspen leaf. He had that effect on all the 'Pada'(local) girls and some boys tooooo… But he had chosen her to be his 'mei' or girl and many a time she had gone to his house and sometimes zoomed on his bike to the market or to Victoria Memorial. On certain days it would be Fluris to nibble on a pastry or a chop.(Bengali cutlets )He had turned out to be quite a normal man without any false airs or even ego. His Mum had also welcomed her into their huge house and soon she was like family. She still dreamt of him and was waiting for the day when he would propose to her.
Shovon nudged her again. "Remember your first date with him." How could she forget? It had been a threesome with the goondaboy dada of the pada. He glared at her and she had hated him and the date. Especially when Ritwick seemed very comfortable with him. She had walked off in a huff and not spoken to Ritwick for a week.
Shovon nudged her again. "That's him on the right side of the hall." She did a double-take. Ritwick here? After that horrible threesome date she had ignored him, but he being a mild sort of guy had made friends soon with her and they had begun dating again.
Dates of agony and ecstasy.
Especially during Durga Pujo. Bengalis love their Durga Pujo. It was 10 days of pure fun. Fun and competition. Visiting different types of pandals and idols. Days of aarthis(offerings to the deity) and bhogs.(Prasad) Days and nights of just staring away at Ritwik and blushing when he caught her staring. It had been dreamy days for her and other girls of her age because all of them had their own Ritwik! She sent up a prayer to Maa Durga praying to be united soon with her dream boy.
The idol that year was exquisite. Must be from Shilpa Bharati, she thought. It was founded by renowned artist Late Shri Gora Chand Paul. Since 1950 he started the journey of sculpting and idol making businesses in India mainly at West Bengal Kolkata. It had come a long way delivering scores of high-quality idols year after year. One year she and Ritwick had gone with friends to The workshops of Kumartuli — there were about 450 of them, many of them concentrated around Banamali Sarkar Street — and run by families that have been into idol-making and pottery for generations: Kumartuli means potters' quarter. During the Puja season, they hire extra hands from across Bengal because making the idols of Goddess Durga was a grand affair. The goddess was accompanied by her four children, not to mention the lion she rode and the curly-haired, muscular demon she is shown slaying. And with new settlements coming up around Kolkata and with Bengalis reaching newer shores across the globe, the demand for idols has gone up over the years. Kumartuli is known to create close to 4,000 sets of Durga idols every year, some of which are shipped abroad. All this calls for a lot of work — work that demands intricacy and, very often, creativity. A typical Kumartuli idol, they had been told is made of bamboo and hay — the bamboo serving as the skeleton and hay the flesh. Once the structure is ready, it gets a skin of 'entel maati', a sticky variety of clay procured from the bed of the Hooghly. Once it dries up, the finishing touches are given with 'bele maati,' a finer variety of clay which also comes from the river. Starting a half century ago, this potter's town of about 250 "Kumar" (makers of clay images) families began shipping idols overseas - Some of these "Kumars" trace their family history before Job Charnock, the agent of British East India Company, who founded Kolkata.!!
She had hoped that he would propose to her during that Pujo maybe during sapthami day. Most of her friends like Yamuna and Diya were in the clouds because their Ritwicks had proposed!.But he didn't and in fact she had come across him with the goondaboy dada and he was oblivious of her. Shovon had whispered fiercely that Ritwik must be blind not to notice her. In fact she had looked breathtakingly, achingly beautiful in a red and white Thaanth sari.. just like the Goddess.
That winter nothing untoward happened. They all finished graduation and Avni joined college. Ritwick and his family went to the States. Just like that. And before she knew all the kids of the block had gone their own ways. Alumni gatherings took place and she had caught up with each of her friends except Ritwick. She had begun dating Sidhharth and even though he wasn't drop dead gorgeous she loved him and they had as good a marriage as any other Indian couple. Meeting up with friends was the highlight and this time she had come face to face with her hero Ritwick Chatterjee.What else could she ask for??
Shovon had said, "let's go talk to him" and she, Diya and Yamuna had gone ahead. He did not look much different except for the fact that he had greyed and it suited him.
In between she had called up Sid and giggled, "Hey, am going to see my dream boy from school and neighbourhood."! He had grunted and been noncommittal. She went up to the table and held her breath. Gosh, her dream boy. She waited for her heart to thud and tumultuous feelings to surface. But nothing happened. He looked up and upon recognising them stood up in delight, hands outstretched for a shake and hug. In fact the hug also did not fire her up. How many times she had dreamt of being enveloped in those arms as she swooned in them!! She shook her head and stared straight at the goonda boy dada of the para. He also!!! They nodded and chattered away but she couldn't remember a word later. Did they exchange addresses and phone numbers? She didn't remember. Back at their table she heard a loud whisper. Was it the word Gay? She heard peals of laughter. She slid from her seat and hit the floor. She felt her front tooth give and there was silence. Then giggling, then they talked all at once. So that was why he hadn't been enamoured of her. That made sense!. She felt a sense of relief .Her tooth seemed a bit tender. Maybe she needed a dentist. She called Siddharth……
. . .