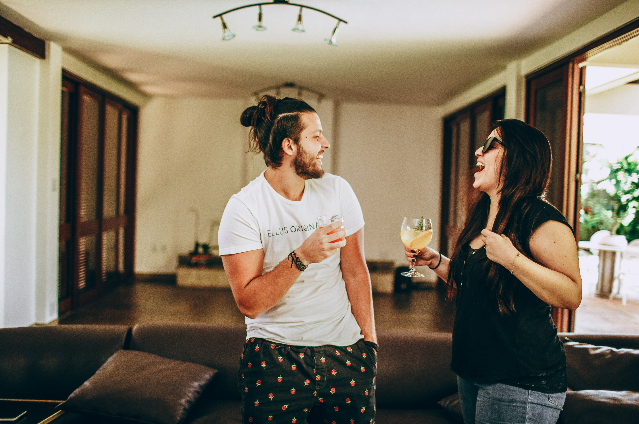 Looking at the rays of setting sun painting the sky orange tinge, with a cup of coffee, Radha's mind was reminiscing her divine love story with her husband Shiv during their past college days. It was their first mid semester time, when they first met during the birthday party of their mutual friend's. While everybody was engaged in casual conversations, Radha's humble behaviour and beauty, Shiv's funny and sensible personality befriended each other. Shiv was really into her and so was Radha which eventually made them fall for each other. Their love life was filled with joys of spring. One fine day Shiv decided to make some important announcement to her. On his knees he proposed, "Radha! It's been a good decade we've known each other as best friends, caring lovers and well wishers to each other, and I want this to remain the same all our life and progress this relationship to next level, Will you marry me?". With tears rolling down from her eyes, she recollected saying A BIG YES and been happily married. Suddenly she heard the ring from doorbell. Wiping all her tears, she opened the door and there she looked at her two children back from their school. They ran into her arms with heartful of love. Since Radha's niece's wedding is following up next day, her elder daughter Raji, with a bunch of excitement in her eyes questioned " Mumma, isn't it Priya sister's wedding tomorrow. I'm so excited to meet her, my cousins and my friends. What am I and Arsh gonna wear? When are we gonna go? Are we gonna make it up early?". Inexplicable she couldn't answer, but said "Yes, We are" with quite reluctance. That night she couldn't sleep that her mind kept on pondering about the following day circumstances.

Next day morning they arrived the place of event. Radha seemed quite apprehensive and nervous. While some people looked at her weirdly, some were not pleased to welcome her, whom once used to make good conversations, found hurt. The while there came her sister Kavitha, mother of Priya saying "Hey Radha, how are you doing? Here, Priya's upstairs getting ready in her room. Go meet her, she was asking you for a long time. And don't forget not to touch either her wedding dress or jewellery, hope you understand". The very statement made her so inferior and dejected. Hiding pain behind a smile, she walked into Priya's room and started having casual talks with the bride and relatives in there. In a trice, Raji came to Radha and was staring at her for a while. "Do you need anything, my dear?", asked Radha. "Mumma, everybody in here are wearing colourful clothes, flowers, bangles but why aren't you?" questioned Raji in front of everyone in the room. Are you looking for the response received from Radha? Well! It remained unanswered! Holding up her tears, Radha reached her way back to home and rushed to see Shiv's picture frame and cried her eyes out. "Why did you leave me alone", screamed Radha looking into his eyes. Sobbing she continued "Still I couldn't forget the last moment we shared it together. I was making Raji n Arsh to sleep while waited for you to come back home from office. We had our dinner together and been shooting the breeze over few minutes. I said I was too sceptical about our children future and you replied they are gonna make it, I always got their back. You held my hand after going to bed, and said "Good night honey, Wake me up at 7 am, have to go office early to catch up little work, with a sweet kiss in my forehead. The next day morning you never woke up. We rushed to the hospital and doctors said that you didn't pull through as you had massive heart attack few hours ago. I was devastated and let me in aghast which took months to believe that it happened.
Raji and Arsh are still hoping that their papa would come back one day. Our life has become upside down. But I promise you that I take care of our children and won't let them down even it takes my blood, sweat, and tears". Yes, after this tragic incident Radha struggled a lot to figure out how to survive without her beloved. Guess what! Economic crisis hit her hard, lonesome was her only companion, lived in anxiety and depression, vulnerable to emotional and physical stressors, restricted to employment opportunities, lack of social protection, public humiliation by considering them misfortune and what not! As time idled away, Radha tried hard to emerge gradually from all these setbacks. But the societal conventions never cooperated her to live the way she wanted be. But Radha wanted to neither being helped nor hold her up, but humbly requested not to treat with contempt. It does make sense, doesn't it? In this world existing with number of taboos, "The life of Radha – The voice of a Widow" remained insubstantial. Why are they considered inauspicious? Why are they even misfortune? Why don't they deserve justice? Why don't they deserve to be happy? Why aren't they part of social conventions? Who framed these harmful traditional practices? Are they going to really help anyone however? Hello humanity! It's time to wake up. As every other humans do, they also do have equal rights in this world. It's not only about the life of Radha, A widow. It is also the same case with life of Ram, A widower. Even men go through a lot of aforementioned complications after losing her wife. No matter what the gender it is, how much money is owned, what the religion is, what the language is, what the qualification is, the pain is so REAL. As long as you are a human "Try Not to chase others, Not to lose ours!". It all starts from each within and in joined hands let us hope that this nightmare would come to an end…!
. . .