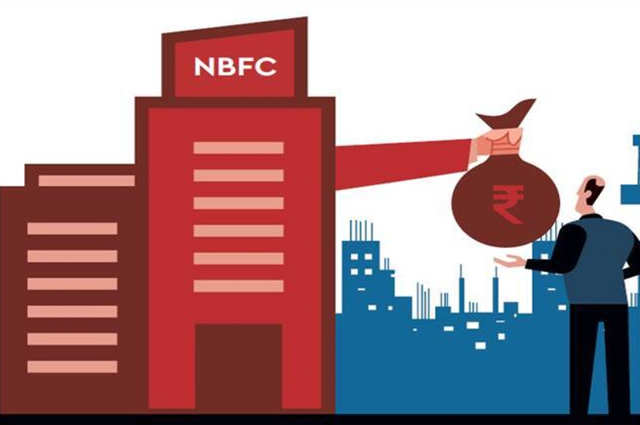 Oh, how the mighty have fallen..! Many of us might have heard about the Infrastructure Leasing & Financial Services (IL&FS) crisis which has significantly impacted the Non-banking financial companies (NBFC) sector for the last couple of years. Well don't you worry about if you were not aware of it, we will help you in getting you up to speed about one of the most predominant factors which has led to the downfall of our nation's GDP rate. Just sit tight for a good read.

The Beginning: What are Shadow Banks?
Before delving any further into the topic, let's start with understanding as to what a Shadow Bank is exactly? In layman's terms, a shadow bank is a financial entity which perform similar activities as your friendly neighbourhood commercial bank but generally do not accept traditional demand deposits. The distinguishable factor about a shadow bank from a traditional bank is that they are not as strictly regulated as a commercial bank. These banks were started with the mission to help the common man in every nook and cranny of our country, where it is hard for a commercial bank to establish its operations.
Trouble Brewing:
Back in 2018, it was found that Shadow Banks were the amongst the leading growth drivers with lending approximately 17% of total loans to its customers across the country. It all began in June 2018, when a leading AAA rated Non-Banking Financial firm IL&FS which loaned significant funds in the infrastructure space defaulted for the first time on repayment of inter-corporate deposit and commercial paper worth Rs.450 crore. What ensued was a step to avert panic in the market by giving the rein of IL&FS to Hemant Bhargava, managing director of Life Insurance Corporation of India (LIC). This was only the beginning of the downfall for the trouble had already started brewing.
The Downfall:
In September2018, Leading mainstream business channel CNBC-TV 18 reported that the once leading financial firm IL&FS is encumbered with a debt amounting to Rs. 910 billion [1]. Through news sources, It was found out that IL&FS had adopted the unwise strategy to fund long-term projects via short term borrowing and once these projects started getting delayed due to various reasons such as cost overruns, protracted implementation, delayed or withheld regulatory approval etc., the return on investment were never recovered and thus began IL&FS's default cycle. These developments further tarnished IL&FS's image leading to the downgrade in ratings of itself and its subsidiaries by credit rating agencies.
Fall in Credit Growth in recent months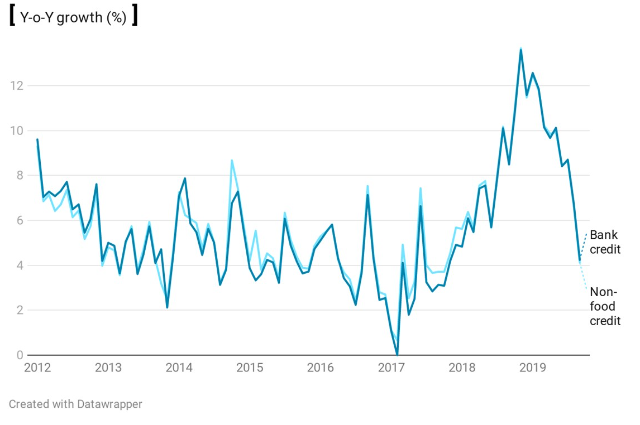 The NBFC fiasco had a significant impact on the share market with both the Nifty and BSE Sensex taking a huge hit and falling to a six month low of 10,234 and 34,001 in October 2018, respectively [2]. As bond prices took a tumble due to sell off practices, it made harder for NBFC's to borrow money to settle short term debt. What followed in the following months witnessed the sharp fall in market cap of giants such as Anil Ambani-owned Reliance Home Finance, L&T Finance Holdings, DHFL, and Indiabulls Housing Finance.
Credit flows from banks and non-bank sources to the non-financial private sector have dried up.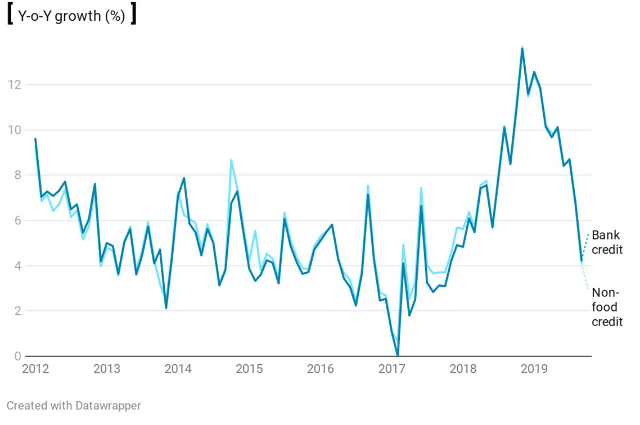 The genesis of India's GDP decline began also began with NBFCs financial crisis. NBFC specialised in providing loans to the automobile industry (comprising of 30% of the total loans shelled out in this sector) and the property sector (comprising of 53% of the total loans shelled out in this sector) [3]. As both the automobile and housing sector witnessed a sharp fall in the market with domestic car sales in April-June falling by 23.3% in comparison to the same period in 2018. This was the biggest contraction in quarterly sales since 2004. Between April 2019-June2019, The two wheeler sales contracted by 11.7% and as of March 2019, India's top 30 cities had approximately 1.28 million unsold housing units [4]. These significant downturns lead to corporation defaulting on their loans to NBFCs and NBFCs thereby defaulting on their loans to investors and commercial banks. In July 2019, RBI governor Shaktikanta Das informed that the central bank is taking steps "to ensure a collapse of another NBFC, especially a large one, doesn't happen."
However, it was impossible to curtail the onslaught for Mutual funds which had been primarily the source of funding for NBFCs, took a turn towards the defensive as the percentage of total debt deployed by mutual funds to the NBFC sector fell to nearly 12.7 % by the end of October 2019 from 19% in July 2018 [5].
Conclusion:
As if things weren't bad enough for India's Shadow banking sector, the novel corona virus pandemic further added to the misery. The Covid-19 lockdown started remarkably impacting even those NBFCs that had a flawless record until now. Taking the case of, Pune-based Bajaj Finance which said that approximately 27% of its loan book was currently under moratorium while its net profit is dropping sharply as it made Rs900 crore provisioning for Covid-19 related issues [6].
Shaktikanta Das, the governor of the Reserve Bank of India, has stated in an interview in March,2021 that the shadow banking situation has improved significantly. According to Mr. Das, Only four financiers, are still a source of concern, with those four having less interconnectivity with other institutions like banks and mutual funds.
References: