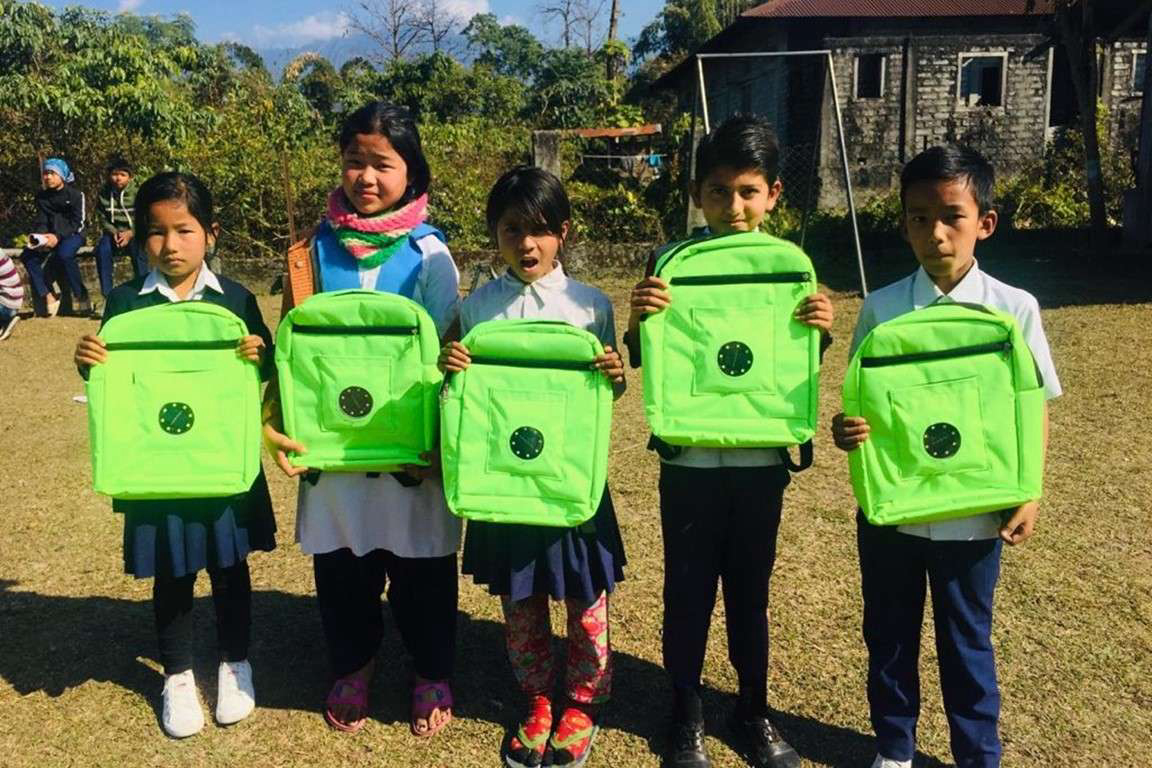 Technology has a great impact on our society, particularly in aspects of learning. It has made learning more interactive and collaborative, and it encourages students to better engage with the material that they are learning and have had trouble with. Technology gets us better access to multiple resources, but numerous children from Indian remote villages, are largely excluded from most of the benefits of technology. However, a researcher named Charu Monga with an immense interest in animation techniques and designing aims to promote crafts, culture, and use of technology to empower educational areas. Charu Monga is a faculty at the Department of Design at the Indian Institute of Technology, Guwahati.

In the mountainous regions of Guwahati in North-Eastern India, the curtains of evening fall early over the hills, and the fog descends unexpectedly. It's tough for numerous school children to walk home over the hilly terrain. And this is what inspired Charu Monga to design a school bag with a solar panel. Charu Monga and her team created a solar panel backpack for children of this hilly terrain and named this product as Jugnu. It is a low-cost solar bag made from plastic waste particularly designed for kids who live in the non-electrified regions such as remote villages and hilly areas. When Charu Mona realized that school kids are finding it extremely tough to travel on hilly rock terrain on high altitude spending a lot of time, and the kids have no other way but to take dangerous paths with steep curves, she came up with a realistic idea of solar bags.
To make the children's life simple and comfortable, Charu Monga created solar bags. She claims that solar bags are a well crafted modular design where light can be detached and can be used elsewhere. Solar bags can play a vital role in such conditions and the kids can reach home to study and do their homework, as the solar bags can be detached and can be used in other places. She made these backpacks with recycled plastic, and they are waterproof, and the light is hands-free as well. Similarly, the children don't have to worry about charging the light, or forgetting it at school or home, because it is connected to their backpack. Each solar bag also comes with a unique lab kit, which the children can utilize to come up with their incredible inventions.
Charu Monga regularly operates workshops to interact with children to expand creative mindsets and to explore how actual issues can be blended with developing technologies. During an interview, Charu Monga talked about a conversation with a young boy, who recounted the problems the children confronted due to an early sunset and limited power supply. These factors were obstacles to their playtime, and desire to study. According to the 2011 Census, 36% of India's rural people are illiterate, and 99 million children in total have dropped out of school. Even if India's literacy rate has emerged to 73% presently, there are massive differences between urban and rural areas. Charu believes that any problematic condition like this can be changed with the right mindset. Moreover, she has always admired the exceptional display of teamwork, traditions and thoughtful approach that communities in the northeast show when they come together to help each other. She says that "The traditions they follow, the way they find answers to everyday problems, there's a design to it". Through her efforts, Charu Monga has held science, design, and creative workshops for over 2,500 students, and distributed over 200 Jugnu backpacks across 20 schools in 7 districts.
Charu Monga believes that these small communities are now lighting up their own lives, just like fireflies. She has also created community innovation hubs, which aim to provide access to devices like Virtual Reality (VR) headsets and well-curated course content so that students from small villages are encouraged to create and invent remarkable things. All these technologies have created a positive impact on the daily lives of numerous children. Today, we are living in an era where technological advances are common, and without the technological advancements, our way of life would not be easily manageable. And Charu Monga's technological influences on these children's lives will shape the way they will act tomorrow.
_____________________________
Reference:
www.livemint.com
www.sbs.com.au