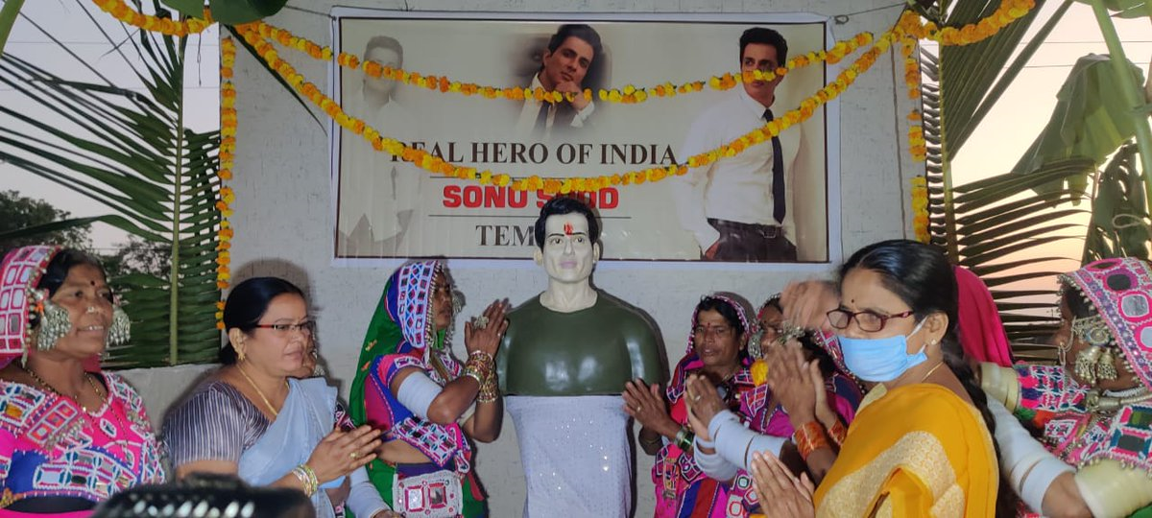 The love and obsession of some Indians with Bollywood celebrities is incredibly genuine. People run after their cars and even make temples in their honour. Recently, the Bollywood actor Sonu Sood has been honoured with a temple for his social work during the pandemic. The actor claims that he has helped over 7,00,000 people in numerous ways like helping migrants go home and helping them regain their livelihood, funding healthcare and many more things. Recognising his efforts, villagers of Dubba Tanda village, Telangana, have constructed a temple paying a tribute to him.
Various Bollywood actors are recognized to be silent on continual issues in the country, but the work that Sonu Sood has done, and continues to do during this pandemic, has made him stand out. The temple with an idol of Sonu Sood was inaugurated on December 20, and all the Hindu rituals were performed at the event. A Zilla Parishad Member, Giri Reddy, told ANI, "As he has attained the place of God by his good deeds, we have built a temple for Sonu Sood. He is a God for us".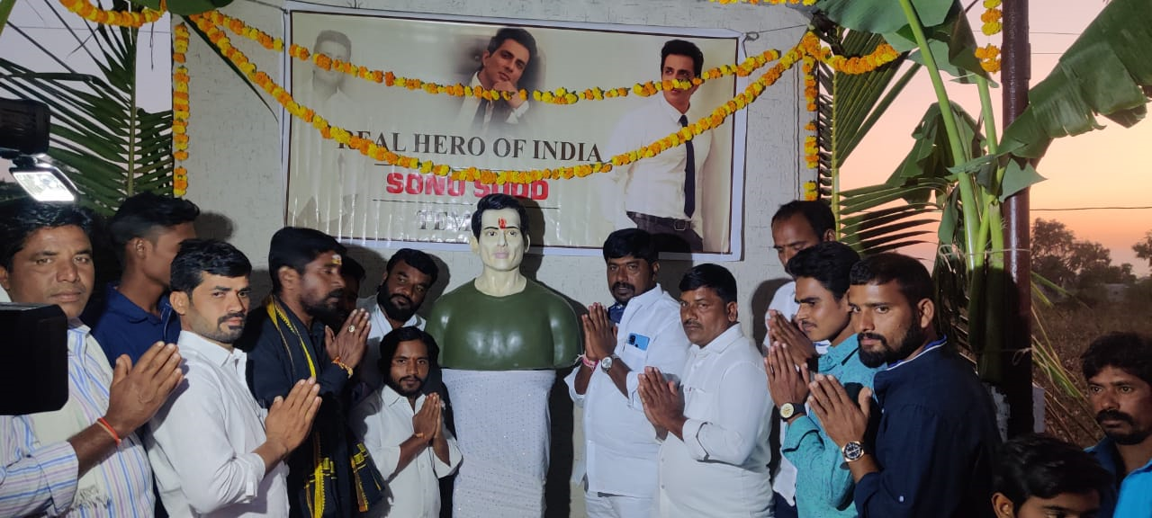 Madhusudhan Pal is the sculptor of Sonu Sood's idol. "The actor has made a place in people's hearts with his helpful nature. I have also created a small idol of him as a gift for him", Madhusudan told ANI. A man named Ramesh Kumar was also part of the group that planned this temple, he said that Sonu Sood has helped people across so many states in the nation. And he has been helping people since the lockdown due to the pandemic, and it has not just been recognized by India but the world. And on behalf of the Dubba Tanda village, the group decided to build a temple for him. Like Gods, prayers will be offered to Sonu Sood too. Ramesh Kumar also mentioned about the Soon Sood's SDG Special Humanitarian Action Award by the UN. In September, Sonu Sood was awarded the prestigious SDG Special Humanitarian Action Award by the United Nations Development Programme in a virtual ceremony. Now, some people have even campaigned for Sonu Sood to be awarded the Bharat Ratna, the highest civilian honour of India, for his efforts during the COVID-19 pandemic.

The recent protests by farmers have created a huge outrage in the nation, and Sonu Sood has also lent his support to the ongoing farmers protest by calling for an active solution of their problems. From helping farmers in multiple ways to empowering those who have been affected by unemployment, Sonu Sood took up many initiatives during this time that helped numerous people. For his efforts, a Durga Puja Pandal had also featured a life-size statue of Sonu Sood. When migrant workers were walking thousands of kilometres to reach home, the actor started the 'Ghar Bhejo Campaign', which was a huge success and it helped a large number of migrant workers. The actor similarly arranged medical help for those who were in need. In December, Sonu Sood launched another new initiative to make 'self-reliant' people, who lost their jobs during the pandemic. Because of all this good work, the villagers of Dubba Tanda refer Sonu Sood as a god and recite gratitude about the actor. Locals of Dubba Tanda village feel honoured that they have constructed a temple of Sonu Sood. And reacting to all the praises, Sonu Sood simply tweeted, "Don't deserve this sir. Humbled".
_____________________________________
Reference:
www.aninews.in
www.m.timesofindia.com