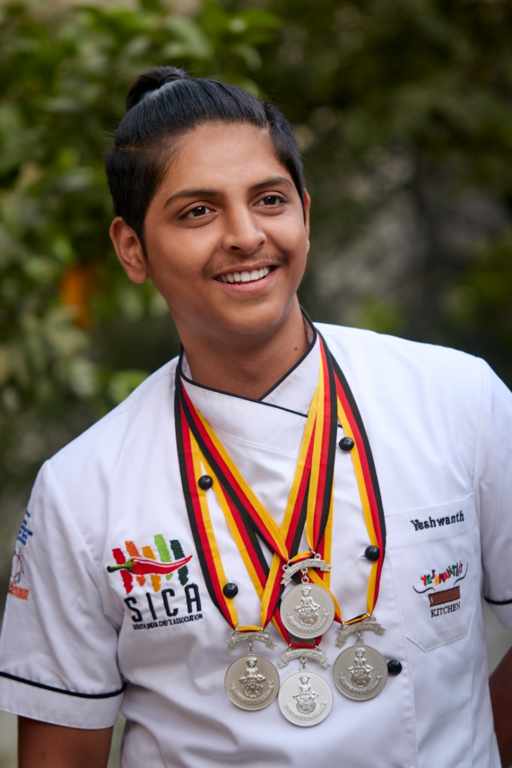 Many people consider themselves as excellent and sporting chefs, but most of them do not have any idea about the presence of the Culinary Olympics. However, it is among the oldest, largest and most diverse International culinary art competitions in the world, which takes place once every four years. It began in the 1900s, and this competition is much like the Olympics. What started up just as a competitive exhibition has now developed into a grand international competition. In 2020, before the pandemic was declared, close to 2000 chefs participated from across 59 nations. From India, Yeshwanth Kumar Umasankar who is fondly called as Chef YKU, became the first and youngest chef to represent India and win 4 silver medals at the Culinary Olympics, Germany.
Yeshwanth has made India proud with his historical win and he has become a great inspiration for young chefs of India. 16-year-old Yeshwanth represented India at the Culinary Olympics 2020, which was held in Stuttgart, Germany in February 2020, and won four silver medals. Yeshwanth's interest in culinary arts began very early because of his father, Chef Umasankar Dhanapal, a two-time bronze medalist at Culinary Olympics. He used to carve fruits and vegetables and prepare food. As a nine-year-old when other kids used to play with toys, Yeshwanth would watch his father at work. His father's specialisation stands in food sculptures such as food carving, vegetable carving, ice carving, chocolate showpieces, and many other things. And all these things fascinated Yeshwanth to do the same.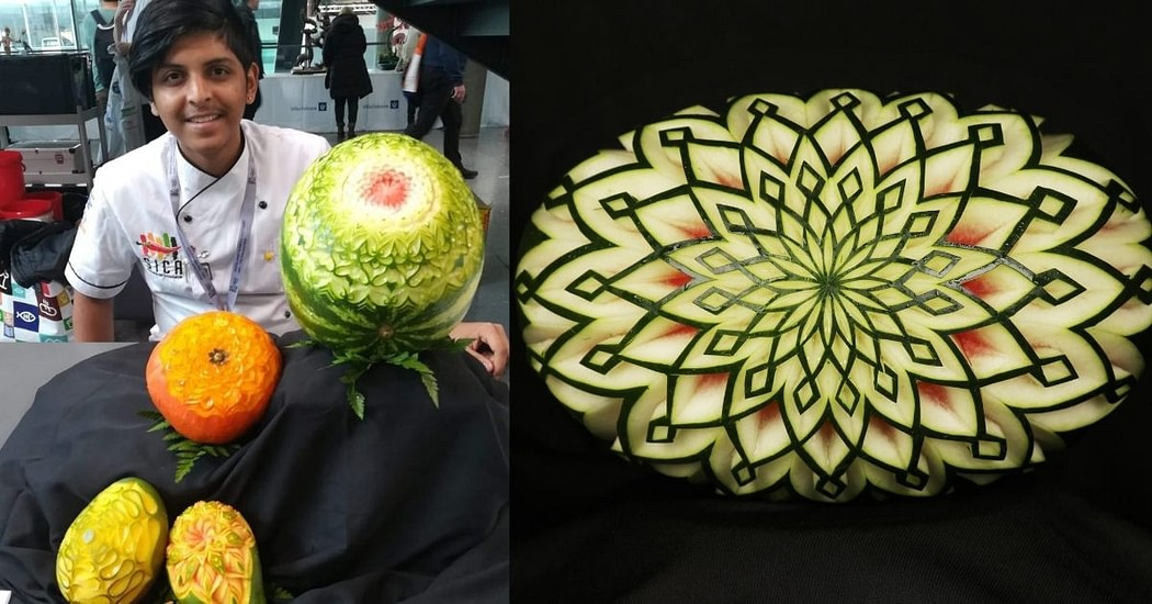 In the Culinary Olympics, Yeshwanth participated in 4 distinct competitions. As the youngest participant at the competition, there was tremendous pressure and excitement in Yeshwanth. One of the events that Yeshwanth joined in had a duration of 3 hours, in which the participants had to do a live carving and showcase their knife and design skills. The other event was a classical fruit and vegetable carving competition, which had no time limit and permitted participants to come up with their structure and demonstrate it to a jury. The brief provided to the participants for this type was to assure that the carvings were detailed and ideally meant for an imperial gala buffet showpiece. The next type which was clocked and the fruit or vegetable that required to be utilized was similarly selected just before the start of the competition. The theme that was given to the participants was floral ecstasy and Yeshwanth chose to perform Thai carving. While operating on the Thai carving style, only one knife can be utilized for all the carvings and no other tools are made accessible.
There were multiple qualifying rounds before the finals, and Yeshwanth was excited to compete in this grand International competition. However, there were a few issues that Yeshwanth and his father faced before representing India at an international level. Yeshwanth's father, chef Umasankar claims that there was no financial assistance that came from the government. He has spent Rs 20 lakhs on these competitions while having no regrets about it. He just expects that support from the government would certainly have made this journey much better. However, chef Umasankar is proud of his son's achievements and he wishes to support him as much as he can and hope that his exceptional work speaks for itself. Yeshwanth moreover had to drop out of regular school and he appeared for his Class 10 Board Examination under the National Institute of Open Schooling (NIOS). He already knew that his board exam dates and competition dates would clash and the only option was to appear under the open schooling system. After winning four silver medals at the Culinary Olympics, Yeshwanth prefers to learn more and work harder in this field. He also wishes to go to Sri Lanka and learn from his idol chef Dimuthu Kumarasinghe.
For Yeshwanth's incredible achievements, he has been applauded by many people. The General Secretary of South India Chef's Association (SICA), Chef Sheetharam Prasad, said that "Yeshwanth Kumar Umasankar is a multi-talented chef. I admire his skills and I am pleasantly surprised to see such finesse at this young age". He also mentioned that "Promoting the talents of young chefs like Yeshwanth and getting them recognised globally, is the ultimate aim of SICA". This association also hosted a grand reception at the airport for Yeshwanth Kumar and honoured him with a grand felicitation. Yeshwanth has dedicated himself to the culinary arts over the years and now he hopes that the same opportunities are made available to children by their parents as well. When people ask Yeshwanth about his plans, he says that he will be working in the culinary field. And there are many more things to learn, and for him, this win is just the beginning!
_____________________________
Reference:
www.economictimes.com
www.olympiade-der-koeche.com
www.youthincmag.com