15, August 1947, India got independence. According to India's constitution, India is a secular nation. Secularism is an ideology per which religion does not determine a country's morals, politics, education, society, etc India follows positive secularism in which the state and religion are two distinct entities but the state intervenes in religion and also state actively promotes religion. Besides being a Hindu majority country India has a large minority population and also India assures them protection by having some provisions for them in the constitution. Now the question arises, is India a secular nation? Is secularism practiced in India? WHAT IS SECULARISM?

India is one of the biggest democracies in the world and the largest religious minority in the world. India deserves respect for choosing a secular path and maintaining the political and cultural environment, despite frequent flare-ups and downs and despite having diversity in every aspect India is still stable after 75 years of independence. Billion Hindus, 200 million Muslims, 30 million Christians, 20 million Sikhs, and more Indian Buddhists. According To the office of the registrar general and census commission, India, 2001, India is home to 10.9% Of the world's Muslim population. Islam is India's 2nd largest religion having 14.2% country's Population. i.e. 172.2Million people according to the 2011 census. 94% world's Hindus live in India and make up 79.8% of the country's population. Sikhs make up 1.7%, Christians 2.3% Buddhists make up 0.7% of the country's population. 8 lakh Hindus convert every year together with religion. India supports and encourages and promotes every religion. The religious freedom of a person assures by the constitution under clause(1) of Article 25 which assures freedom of conscience and free profession and practice and propagation of religion.

EXAMPLES :
Entry of Hindu women into Sabrimala temple.

On 28th September 2018, SC lifted the ban that prevented women and girls between the age
of 10 and 15 from entering the famous Ayyappa Shrine in Kerala.
Muslim women entry into the mosque

In April 2019, SC was moved to seek directions for allowing Muslim women to enter
mosque through the main door and to have an Islamic right to visual and auditory access to musalla (main prayer).
The matter was last heard on November 5, 2019, by a bench comprising CJI-designate justice S A Bobde, and justices S Abdul Nazeer and Krishna Murari.
Entry of Parsi women marries to Non-Parsis in the Agyari.

The question in the court aroused was, in the case of marriage between Hindu and Parsi. Does it result in automatic conversion of religion? The matter hence raised issues of gender justice.
In December 2017, the constitution bench said that "DNA dies not to evaporate after marrying outside one's religion and by marrying outside her religion women do not surrender her affection towards her father.
HISTORY OF SECULARISM
Ashoka about 2200 years ago Harshavardhan about 1400 years ago accepted and patronized different religions. The people in ancient India have freedom if choosing religion and they get their citizenship regardless of whether someone's religion is Buddhism, Jainism, or Hinduism.

There should not be the honor of one's
Own (religious) sect and condemnation
of other's without any grounds.
Ashoka, Rock Edicts, Xll,
About 250 BC
This meant since the times of Great Ashoka, Secularism is practiced in INDIA. Thus this shows the coexistence of religion and acceptance of different faith. But this secularism did not remain always like this. With the arrival of ISLAM in-country in the 12th century, they discouraged secularism and their political doctrines are at odds with political doctrines of Hinduism, Buddhism, and other religions of India. From the Mughal emperors, Akbar sought to fuse ideas and professed equality between Islam and different religions in India. But then Mughal emperor Aurangzeb only propagated Islamic culture and discouraged the other religions. The British administration provided India with common law, and its divide and rule policy to promote discord among communities. The morly-Minto reforms of 1909 provided separate electorates to Muslims. Among the laws enacted during the colonial era was the law of 1937, the Indian Muslim personal law (Shariat) application act, the law established the principle that the religious law of Indian Muslims can be their laws. This law could supersede common and civil laws. This law of 1937, continued to be the law for Indian Muslims of modern India.
How does the word secular come?
The word was incorporated in the 42nd constitutional amendment act of 1976, in the preamble and it was enacted during the state's emergency by the Indian National Congress headed by Indira Gandhi.
Internal Emergency :1975-77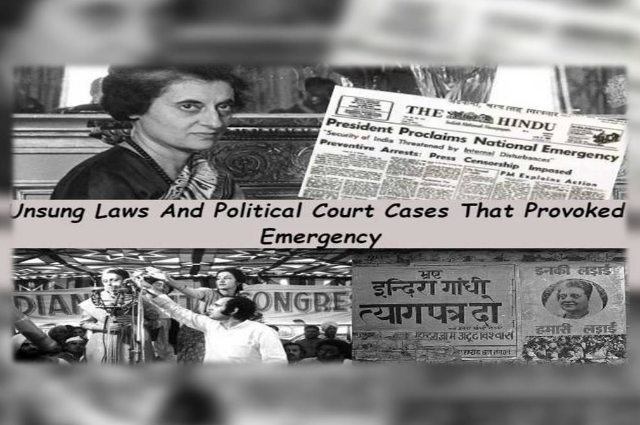 The clamp down on civil liberties and abuse of human rights by police angered the public. It was 21 month period from 1975-to 1977 when Indira Gandhi declared a state of emergency across the country. It was declared under article 352 of the constitution because of prevailing 'internal disturbance', it canceled elections and civil liberties were suspended. Most of Indira Gandhi's political opponents were arrested and the press was censored.
Thus the word secular was added through the 42nd constitutional amendment act, the act is also called a mini-constitution.
Now the question arises if India is the secular nation is mentioned in the constitution and also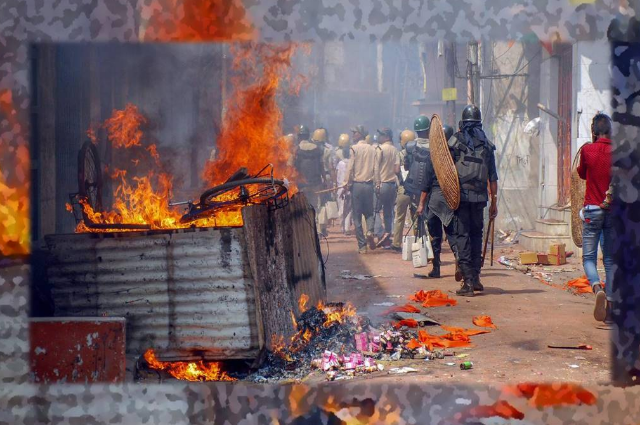 practiced still communal violence or religious conflicts prevalent in India. Why?

The roots of the religious riots are in History. With the arrival of Islam in India which conquered India and ruled over it violently. They destroyed many Hindu temples and abolished Hindu laws that were prevalent in India. This created hatred among the Hindu population of India against Islam.
During British rule, they started the "DIVIDE AND RULE" policy to administer India. British colonial era portrayed and treated Hindus and Muslims as two divided groups. British called the Christian missionaries to propagate Christianity in India. The morly-Minto, Montaque-Chelmsford such reforms brought by British paramountcy which gave separate electorates to Muslim, Christian, Sikhs, and other communities of India. This created Hatred among the Hindu-Muslim population. Gradually some influential nationalist leaders like Vinayak Damodar Savarkar started to form groups like RSS, RIGHT-WING, and VHP. Muslim league also formed in 1905 and then with the end of the national struggle eventually India ended with partition. During which many riots took place and with which lakhs of people died and mobilized and thousands of people suffered. Religious conflicts have taken the lives of innocents who are not even part of these conflicts. Since partition, India has witnessed sporadic large-scale violence between Hindus and Muslims. Some of the most highlighted events are as follows:-
Exodus of Kashmiri Hindus:
In the Kashmir region, approximately 300 Kashmiri Pandits were killed between September 1989-1990 in various incidents. Kashmiri Pandits were ordered to leave within 24 hours.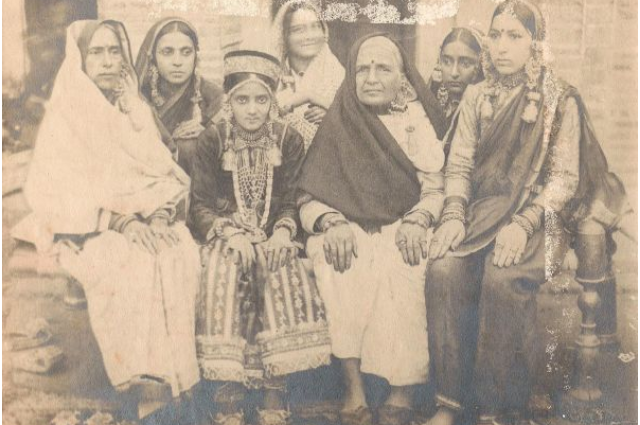 Masked men ran on the streets with AK-47 shooting to kill Hindus who would not leave. Since then, 3-5 lakhs of Pandits migrated.
Now does that mean despite the Majority of Hindus aren't safe?
No exodus was a terrible blot on Kashmir and exposes the failure of successive governments in Srinagar. In fact across India, according to a TOI report, Hindus experience no fear at all from Muslims, however relentlessly "love jihad" campaigns are pushed by Hindutva foot soldiers. When the exodus took place in Kashmir, it was not under the direct control of the Indian government.

Violence against Muslims in India:
Since the partition independent India had faced much violence. Violence against Muslims is frequently in the form of mob attacks on Muslims by Hindus. Some large-scale killing of Muslim incidents includes – Operation POLO in Hyderabad, Anti-Muslim riots in Kolkata, 1964 East Pakistan riots. Over 10,000 people have been killed in Hindu-Muslim communal violence since 1950.
These religious riots are influenced by some other influential leaders or political parties or political groups which have nothing to do with the country's growth and development and just want to create a mess in the country. Which eventually strains common people in it and makes them suffer. According to the NCRB report, 857 communal or religious riots were registered in 2020, 438 in 2019, 512 in 2018, and 869 in 2016. India wise average communal violence fatality rate per year was 0.01 person per 100,000 people per year. From 2005 to 2009 an average of 1e0 people died every year. Kerala has the highest of about 10 riot cases among 100,000 people inhabitants in 2020. Followed by the northern state of Haryana with over 8 cases per 100,000 inhabitants in 2020.

CONCLUSION
INDIA with a population of 1,405,828,638 is still a stable country after 75 years of independence. Despite the diversity, secularism is practiced on a large scale. India state has no religion. All and every religion in India is safe. Every citizen of the country gets an equal opportunity in work, education, fields, etc. regardless of their religion, caste, or sect. India is a developing nation and its fastest developing economy. India has developed in many things but still has some loopholes in it. Every minority religions have provisions for them mentioned in the constitution for their security. Still, some people of minority influenced by some and other political or local leader creates religious conflicts and riots and some of them become national concern reaching into Supreme court, and High courts. Due to this some important case like rape cases remains pending in the Supreme court and High courts. India is the country People are free to celebrate their festivals also Government supports this by giving national Holidays on those occasional days regardless of religion. Communal violence has its Impacts on the whole economy i.e. GDP, and development. Riots also deplete Human resources, India needs skilled human resources which eventually will lead to the development of the country. All And every person in a country must focus on the development of a country. Secularism is Practiced very well in India.
REFERENCES:
Timesofindia.indiatimes.com
Legalserviceindia.com
Worldometers.info
en.m.wikipedia.org
. . .