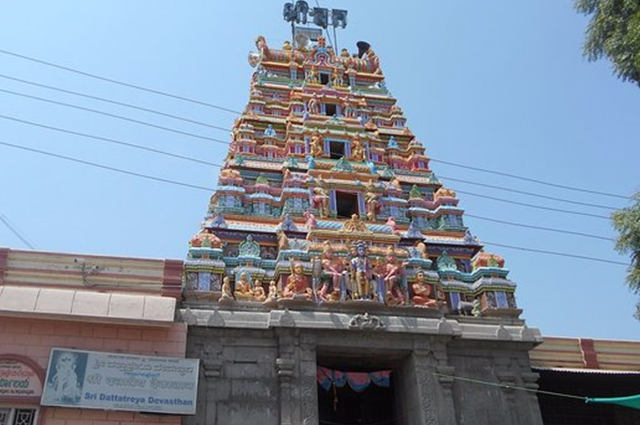 There are many haunted temples existing in India that claim Ghosts and Spirits existing and can overpower a person affecting for a long duration or lifetime which can be removed with the help of Hawans or Black Magic. Various places and shrines in the world which talk about haunted and have numerous ghostly stories linked to them. In India there are many spooky stories related to evil spirits and ghosts which make us difficult to trust upon the fact that black magic and ghosts really do exist. The more deeper you go into the Indian psyche, the belief in the existence of supernatural stories gets affirmed. Spirits, demons, wraiths, which constantly we see or hear about where people are under the control of an evil force, occupying different temples and places of worship actually can be seen. Such places in turn become synonymous with the paranormal and the downright eerie.

But there is one of the famous Temple in India which is very famous for its ghostly stories and one of it is Dattatreya Mandir, Gangapur located in the Afzalpur taluk of Kalaburagi district in Karnataka.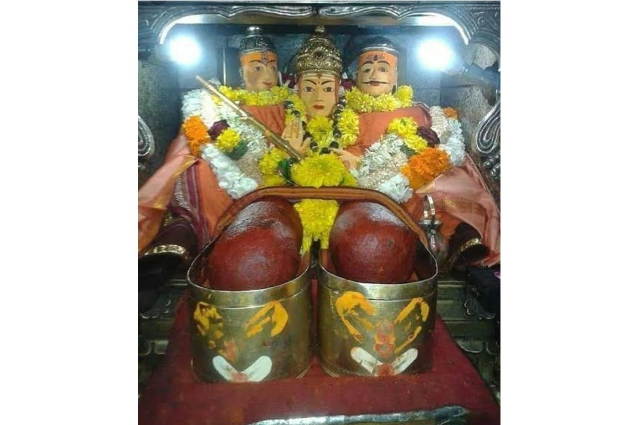 INTRODUCTION:
Shree Kshetra Dattatreya temple is dedicated to God Dattatreya who is an Incarnation of the Divine Trinity of lord Brahma, Vishnu and Shiva. Bramha is the creator who creates things, Vishnu is the operator he is the one who operates the universe and Shiva is the destroyer who destroys harmful & old things.
The temple is dedicated to Sri Narasimha Saraswathi swami who is considered as a 2nd reincarnation of Lord Dattatreya himself and lived around 550 years ago. Temple is simple, messy and not well maintained though. But throngs many devotees to visit this shrine. Around the vicinity of the temple there is confluence of two rivers Bhima and Amaraja which are considered extremely holy and whoever takes bath in this Sangam, will be free from their sins and their wishes will be fulfilled. Shreeguruswamiji had said to the disciples and citizens of Ganagapur as follows.
" Vasathi rani sangamase jate nithya bikshese taya vare Gangapurase madyana kala pareyasa"
"You need not worry. I shall stay at this Ganagapur kshetra secretly and will receive poojas at this Kshetra in the form of Padukas". The Padukas of shree Narasimha Saraswati Swamy at this place are "Nirguna Padukas" the meaning of Nirgun is formless, without any qualities and padukas meaning feet of God which carry shape like oval chocolate which are like soft cotton ball to touch which is made up of stone wood or any other material are unknown till date, only the priests are allowed to touch it for the early morning Aarti. The Padukas of Swamiji is kept in the Nirgun Math and the rites are performed to them.Shree Narasimha Saraswati swamiji is the purna avatar of lord Dattatreya who was born in Karanjapur (Maharashtra) in Vidharbha region. Many Datta devotees come to worship at Ganagapur Kshetra with true love, faith and dedication get thier wishes fullfilled.. It is considered as an important pilgrimage destination for people living in Maharashtra and Karnataka. Reading the Datta Gurucharitra absolves one of various sins attained by cleansing them and completing it will help them to find a solution.
Gangapur Temple is a famous one which gives a proof about black magic and spirits that really exists.The spooky ambience of Dattatreya Temple in Gangapur makes it a creepy place of worship to visit and is not for the faint hearted people.
The fear of spirits and the force of a supernatural element is not new in India or the world.There are equal number of believers as well as nonbelievers on this topic. But when there's an experience of anything unlikely that does not have a logical explanation, they turn to a place or worship that can ward off this evil.What if there are places of worship that are affected by these spirits too? This thought itself sends a chill down your spine,and Gangapur Temple is one of the temples in India that is believed to be haunted by the strange activities and place of existence of evil spirits.
HISTORY :
The Shri Kshetra in Ganagapur Karnataka is a sanctuary for devout Hindus. The Universal Guru avatar Dattatreya used to wander around in this area as a common alms seeker and blessed devotees whoever were deemed worthy. Dattatreya is said to have three faces, due to the fact that he was the sum product of the three lords. It's said that he disappeared in the woods one day, and years later he was believed to have reincarnated in the form of Shri Nrusimha Swamy. There are a number of small temples within the Ganagapur area, chief among them being the Sangameshwar Mandir and Kalleshwar Mandir.
IMPORTANCE/ SIGNIFICANCE:
The temple of Shri Kshetra Gangapur Dattatreya houses the Charan paduka of Shri Nrusimha which can be only found here and no where in the world. Many Devotees travel here to discover Inner peace, and find cures for their various ailments. The belief among the devotees is exceptionally strong and there are many legends of how people with mental illnesses and nearly fatal diseases returned hale and hearty after visiting this holy area and offering their prayers to the Gurus.
The important place to visit here are:
The main Dutta temple where Nirguna Padhuka
Bheema river
Audumbar Tree on the banks of the river holy place
The two rivers, Bheema & Amaraja confluence together
Shri Kaleeswara Temple
Bhasma mountain
Ashta Theertha
FACTS/ MYTHOLOGY:
The Dattatreya Temple is itself a blessed and highly auspicious place in the entire Ganagupura kshetra which is considered holy and is a major pilgrimage spot for Hindus everywhere. The area was first deemed holy after the appearance of Guru Dattatreya, and became even more important after Shree Nrusimha Saraswathy Swami took reign of the spiritual guidance activities in the region after the disappearance of Shri Dattatreya. Shree Nrusimha is regarded as the second avatar of Dattatreya himself.
REAL STORY OF BLACK MAGIC/ EVIL SPIRITS:
At Dattatreya Temple, people here are believed to be possessed they gather inside on new moon and full moon days. They are seen hurling abuses at the gods. Which is believed to free their body of the evil spirit in them. Very unusual sight of people climibing on the walls and ramparts of the temple and scream from there. Its a very bizarre site to witness and can certainly spook one out. Priests of the temple can be seen reciting mantras Hawans and pooja for hours together. It is visited by thousands of devotees everyday offering penance in extreme ways, ranging from climbing and chaining themselves to the walls. When the aarti begins people can be heard shouting, screaming, dancing with open hair and hurling abuses at the God.
Even though with all such paranormal activities the place is blessed and really powerfull. Once you visit this place surely one can will get peace. If any problems like black magic and ghost problems exists this place is a must visit.
FESTIVALS/ EVENTS/ GATHERINGS:
The place being a pilgrimage area houses a number of temples, mutts, and holy shrines, there are a number of religious activities that take place within the Shri Kshetra throughout the year. However, there are three major festivals that are celebrated with great ravelry here. Datta Jayanti (birth anniversary of Shri Dattatreya), Guru Purnima (The special day in the Hindu calendar dedicated to all teachers and gurus), and Shravan Maas (the holy month of Shravan) attracts large crowds of devotees, who come from every corner of the country and place their heads on these sacred grounds in the hopes of being blessed with lasting happiness and wisdom.
People suffering from Chronic diseases, Mentally retarded, Psychological problems, People overpowered with evil spirits come to this place to get remedy through pooja and hawans performed by priests in the temple. The trouble of bad or evil spirits and ghosts vanishes and one can get peace of mind with the darshan of Swamy Padukas at this Kshetra.
Many people get thier wishes fullfilled, solve their problems and dreams from God's grace soon after visiting Ganagapur and after taking just "Nirgun Paduka" Darshan of God. One can feel the positive energy in Ganagapur if they come up with positive attitude and belief towards God and the temple. Its still a hard fact to trust and wonder if black magic, evil spirits really could exist but truly this place is spooky and very powerful with supernatural powers existing which have no answers till date by anyone. The unnerving experience of the temple will forever remain hidden in the devotees own hearts.
. . .