Abstract:
Self-love is one of the most trending talks these days; As in an overblown theory of a crucial aspect of health, Self-love has been gaining utter attention across the globe. But what is Self-love? Treating yourself to a favorite food or escaping alone on a trip doesn't fit the concept of self-love; self-love states being kind and gentle to yourself; it subjectifies accepting your weakness and appreciating your strength.
Self-love is significantly helpful for everyone, beneficial in the way to improve your mental health, and blesses you with the true nature of happiness. Apart from reading self-book and hearing positive psychology lectures, self-love is much more than intellectual knowledge; let's see what it is? Because before practicing self-love, one must have corner-to-corner knowledge about it; as they say, Knowledge is power.
What is Self-Love?
Self-love is conceptualized as "love of self" it's a lively practice of showing love for self, showing compassion for self, embracing your flaws, and encouraging oneself. Study and research have proven the fact that self-love plays a key role in experiencing physical, emotional, and spiritual growth. Breaking the stereo norm that seeking love for self is all about treating yourself with the best like favorite food, vacation, shopping, alone-me time, and other materialistic practice during low or bad days; Self-love is the strategy to open up your thoughts and emotion about yourself and accept your true self with the relevant consistency.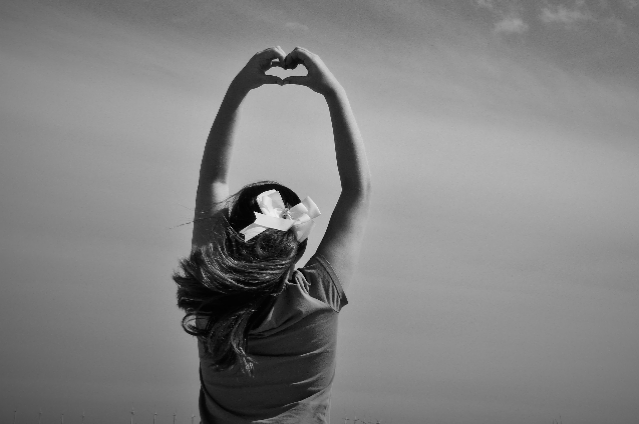 Self-love is not about gifting yourself with anything you desire; it's more likely about healing, helping, and empowering oneself.

The whole self-love procedure initiates with the basic task of opening yourself and sharing your emotional state with yourself. Analyzing and understanding all the negative, distressing and sensitive emotions.
Second is, you need to accept yourself as you are, resist the urge to change self, avoid competing and enclasp your imperfection; Learn to show affection to what you are
Thirdly acknowledge your strength and weakness, growth and falls, your victory and challenges, practice belief, and nurture every obstacle in the way to empower yourself.
Fourth and most crucial one is to learn to appreciate yourself, consider the tiniest progress and victory and nourish yourself with the praise you deserve.
A while ago, a global debate expressed that self-love is a selfish idea, but it was later proven wrong by the team of professional psychologists with their distinct theory; The theory states that self-love can be determined as self-bias, which is entirely healthy and positively fruitful. As a matter of fact, it is proved as a basic necessity to lead a happy life because the productive practice of self-love is potent to suppress the chaos and summit to conquer happiness.
Silhouette of Self-Love
Self-love is the concept of accepting self and showing love for what you are; it's an emotion to nurture your true self and motivates oneself to rise and acknowledge if you fail. It's a proven scientific theory to lead toward better physical, emotional and mental well-being. However, apart from the theory, let's see what self-love actually looks like.
Prioritizing yourself at first
Being attentive to self-talk
Showing compassion
Accepting your true self
Implementing boundaries
Pampering yourself
Putting a ban on comparing yourself
Pursuing your goals
Embracing your imperfections
Avoiding others taking advantage of you
Letting negative emotions go
Avoiding self-judgment
Why is Self-love utterly necessary?
Self-love is the ideal implementation of accepting your flaws, treating yourself in a positive way, showing yourself the kindness and respect that you deserve, appreciating your growth, and being gentle about your well-being. Once you start loving your body, soul, and mind, you come to see the positive changes and growth in a short matter of time; but that's not the only reason to explore self-love. It is essential to living that plays a key part in establishing a joyous life and building a healthy relationship. According to the scientific study seeking out love for oneself gives numerous psychological benefits, but not indulging in self-love can also be hazardous in many ways. Some of the problematic experiences recorded in the absence of self-love are.
Stress and Anxiety
Hopelessness
Insecurity
Shame
Sadness
Suicidal Thoughts
Prejudice
Depression
Lack Self-Esteem
Self-Doubt
Different Elements of Self-Love
Self-love is a healthy synonymous with practicing fresh, lively feelings and experiencing inner peace, harmony, and greatest joy. It's positive healing, a soothing balm to overcome all the tragedy in your life. It's not a theory about what we are or how we feel; it's all about how we respond, what action we take, and what we embrace. If you are on the path of loving yourself, you should not proceed with half knowledge. Knowing Self-love is incomplete without insight into its major elements. There are four significant elements that form self-love, and that help tackle negativity in your life and lead to the path of love, joy, and cheerfulness.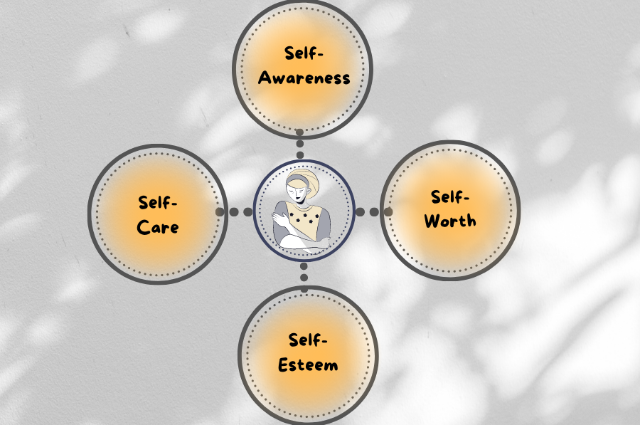 Self-awareness:
Self-awareness is usually stated as the state of recognizing your emotions and being aware of your thoughts and how you are processing them. This significantly turns out to be the key factor of emotional intelligence. Self-awareness allows you to effectively process emotions(negative or positive ) and situates your energy in the right action.
Self-worth:
Self-worth is all about analyzing and understanding your worth; it's about configuring the believe you have in yourself. It plays the dominant card in identifying your challenges, enhancing your understanding, and increasing your potential eventually. Showcasing dignity with your talent, strength, and ability might be the expression of self-worth.
Self-Esteem:
Self-Esteem is a more magnified version of self-worth; the realization of our worth and appreciation of the valuable qualities we achieve is what self-esteem feels like; in simple words, self-esteem is synonymous with confidence, self-respect, and belief in self. It is one important element of self-love because one with balanced self-esteem is potent to make a firm decisions, establish a healthy relationship, and have better emotional health.
Self-Care:
Justified by its name, Self-care is all about the activities we do in order to pamper ourselves; It's the implementation of how we care about physical and mental health state. It signifies by the series of daily livelihood routines kike diet, exercise, entertaining or cosseting oneself. It's more likely to engage in better daily living choices in order to take care and promote activeness of health.
Different Barriers to Self-love
Numerous of benefits of self-love we can count on, but being on the path of such the strongest positive emotion isn't as easiest as it seems. You will considerably confront challenges and hurdles in the process. Don't you want to know the barriers standing in the way of your living a happier and healthy life? Self-love practice is not a rational affair, and it's all personalized from the person-to-person verdict, which might differ these barrier grounds for a different person (Depending on what emotion they are surrounded with and what troubles they are facing). Recognize the obstacle that prevents practicing self-love so that you can tackle them and establish a secure connection to the self-love process.
Comparison - Drawing comparisons to others might also affect you from going through the path of self-love. Comparing yourself with others reduces self-esteem and eventually leads to narrowing your own value.


Myth of perfection - The intends to be perfect usually results in failures; being perfect is a myth, and being happy is all that matter. The label of perfectionism sabotages your potential, value, and belief and magnifies the negative emotion to the highest, which is also a reason to lack self-love.


Mental Illness - Struggling with bad mental health might be another cause; it is believed that people facing anxiety, depression, and other trauma might face trouble in establishing a love for themselves.


Abuse - Going through any kind of abuse (including physical, sexual, and psychological) can trigger the absence of mindfulness, and low self-esteem, which eventually falls back to standing in the way of loving self.


Judgment - When I said, go easy on yourself, I mean it; unnecessarily judging yourself from previous mistakes and failures will not let you open to healing and thriving. So, accept your imperfection to indulge in loving self.


Guilt - Guilt is another sinful emotion that might be standing in the way of loving yourself; the feeling of self-punishment and being stuck into past action's consequences might prevent you from being happy.


Self-doubt - The most common obstacle rooted in our minds is self-doubt, the feeling of unworthiness. Sustaining feeling like "you don't deserve it", "I am not worthy", or "I can't do it" can restrain you from the self-love path.
Practicing Self-love in life
"Go easy on yourself", "don't be so harsh on yourself", and "Learn to love yourself" it's deep but absolutely easier said than done; implementing the whole self-love idea could take time and patience, so you don't need to rush up; meanwhile there are some basic that help you practice self-love on the ground-level. Take it as the first step toward indulging the positive healing in your life. Some of the effective and easiest tricks of practicing Self-love are as follows.
Showing Gratitude
Give a break to negative thoughts
Prioritize yourself first, then others
Be gentle and patient with yourself
Focus on positivity in life
Practice Forgiveness
Stop with the criticizing and judgment
Shun the Past and embrace the present
Acknowledge your emotions
Treat yourself to the best
Start Journaling
Celebrate the tiniest victory
Take a stand for yourself
Stay away from Toxic relationships
Accept and love yourself
Outcome of self-love
You might have heard that Love is the strongest emotion that exists in-universe, the emotion which is characterized by passion, devotion, commitment, compassion, and desire. Now visualize these emotions together implemented, and nurturing yourself; that is the power of self-love.
Hence there is no hesitancy to say self-love has the ability to change your lifestyle upside down and fill you with positive emotion and mindfulness ecstasy. Being kind and patient towards self tends to improve your quality of living and magnify your strength and growth. Apart from them, some of the dominant outcomes that can be obtained through practicing self-love are compiled in the list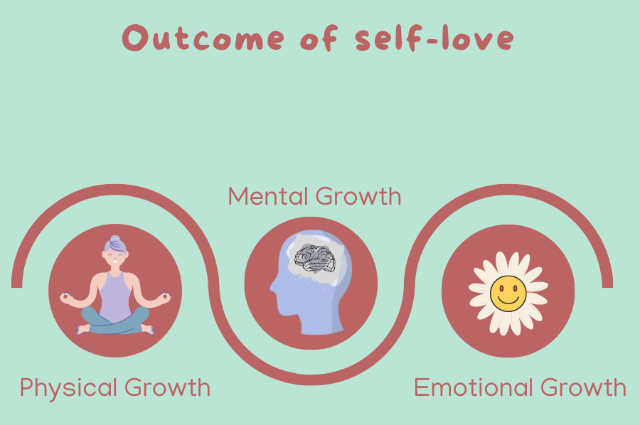 Career Success
Immense Motivation
Positive inspiration
Dose of Happiness
Relief from stress
Overcoming Fears
Lesser critics of self
Better resilience
Improved Physical health
Refine Mental Health
Conclusion
Till now, you must have concluded that happiness, mindfulness, and self-love are interconnected; or, more likely, self-love is the key to unleashing the happiness and joyous vibes in your life. So, the next day, you wake up, try implementing the basics of self-love in your daily livelihood, show compassion, be kind and gentle to yourself, and see how you bloomingly grow in a positive way possible.
Seeking love for self is not as easiest as it sounds, but with a small dosage of will, dedication, and consistency, you are potent enough to achieve every form of self-love and live a happier and healthier life.
So, take the first step today towards self-love because you deserve to be happy, you deserve peace, you deserve to be loved, and for that.
You are enough!
You have been always enough
And
You will be enough
. . .