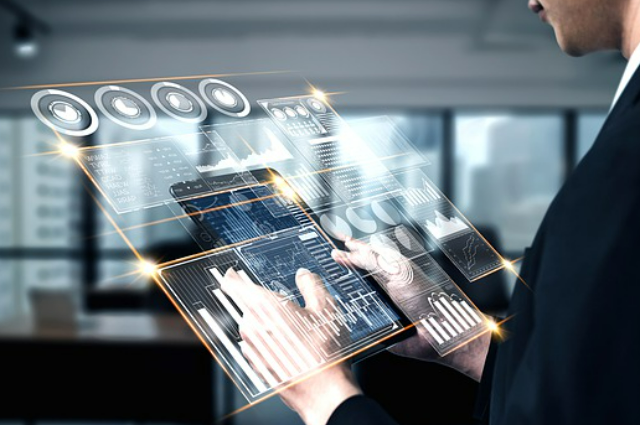 The elementary objective of marketing is to promote a product or service. Marketing helps reach the target audience and communicate a product or service to them via mediums that are the most relatable to the target audience. Although the fundamentals of marketing remain the same, the sector has revolutionized over the years, predominantly owing to the largescale penetration of technologies such as artificial intelligence and automation in the field of marketing. With the widespread adoption of technology in the field, marketing today is largely data-driven. Marketing is no more just a tool to convey the product or service to the audience, but it is a strategy to target the most relevant audience and enhance their experience. In addition to being beneficial to the customers, implementation of technology in the field of marketing also helps businesses flourish by reducing their operating costs and attracting a much larger but relevant audience. Not only does the use of technology help businesses operate more efficiently, but it also helps them stay ahead of their competitors by correctly predicting the needs of their clientele and understanding their thought process.

With the use of artificial intelligence in the field of marketing, businesses can analyse data to accurately predict and target their audience; thus, preventing the customers from going through the trouble of being approached by businesses whose products and services they are not interested in. In addition to being efficient and cost-effective, artificial intelligence in marketing helps minimize human interactions by augmenting the entire marketing team. Further, the data analysed by the artificial intelligence mechanism can help businesses provide each of their clients with a tailormade experience, subsequently intensifying the customer-centric personalized approach. For instance, a credit card customer who spends a significant amount on dining each month receives promotional messages and offers from restaurants based on the data generated by the credit card issuing company as a part of their as a marketing strategy.
Artificial intelligence alone offers numerous benefits in the field of marketing, however, certain extensions to the technology such as machine learning and big data analytics, along with artificial intelligence, further enhance the customer experience and the efficiency of operations. While incorporation of machine learning will help computer algorithms automatically learn each time they are used, big data analytics will help marketers analyse large pockets of data and narrow down to a more specific set of relevant data. Notwithstanding all the benefits artificial intelligence has to offer to the field of marketing, it comes with its own set of limitations and challenges. These include the initial setup cost and the time required to be invested in customizing the algorithms to meet the specific needs of each business implementing them.

Another appreciable use of technology along with artificial intelligence is automation. While artificial intelligence helps gather meaningful data, automation helps connect to the audience with a customized message via digital platforms. Automation can help develop the initial relationship between a brand and a customer by providing genuine information tailored to the needs of the customer. Automation can be implemented via various mediums including but not limited to, text messages, emails, and social media advertisements. In most cases, the data analysed by artificial intelligence will help determine the medium via which a potential customer should be approached, in addition to the customer psychology and preferences. For instance, if statistics indicate that a potential customer spends 4 hours a day on Instagram but only 15 minutes a day on Facebook, the most logical approach would be to reach out to the potential customer on Instagram.
Though automation majorly helps in customer acquisition, it also plays a vital role in customer retention by following up on customers. An automated mechanism to reach out to existing customers based on the data generated by their previous purchases would make an excellent strategy to develop a relationship with a customer on a personal level and keep existing customers interested in the offerings of the business. For instance, a customer named Harvey regularly visits a local supermarket that stores his personal data such as his name and contact number, along with a list of his purchases on each visit. His data indicates that his cart largely comprises of exotic chocolates. Now if the supermarket were to introduce a new brand of imported chocolates, they would send an automated personalized message to Harvey and several other customers like him who majorly purchased chocolates, thereby connecting to them on a very personal level while giving them a reason to revisit and keep them interested in the products the supermarket has to offer. Not only does this help businesses flourish, but it also helps enhance the experience of customers by catering to their specific needs and personalizing their interaction with businesses.

A well-known e-commerce giant Amazon has developed the most customer-centric business model ever by incorporating technologies such as artificial intelligence, machine learning, big data analytics, and automation. Amazon generates and analyses tremendous data which it uses to filter search results for its customers and personalise their experience by recommending products that match their needs. Amazon offers thousand of products in each category but most of its customers find their desired product in the top ten search results. This is a prima facie example of enhancing customer experience by incorporating technology.
To conclude, technology such as artificial intelligence and automation has become an integral part of marketing. These technologies, on being implemented correctly, will not only help businesses flourish but also help enhance customer experience and motivate customers to stay loyal to the brand. With unprecedented growth in technology-oriented branches of marketing such as digital marketing, use of various technologies in the field of marketing is only expected to increase in the years to come.
. . .