"A person who never made a mistake never tried anything new" -Albert Einstein
Will the above-mentioned quote suit this Rummy Culture? - One of the most divisive problems humanity is currently facing. Let's see...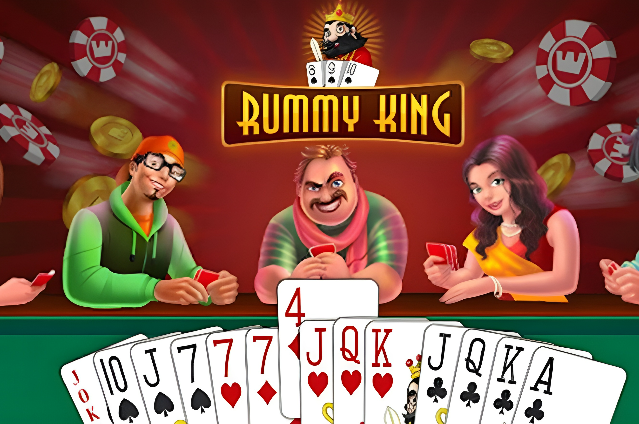 The King "Rummy"
One of the most played games ever is rummy. It is also a really old game that has been around for a very long time. Playing rummy is popular all throughout the world. Rummy is one of the most well-known games performed as a form of entertainment in India. Additionally, it is played during holidays and social gatherings.
People's choice:
Rummy is also played by those who have long commutes for work-related reasons. It's a game that people play for a variety of reasons. Some people play to pass the time, others to socialize over snacks, while still others play to make a little more money for themselves.
The king of all conventional skill games without a doubt is rummy. One of the most well-known card games of all time, it has a wide range of regional variations. Despite the game's several iterations, the fundamentals haven't changed. To make a legal declaration in the game, all players must arrange their initial hand of cards into the necessary combinations. Players must continually strategize in order to choose and discard the best cards. Rummy is a game that almost everyone has played at least once. The game is now playable online due to the advancements in technology and Play Store offers a wide variety of rummy apps.
Revisiting the Rummy Game's Early Steps
A simple Google search on "rummy game roots" would reveal that David Parlett claimed the Mexican card game Conquian to be the source of all variations of the rummy game in The Penguin Book of Card Games, published in 1978. Conquian is a four hundred-year-old form of rummy that originated mostly in Spain and Mexico before spreading to the United States. It is said that the rummy game crossed the Atlantic and then traveled to England from this location.
A Connection through Poker:
There is an intriguing hypothesis that claims the game of rummy was created by French settlers in the West from the game of poker. According to the theorists that support this hypothesis, poker and rummy both involve the grouping and formation of sequences of cards. It has been suggested by renowned card game expert John Scarne that the game of rummy may have originated from a card game called "Whisky Poker," which was afterwards renamed "Rum Poker." This term was then changed to "Rum" before becoming popularly known as "Rummy."
The Asian Rummy Game:
Rummy has essentially been played in the same way throughout history. Players must essentially arrange the cards dealt to them into sets and/or sequences in order to win the game. According to legend, the Chinese card game Mahjong was the first to use a draw and discard strategy. Over a thousand years ago, during the Tang Dynasty, the game was first introduced. Another idea that tries to explain how the game of rummy got to Asia contends that it is related to the Portuguese travelers' introduction of the Japanese game of Hanafuda. Hanafuda first gained popularity as a gambling game with a variety of card designs in the seventeenth century.
Newer Rummy Version - Online:
We might never be able to definitively say which explanation about the genesis of rummy is true. However, it is safe to conclude that we have all at least seen, heard of, or grown up playing this game given its widespread appeal across continents. Today, there are several gaming apps you may download and use to play rummy online whenever and wherever you choose. Additionally, it facilitates communication with those who share your interest and enthusiasm for the game. Because the game was available online, anyone with a smartphone and an internet connection could play it without having to worry about lugging a deck of cards or waiting for a game to start.
Advantages of Online Rummy:
1. Greater Accessibility: When something goes online, it inevitably becomes more accessible, and the same is true of the rummy game. Now that rummy is always available, you no longer need to wait for a set day or time to get together with your pals to play. Furthermore, you can play online rummy whenever you want thanks to the game's mobile and tablet editions.

2. Remedy for Loneliness: Online rummy players never experience boredom because they may play their preferred game whenever they want and engage with individuals from all backgrounds. As a result, this game has a social value in that it helps combat boredom and loneliness because online rummy players enjoy playing it together.
3. Wide Variety of Payouts: For every event and festival, online rummy gaming sites organize a variety of tournaments with large rewards. As a result, playing online rummy offers greater rewards than playing offline rummy.
4. Additional Benefits: Since online rummy is a skill-based game, it also offers some additional benefits. For example, it fosters cognitive skills like multitasking, enhanced memory, and greater planning.
Disadvantages of Online Rummy:
Based on our research, we were unable to identify any significant drawbacks compared to the game's benefits. However, we only received a few, which are listed below:
1. Excessive Playing Time: When people play online rummy for a significant portion of their productive time rather than focusing on their task, harm results. Since there is no time limit for playing the game on online rummy sites because they are open 24 hours a day, 7 days a week, it can be dangerous to the player if they go beyond it.
2. Going Over Budget: Going Over Budget is another drawback of playing online rummy. People often forget their spending cap while playing games, which is dangerous.
Wow Factors About Online Rummy
Other Evidence. Here are a few lesser-known details:
Over the past five years, organisations like Tiger Global, Sequoia, Raine, Tencent, Kalaari, Chryscapital, and Matrix have invested about $350 million in the business in the form of venture capital.
By 2026, the Indian online gaming market, currently valued at $2.2 billion, is projected to grow to $7 billion. Nearly 400 million people in India play video games, and by 2025, that number is anticipated to rise to 700 million.
Rummy is regarded as the third most played card game in the world. The most popular card game on the web is this one.
It has about 20 different variations that are played all over the world under different names.
Playing the game for monetary incentives is permitted in several nations.
Since 1970, the games with the highest levels of residential gambling have been rummy, sports betting, and poker.
Knowing that Rummy is such a well-liked card game that people of all ages play makes it sound alluring. You can play this game anywhere you are thanks to the internet. Because of its excellent design, both newcomers and experienced players can play Rummy online. You can easily play and win money when you want. The goal is to combine like cards to increase your score. You can make money playing rummy if you are well familiar with the rules and adhere to them flawlessly while using your own strategy. To defeat your opponent and arrange your cards so that you may win easily, you need an efficient strategy. Many gamers are participating in this online game to gain money or for fun.
The Great Public Issue
Controversial Facts:

"This industry has boomed, alluring youngsters to engage with it and get addicted. The screen-time spent on online gaming has gone up from 2.5 hours in pre-Covid times to 4 hours during the lockdown"
"The industry earned Rs.13,600 crore from 43.3 crore users in FY21 and the revenue is projected to rise to Rs.29,000 crore from 65.7 crore users in FY25" - Sushil Modi said in a session in December 2021
"Online gaming is a sunrise area. A second software revolution in India may be sparked by the sector with the correct backing and regulatory clarity, benefiting millions of people by generating wealth and jobs" - Dinker Vashisht, Vice President of Games 24x7
"By 2022, it is anticipated that the Indian online gaming market, which is headed by companies like Dream 11, Games 24x7, MPL, and PaytmOne, will be worth $3 billion"
Recent Severe Death Cases:
17th June, 2022 - A 37-year-old Manali resident was hanged at his home after allegedly becoming sad after losing nearly Rs. 20 lakh playing the internet "game" of rummy, adding to the state's death toll.
11th June, 2022 - On Thursday night in Chennai, a 39-year-old mother committed suicide after her husband lost money in an online rummy game that she had saved to pay for her son's tuition.
6th June, 2022 - In Chennai, a 29-year-old lady committed suicide after losing around 10 lakh rupees playing online poker, a habit she had developed during the lockdown.
1st May, 2022 - A 39-year-old man hanged himself on Friday at his Porur house after losing more than 15 lakh rupees playing online rummy games.
Promotion and Actors:
Actress Tamannaah Bhatia, renowned Malayalam actor Aju Varghese, and Indian cricket captain Virat Kohli have all received notices from the Kerala High Court. Because they are the representatives of the online rummy games, notices have been served to them.
Rummy games played online are growing in popularity every day. All states have laws against this, in Kerala, there is a 1960 Act. However, nothing has been done thus far. This act does not include online rummy. People are going to be duped and pulled into the game when popular celebrities advertise such games. They become victims of gambling.
Prohibition/Ban:
Rummy is a game of skill that requires skills of the player and has been declared legal by the Supreme Court of India. This also applies to cash rummy games. You can play rummy online and win money and that is perfectly legal. The government even levies an income tax on very big winnings in a single game.

23 persons had lost their lives in Tamil Nadu since the ban was overturned in Tamil Nadu since August 2021. Early this year, the High Court invalidated some portions of the Karnataka Police (Amendment) Act 2021 in order to thwart a move by the Karnataka government. Karnataka's claim that skill games with a chance of player loss of money should likewise be prohibited was rejected by the court. In August 2021, the Madras High Court rejected a similar attempt by the Tamil Nadu government.
The Kerala government issued a notification earlier on February 23 under Section 14A of the Kerala Gaming Act, 1960 clarifying that online rummy when played for stakes does not enjoy exemption from the general prohibition of gaming and gambling.
Kerala joins other southern states of Telangana, Andhra Pradesh and Tamil Nadu in specifically banning online rummy or other games played for stakes following a spate of suicides as well as cheating, theft and other unsavoury incidents caused due to online rummy addiction. Karnataka joined Tamil Nadu and Kerala as the third Indian state to restrict internet gaming by enacting a law in September of last year.
Conclusion
If one thought rummy was just for the men of a certain age from a certain socioeconomic class, its not like that. Suneeta Sharma from Gujarat Wins RPL 11's 1.5 Million in Junglee Rummy. Regarding Online Rummy, there were a lot of debates going on. But the truth is that it's only a game. People simply need to regard it as a game that is played for enjoyment purposes alone.

"Everyone has two eyes but no one has the SAME VIEW"

. . .
References: