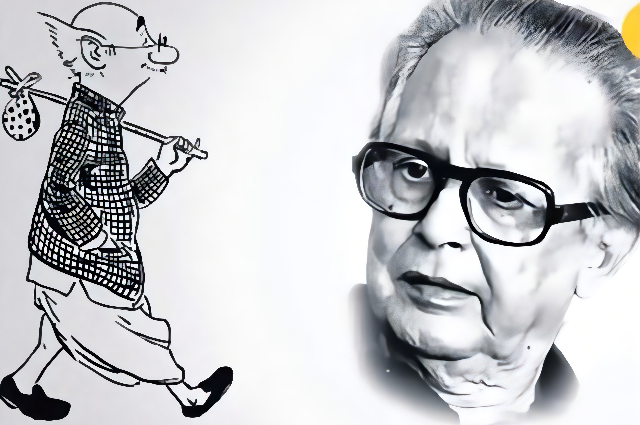 Introduction:
Very few could notch such an indelible mark in the history of Indian journalism as Rasipuram Krishnaswami Laxman popularly known as R K Laxman did. R K Laxman, the people's illustrator, is no more but he continues to live in the heart of aam aadmi for his immortal creation the Common Man and the daily cartoon strip 'You Said It' published in The Times of India for five decades. His silent but ubiquitous common man appositely represented hopes, aspirations, grievances, frustrations, pains and helplessness of the commoners. R. K. Laxman in his doodles had spared no class of the society including political leaders, religious leaders, self-proclaimed god-men, business tycoons, bureaucrats and so on.
Appearance of Common Man:
The Common Man has no single attribute common to all Indians. Laxman in an interview said, "I created a mythical character in a striped coat, with a bushy moustache, a bald head with a white wisp of hair at the back, a bulbous nose on which is perched a pair of glasses, and he has thick black eyebrows permanently raised, expressing bewilderment. He stands for all Indians and goes through life without uttering a word, but watches with amusement the ironies, paradoxes and contradictions of the human situation."
Conscience of the Nation:
R K Laxman with his unique creation of the Common Man chronicled the entire gamut of idiosyncrasies and mannerisms of Indian life and politics. The Common Man, who represented average Indians, was witty and sarcastic but not vitriolic and virulent.
For Laxman believed,

"My sketch pen is not a word, it's my friend."
His masterful strokes in the front page of The Times were eagerly awaited by the fans of the Common Man every morning over five decades since 1951. The Common Man's mien equipped with limitless perseverance, endurance and tolerance reflects his iron determination that he cannot be ignored for he is 'the conscience that pricks the evildoer, the social offender, the practitioner of all those trades which we might have liked to practice but for fear of the police, if not of God.'
Laxman's Career as a Cartoonist:
Laxman had a deep passion for drawing since early childhood. While studying at Maharaja College in Mysore, he illustrated stories by his novelist brother RK Narayan in the daily The Hindu. He joined as a cartoonist at Koravanji, a popular Kannada magazine published from Bangalore. He drew political cartoons for Swatantra, edited by Khasa Subba Rao. Before leaving for Mumbai, he worked a few months in Gemini Studios in Madras. In 1946, R K Laxman joined The Free Press Journal in Mumbai where he found Bal Thackeray as his colleague. Laxman was denied admission in the J.J. School of Arts in Mumbai as he was told that he had no talent to qualify. But to his utter amusement, he was felicitated as a chief guest by the same college when he earned a reputation as a cartoonist in The Times.
The sharpness and keenness of observations that marked his works was explicit in his own words:

"I drew objects that caught my eyes outside the window of my room – the dry twigs, leaves and lizard-like creatures crawling about, the servant chopping firewood and, of course, and number of crows in various postures on the rooftops of the buildings opposite."
Mr. Laxman was greatly influenced by the New Zealand-born eminent cartoonist David Low. Besides, his illustrations have infused life in the characters of R. K. Narayan's "Malgudi Days". Hardly can a reader concentrate on the book without glancing at the illustrations time and again while reading only to find out resemblance between the illustrations and the descriptions of the characters and the atmospheres. His affection and adoration for the crow also deserve to be mentioned as one of his distinctive traits.
A Few Popular Sketches of Laxman:
Here I cannot help citing a few of his masterpieces. The famous cartoon sketching B. R. Ambedkar sitting on a snail and being lashed by Jawaharlal Nehru with a whip in his hand signifies procrastination in drafting the Indian Constitution. In another cartoon of Laxman, housing problem is shown. A small house is congested with furniture, residents of the house and a dog with its tail upward. The owner of the house is heard to say, "due to space constraints, we trained him to wag his tail vertically." His concern for poverty and hunger is noticed in a touching cartoon. A beggar who is mistakenly considered as a faster said, "There must be a mistake. I am not fasting. I am starving." The car parking problem comes out in his witty cartoon where the protagonist says, "I've solved the parking problem. I've just sold the car."
Again the hike of petrol price becomes the subject of his cartoon when the owner of an almost naked car congested with passengers is heard to regret, "Each time there's a petrol price hike, I remove one body part." From one of his works we come to know how poor a country India was. Almost the entire country was under the grip of famine and starvation. In an apparently famine-hit area, the caption reads, "You don't have to promise them anything, sir. This is not what has been declared a famine area – it is further up." In another humorous sketch Laxman has expressed the corrupt nature and frailty of a middle class officer. When the officer's wife finds his lady secretary reclining on his knee in the house, she complains, "First you brought the files home. Then the calculator. Then the typewriter, the dictaphone and now the secretary. You have converted your home into an office. Is it fair?" There are hundreds of timeless masterpieces by R. K. Laxman.
Effects of Common Man on Politicians:
His cartoons drew both delectation and disdain from influential politicians. After the Sino-Indian War in 1962, Nehru was caricatured by Laxman. Instead of taking offence, Nehru to Laxman's utter bewilderment rang up him and said "Mr. Laxman, I so enjoyed your cartoon this morning. Can I have a signed enlarged copy to frame?" But Morarji Desai's reaction in repercussion to Laxman's one cartoon criticizing his plans to ban horse racing and crosswords was quite antipathetic. The former Prime Minister felt so outrageous that he discussed in a full-dress Cabinet meeting how to eliminate the menace of cartoonists like Laxman.
His cartoon on the earthquake in Gujarat in 2001 brought tears to the eyes of Karan Singh, a renowned politician. But, the nuclear scientist cum the President of India A P J Abdul Kalam had high esteem for Laxman as a cartoonist whose works he considered as antidote for hard times and hard lives. In his inaugural speech in an exhibition on Laxman's works Dr. Kalam said, "Shri R.K. Laxman is a great friend of common man and he is internationally known for his vivid portrayal of various problems faced by the common man in his day-to-day life. Radiating silence to his common man is a non-lethal weapon to match the power and strength of Ahimsa movement." During anti-corruption movement led by Anna Hazare in 2011, Laxman's Common Man was revered in a befitting manner. But he had to face the scissor of censorship during Emergency when the government exercised zero tolerance on all criticism of the state.
Recognition of Cartoonist as Artist:
R. K. Laxman was inspired by the British cartoonist David Low and temple carvings in his way to achieve precision in drawing. He was perhaps the first person who could elevate cartoonist to the height of an artist. He was the first cartoonist to be hosted in an art gallery. The Times of India allowed Laxman to go to London and drew under the caption "Our Cartoonist Abroad." There he drew caricatures of Graham Greene, David Low, T. S. Eliot, Bertrand Russell and J. B. Priestly.
Awards and Honours:
He was awarded Padma Bhushan, Padma Vibhushan and the most prestigious Magsaysay Award. He was honoured with an honorary doctorate from the University of Mysore and a Lifetime Achievement Award as journalist by CNBC TV 18. The Indian Postal Service released a commemorative stamp featuring the Common Man to mark the 150 years of The Times of India. The Symbiosis Institute has erected a 10-feet high bronze statue of the Common Man at Pune and his another statue stands at Worli Sea Face, facing the sea sans speaking, just observing the state of affairs silently. The Common Man has been made the mascot for Air Deccan, India's low-cost airline, since 2005.
Conclusion:
Though the father of "Common Man" is no more with us, his immortal creation will never fail to indicate errors and foibles committed by us. His extraordinary genius will never fade. N. Ram, veteran journalist, said, There are would-be geniuses in the field of Indian journalism, and there are individuals aspiring to be geniuses, but I have long been clear that there is only one unambiguous genus among Indian journalists, and that is R. K. Laxman."
. . .