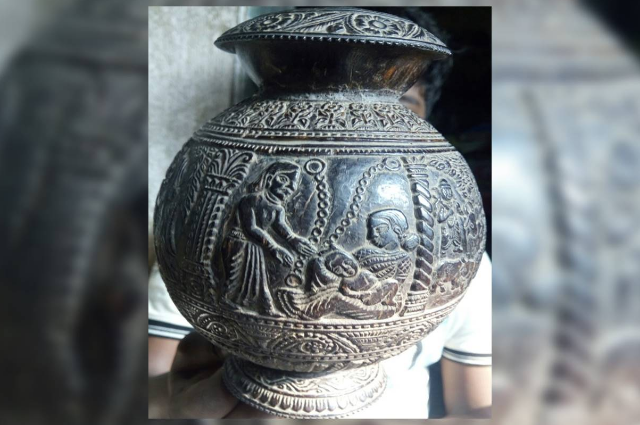 When a modernist revolt against the traditional medium of fine art had been gaining ground, a young sculptor sans formal education and belonging to a remote village in the undeveloped Bankura district was engrossed in carving intricate designs based on mythological and epical tales and figurines, gods and goddesses, flowers, creepers, birds and animals with dexterity and deep acumen on waste materials including throwaway shells of coconut, wood apples, gourds, oysters, etc. to create innovative masterpieces. Neither a preceptor nor any illustration was there to inspire and guide him. He was confined in the obscure village detached from the modern world. The name of the sculptor was Gopal Nandi who has conferred the prestigious National Award for his excellence in Coconut Shell Carving in 1988.

The year was 1973. Gopal Nandi, a lanky middle-aged man of about forty, migrated from his remote village Hatgram of Bankura district to Bishnupur, a subdivisional town of the same district in search of destiny. Under the careful supervision of his father late Ashutosh Nandi since before he reached his teen, he had already learned how to make simple articles like bangles and blowing instruments out of conch shells. But a deep impulse of creativity imbued with a high sense of aesthetic sensibility made him restless and not to be confined in humdrum. He dreamt of doing something extraordinary and marvelous that would captivate onlookers. He like a few other artisans excogitated that a conch shell too might be made a medium of distinguished sculptural expression.
Gopal Nandi was one of the pioneers of those sculptors who brought about a revolution in engraving intricate designs on the conch shells. Following the footprints of the first-generation conch shell carvers, he started his journey as a sculptor. Conch shells in India were primordially used mainly for two purposes. Still now in most parts of India conch shells are widely used as wind instruments for the acoustic announcement of religious and auspicious rituals to ward off evil spirits and negative power. Other daily usable materials fashioned from conch shells are bangles that are generally worn by Bengali women as an auspicious symbol of the yearning-long life of their husbands.
In those days most of the Shankhakars (artisans who make objects out of conch shells) would earn their livelihood by hawking (popularly known as 'ferry') bangles and blowing instruments made of conch shells in villages. Gopal Nandi in his early life was not an exception. What made him different from other Shankhakars was his visionary zeal to become a sculptor of national repute. His dream came true step by step. His sculptural masterpieces on conch shells entailing delicate expertise, nuances, a reflection of high imaginations, and sublimation of creativity brought him two prestigious awards in the conch shell craft twice in 1972 and 1974.
But the conch shell industry suffered a terrible blow due to the scant availability of raw materials Turbinella Pyrum, a marine gastropod mollusk in the family of Turbinellidae. This species of conch shell is exclusively used in the conch shell industry. Naturally, the soaring prices of the raw materials left creases of apprehension on the forehead of those artisans involved in the conch industry. Many workers shifted to other professions to eke out a living.
But Gopal Nandi stuck to his profession cum obsession of remaining as a sculptor. He with his power of imagination and creativity taught others how to withstand an untoward situation. One winter morning he noticed a few coconut shells left over after procuring the carnal. They were brought for preparing coconut laddus (a kind of homemade dessert popularly known as narkel ladu) for the celebration of Makar Sankranti. A new idea clicked in his head. He collected those coconut shells. He rubbed and polished them to make them suitable for carving with his handmade tools. He was well-satisfied.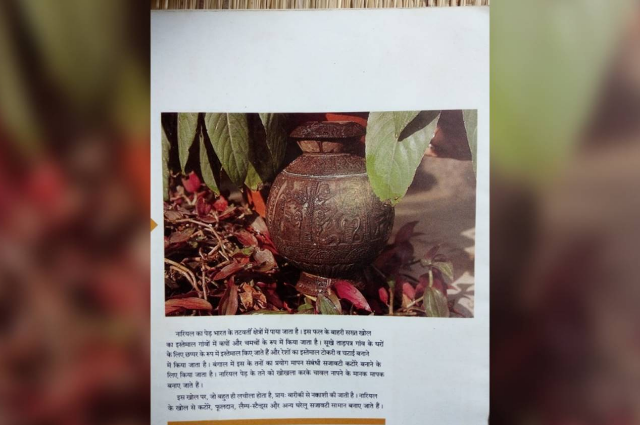 He purchased a huge coconut and scraped out the carnal. Then he with his adroitness engraved on the coconut shell, a scrap material, with his obedient chisels and files for days. Mr. Nandi created a masterpiece in his first initiative in the new medium. He carved the motif of "Krishnalila" (amorous sport of Lord Krishna) on the coconut shell. The coconut shell was transformed into such a glossy material that the officials at first refused to accept Nandi's claim. The officials were convinced after witnessing the magical performance of Nandi in their own eyes.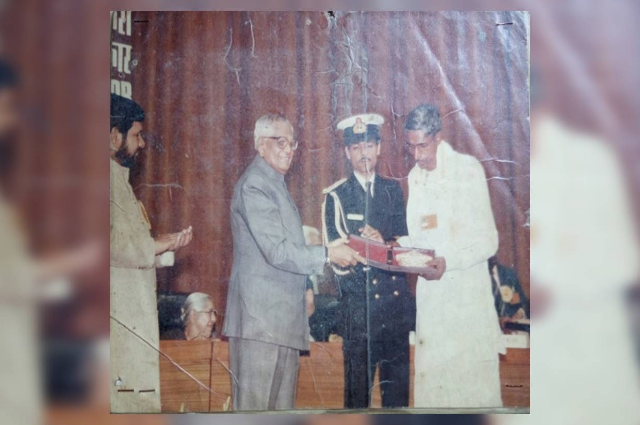 The Mangalghat-shaped urn made of coconut shell earned him fame and he was awarded by the State Handicraft Department. The state officials took the initiative to send the masterpiece to compete for National Award. In 1988, Gopal Nandi was awarded Rashtrapati Purashkar (President's Award). The then Hon'ble President Ramaswamay Venkataraman gave away the prestigious award with the Tamrapatra (copper plaque). His recognition as a great sculptor spread far and near.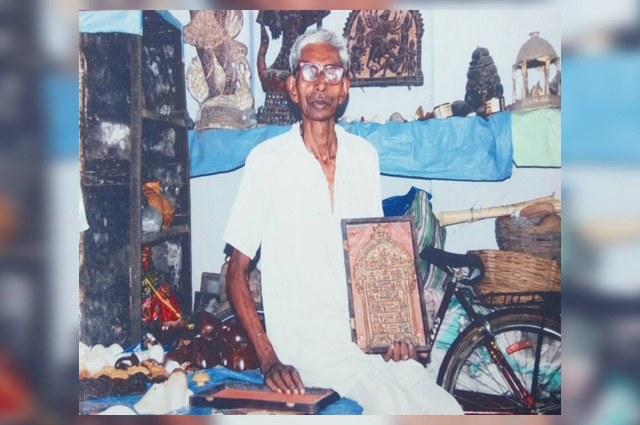 Gopal Nandi's masterpiece of Mahishasuramardini engraved on a conch shell under the title "Known Art, Unknown Artists" was documented by the Anthropological Survey of India under the Ministry of Culture of India. He had been invited to exhibit and sell his artifacts in government-sponsored fares in Delhi, Madhya Pradesh, Gujarat, Rajasthan, Punjab, Kashmir, Kerala, Maharashtra, Goa, Chhattisgarh, Tamil Nadu, Karnataka, and where not. He had been proved a cynosure everywhere for his genius of metamorphosing waste materials into precious ones. The avant-garde marvels fashioned from waste materials have conjured both domestic and foreign connoisseurs and admirers of art and sculpture.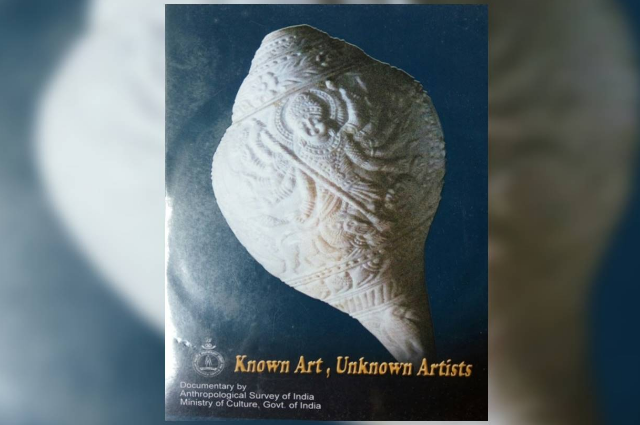 From then on Mr. Nandi did not have to look backward. Above all, his landmark instaurations encouraged many sculptors to return to their profession of carving. They learned from him that the expertise of a genuine sculptor cannot be dictated by medium only. It needs aesthetic acumen and the power of imagination. A craze for experimenting on different other scrap materials engrossed Mr. Nandi. He tried on the dry shell of a gourd and sculpted a huge frog with its back carved with Mahishashurmardini and other intricate designs. He embossed the figurines of the mythological characters of the Ramayana, the Mahabharata, and the Puranas on cast-away materials including wood-apple and coconut shells, and oyster shells littered on the seashores, and so on.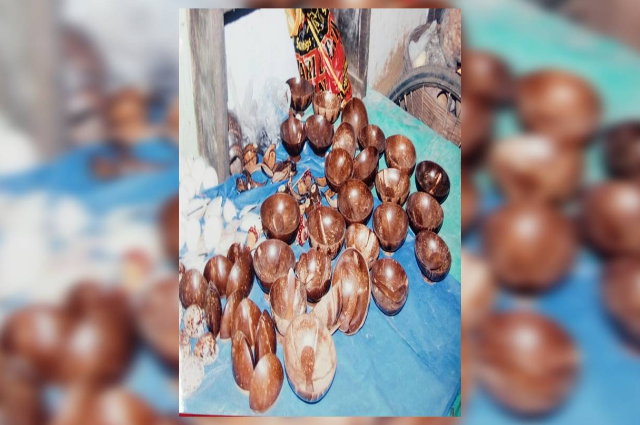 With the passage of time, his craze for metamorphosing waste and scrap materials into wonderful forms of sculptural artifacts had unwittingly become his obsession and profession, as well. He refined and extended his art of molding and forging to produce artifacts of both fine art and functional art. He fashioned beads resembling original pearls from conch and oyster shells to string necklaces and a variety of ornaments used by women. He molded cutlery implements including spoons, forks, knives, and utensils like bowls, kettles, different types of urns, pots with lids, etc, and hair pins, for household uses. He used a variety of waste materials to fashion them with his dexterity. They are all engraved with different motifs to make them exclusive to the wonders of onlookers.

Gopal Nandi's masterpieces had been extolled by domestic and foreign connoisseurs. His exquisite creations on coconut shells are still preserved in the Delhi museum and Acharya Jogesh Chandra Purakirti Bhavan at Bishnupur. Many admirers from India and foreign countries drop in his shabby hut to witness and buy his enchanting creation. Once he was ordered to make one lakh bowls fashioned from coconut shells by a French entrepreneur.

Unlike most other Shankhakar families, Gopal Nandi never encouraged his two sons and one daughter to leave this family profession. A sense of commitment to his self-innovated profession of sculpture always inspired him to carry on the legacy of his invention. He taught his two sons how to engrave on a conch shell and coconut shell. His eldest son Nitai Nandi has earned fame enough in the medium of coconut shell and other mediums. He has already received many prestigious awards. On the other hand, Mr. Nandi guided his younger son late Dhruba Nandi to become a great conch shell carver. He was also the recipient of the prestigious Certificate of Merit conferred by the Ministry of Textile for Conch Shell Carving in 1993.
Mr. Nandi believed in the ability of female members to come into this profession. Earlier and even today women workers were generally employed in doing rough works that did not need too much specialty. But Mr. Nandi veering from this so-called prejudice encouraged the female members of his family to come to this profession of carving. His wife Mrs. Gita Nandi is considered the first woman engraver of conch shell handicraft. His daughter Shyama Nandi (now Roy) does not lag. She has also won many state and interstate awards to her credit.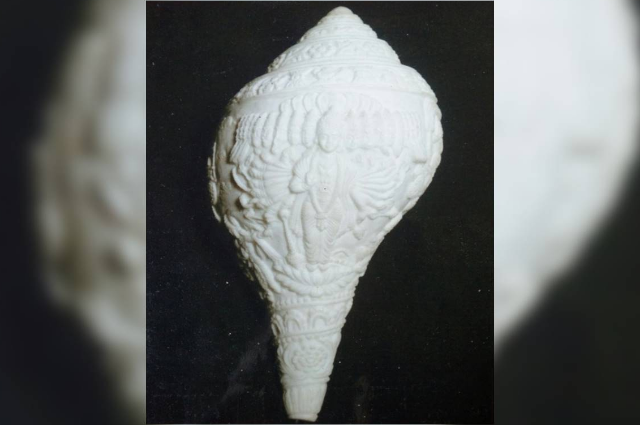 Gopal Nandi manifested as the savior of hundreds of Shankhakar families when a blanket ban was implemented on many marine species including Turbinella Pyrum, in July of 2001. Many fishermen, who eked out by fishing conch shells from the seas in South Indian states, were nabbed. An import consignment of a Kolkata-based dealer was mistakenly seized. Thousands of people involved in the business were in deep water. The supply of raw materials was totally stopped. The craftsmen both skilled and unskilled were without work.

Mr. Nandi's innovative contribution of creating exquisite artifacts out of waste materials was then realized by many workers. They shifted to other mediums mostly coconut shells, wood apple shells, bamboo, etc. Gopal Nandi had already prepared the ground. A new horizon was opened before the craftsmen and workers so far involved solely in the conch shells industry.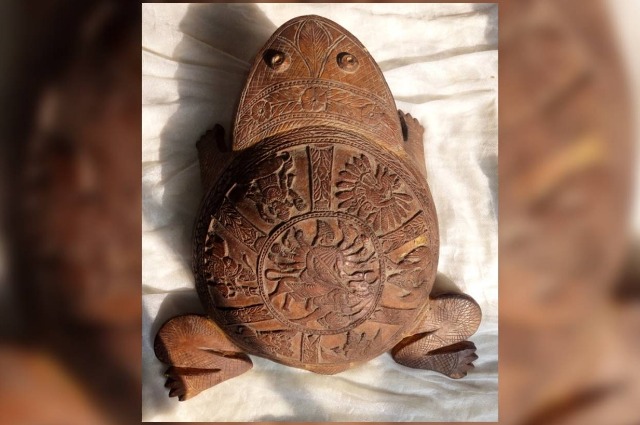 Different types of daily usable articles including pen vase, flower vase, incense stick stand, full set of cutlery, attractive showpieces, key rings, shirt buttons, earrings, necklaces, pendants, multi-shaped pots, bowls, etc were being fashioned in conformity with the demand and vogue of the market. They started earning much more than before as the raw materials are of little value. The ban on the species Turbinella Pyrum is revoked after a few months. But most of the Shankhakars preferred to remain in their new mediums for soaring demands and profits as well. So far a large number of students under Mr. Nandi's training have earned fame and fortune in India and abroad to carry the torch of his innovative sculpture on waste materials.

Ironically, the great inventor sculptor who was once the savior of thousands of impoverished artisans was in deep distress himself. Mr. Gopal Nandi in his late eighties was bedridden with a geriatric ailment for over two years. His artisan wife Gita Nandi was also unable to leave her bed without help owing to prolonged illness. The untimely demise of the younger son had almost brought about the devastation in the family. In 2020, the great sculptor breathed his last. Mr. Nandi's dream of setting up a museum preserving his artifacts seemed to plunge into an abysmal depth of uncertainty.
The family is now passing through a deep economic constraint. The shabby hut where the family lives are stacked with exquisite masterpieces, including the urn made of coconut shell that won Gopal Nandi the President's Award, valuable citations, photographs, paper cuttings, etc. Layers of dust make them as shabby as Mr. Nandi.
Their only daughter Shyama Nandi (Roy) who is also a conch shell engraver, clinging to the memories of her dead father is travailing hard. Almost every day domestic and foreign connoisseurs and admirers drop their shabby huts to see Mr. Nandi's works. Some of them propose to buy them, too. But Shyama is determined not to leave her father's masterpieces anymore.
She looks quite optimistic and confident to fulfil his late father's dream of establishing a museum, at least a showroom, showcasing his father's masterpieces for admirers and visitors to feast their eyes and leave her father's legacy for the generations to come. However, she does not know how her dreams will ever come true. What is surprising is that despite acute poverty the family has still untainted love and passion for art and sculpture.
Reference: As Mr. Gopal Nandi is my uncle, I have had the opportunity to observe him and his works from a close quarter. Therefore, it is an empirical research-based treatise. I have gained knowledge using direct and indirect observation and experience.
. . .