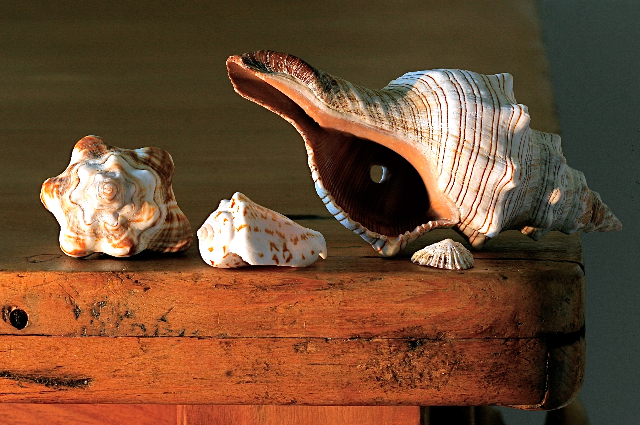 Introduction
Lord Vishnu, one of the Trinity of Hinduism, is described as possessing four attributes in His four arms. They are Shankha (conch shell), Sudarshan Chakra (discus), Kaumodaki gada (mace) and Padma (lotus flower). According to Harivamsa Purana, Lord Krishan, the incarnation of Lord Vishnu, also possessed Panchayanya Shankha. Shankhasur or Panchayanya, a sea demon, lived in the labyrinth of a colossal conch shell in the abysmal depth of the Prabhasa Ocean. He abducted the son of Sandipani who was the preceptor of Lord Krishna. As for 'guru dakshina' (preceptor's fee), Lord Krishna killed Shankhasur and kept the colossal conch shell for Himself. According to Bhagavata Purana and Vishnu Purana, 9 to 14 gems were churned out during Samudra Manthana. One of them was Vishnu's conch.
Mythological Connections:
In the two principle Hindu epics, the Ramayana and the Mahabharata, the symbol of Shankha is widely adopted. Shatrughna, the youngest brother of Rama, in the Ramayana is considered as the incarnation of Shankha. The great Kurukshetra war began with the blowing of Panchayanya by Lord Krishna. Besides, there are popular slokas (verse lines) in the first chapter of Srimad Bhagavad Gita referring to the names of different conch shells of Lord Krishna and Pandava brothers.
Panchayanyam Hrishikesho Devadattam Dhananjaya I
Poundram Dadhmou Mahashankham Bhimakarma Brikodara II
Anantavijayam Raja Kuntiputro Yudhisthira I
Nakula Sahadevascha Sughosha-Manipushakou II
The announcement of the great battle of Kurukhetra with the blowing of the divine conch shell Panchayanya by Lord Krishna was followed by Yudhishthira, Bhim, Arjuna, Nakul and Sahadeva with their conch shells called Anantavijaya, Poundra, Devdatta, Sughosha and Manipushpaka respectively.
According to history excavations on Bet Dwarka island in the Gulf of Kutch revealed the remains of an ancient shell industry with a collection of some 3,000 shells strewn across a southeastern tip suggesting the island had a big shell industry during the late Harappan civilization nearly 3800 years old. Earlier excavations have already found various shell-based artifacts including bangles, beads, ladles, feeding cups, etc. at Harappan sites including Lothal, Mohenjodaro, Surkotada, and so on. In Buddhist literature, too, there is a reference to conch shell products. Besides, there is a plethora of mythological, legendary, and historical evidence of the antiquity of the conch shell industry. From all these, it can be clearly concluded that the conch shell is one of the most ancient handicrafts that dates back to the prehistoric age.
Variety of Species & Places They Found
Conch shells in India were primordially used mainly for two purposes. Now in most parts of India conch shells are used as wind instruments for the acoustic announcement of religious and auspicious rituals to ward off evil spirits and negative power. Turbinella pyrum commonly called divine conch is a species of very large sea snail with a gill and an operculum, a marine gastropod mollusc in the family Turbinellidae. This species occurs in the Indian Ocean. They are turned into blowing shells by cutting a hole in the spire of the shell near the apex.
The conch shells are mostly collected from coastal areas like Tuticorin, Rameshwaram, Cuddalore, Mandapam, Kanyakumari in Tamil Nadu some parts Kerala, Gujarat, and Sri Lanka. The shells collected for manufacturing trumpets are locally called 'Titcuti','Pina', 'Patir', 'doani' and so on. 'Khoga' (dead shells) are also collected mainly from Colachel, a coastal town in the Malabar Coast. The crack divers collect conch shells diving deep into the water. High-quality giant size conch shells are generally fished out using hooks tied with ropes. "The deeper the water is, the higher the quality becomes", said Ganesh Nandi, a businessman of the raw conch shell of Bishnupur. There is another rarest of the rare conch shell of the Turbinella pyrum species called Dakshinavarti Shankha that has the reverse turning spiral. It is considered the most auspicious. It is generally sold on a weight basis. One cannot believe one's ears to know that the present market price per gram ranges from Rs. 5,000 to Rs. 12000, several times more than that of gold.
Utility of Conch Shell Goods
Besides, wearing bangles made from conch shell is considered the symbol of marital status for a Bengali bride craving long life of her husband. A widow is not allowed to wear conch bangles. Later, versatility of the use of conch shell is noticed. Late Dukhiram Ostad of Bishnupur is recognized as the innovator of making variety of articles forged from conch shells. Taking a cue from his innovative ideas, rings, pendants, necklaces, elegant showpieces, incense stick stands, pen stands, vermillion containers, cutleries, etc. are now being fashioned out of conch shells. Conch shell articles are also prescribed by astrologers to satisfy Moon to avoid lunatic tendencies and ailments like chronic cold and enteric disorder.
Implements, Ancient & Modern:
A remarkable evolution has been noticed in the simple tools and implements used earlier for fashioning final products from the raw conch shells. Kush Karat (a kind of heavy crescent-shaped saw made of steel) was used for cutting the hard conch shells to make them suitable for different uses. Despite the abolition of the use of the heavy Kush Karat, it is still considered the popular symbol of conch industry. There lies another mythological story behind the death of Shankhasur, a great sea demon. Rishi Agastha cut the sea demon with a Kush (a kind of grass). Therefore, last four days of the month of Bhadra in Bengali almanac all Shankhakars cease work in honour of Rishi Agastha. Kush Karat is no longer used for more than five decades for slaying conch shells. It has been replaced by a kind of electric cutting machine fitted with round-shaped whirling saws.
Other tools that had widely been used comprised variety of 'dnarda' (a kind of stick-shaped tool for polishing rough edges of the inner surface of the bungles, rings etc). 'Deral' (a kind of drilling tool) was another important implement for making hole on small conch shell plates for making finger rings. Stone slabs called 'sils' were used for polishing rough edges of the outer surface of the conch goods. Small hammers of different shapes and sizes were also used to serve variety of purposes. Besides, different kinds of files and chisels were widely used to manufacture conch shell goods. Now almost all the primitive tools have been nudged by electric machines. Even the top class artisans are using power run tools that help enhance productions with precessions and minimise physical labour as well.
Epicentres of Conch Shell Handicrafts
Most of the raw conch shells used in India is fished out from Tamil Nadu and Sri Lanka in the Indian Ocean. Surprisingly, the conch shell handicraft and the industry disregarding the localization theory of business and trade, have mainly concentrated in a few districts of West Bengal, Orissa, and Bangladesh. Bankura, East Midnapore, West Midnapore, Burdwan, Nadia and Kolkata, etc in West Bengal are some of the districts that deserve special mention.
Most of the districts are mainly related to the functional art of producing articles for ordinary and daily uses. All these products are produced in collaborative efforts of both skilled and unskilled labourers. The unskilled labourers do the rough works like cutting, polishing etc. But fine works like engraving, designing that entail delicate expertise are done only by skilled labourers. Though the unskilled labourers come from other communities, the high skilled artisans belong to Shankhakar community only.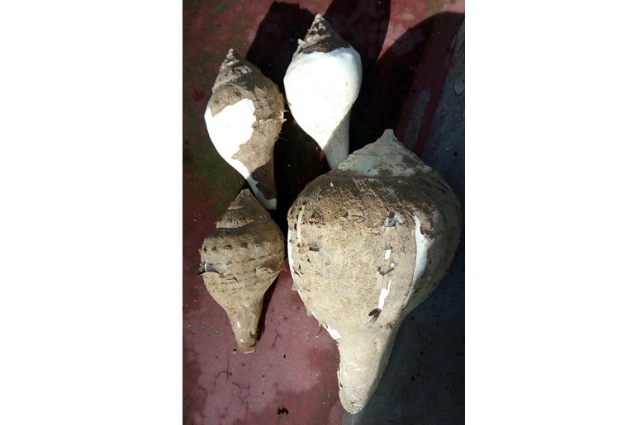 But the fine art and craft that entail delicate expertise, nuances, power of imagination and rich creativity to produce masterpieces are mainly concentrated at Shankhari Bazar of Bishnupur, a sub-divisional town, in Bankura district and Hatgram, a Shankhakar-dominated village of the same district in West Bengal.
Shankhakars are the most ancient community who settled at Bishnupur, one of the oldest towns of West Bengal old town. The particular area is congested with more than three thousand people. A large number of people are involved in their caste profession. Woman folks also equally contribute to the conch shell handicraft with their male counterparts to eke out earnings. The male members are supposed to do the hard as well as fine works. On the other hand, the women labourers generally do rough works like rubbing, drilling, polishing etc. However, some of them are also endowed with high skill expertise. They generally use different types of file to unfurl complex designs mainly on bungles which are also entangled with thin gold belts or wires. Unlike their male counterparts, they generally are not accustomed to chisel works that are indispensable for engraving delicate and meticulous works.

However, Hatgram, a Shankhakar-dominated village in the western end of Bankura district, can rightly boast of producing a large number of proficient artisans of national and international repute. The forefathers of the Shankhakars of Hatgram were displaced from their original village named Supur in Khatra sub-division because of unspeakable torture perpetrated by the local landlord on them over a dispute of beating the landlord's deer trespassing into the garden of a Shankhakar's family. The unsheltered people marching on the road with bleak prospect were detained and rehabilitated by another landlord of Pairachili village. Now there are more than two thousand people belonging to Shankhakar community at Hatgram or Bardagram erstwhile Ranjitpur.
It is no exaggeration to say if Hatgram dominated by Shankhakar community is called the epicentre of conch shell handicraft. The sincerity, dexterity and devotion to the craft on the part of the craftsmen here to create masterpieces have unequivocally elevated this art and sculpture to a new height. The pioneer of the exquisite sculptural art form on conch shells of Hatgram late Haripada Kundu whose masterpieces had reportedly been extolled by great men like Mahatma Gandhi, Jawaharlal Nehru, Bidhan Chandra Roy, Prafulla Sen et al. He left a group of pupils who are still carrying the heritage of this craft with their extraordinary power of creation and innovation. Of them, late Bangshidhar Mondal, winner of Merit Award twice and state award several times, deserves special mention. His sculptures on the motif 'Dasa Mahavidya' and 'Rama and Sita seated on the throne surrounded by courtiers, rishis and Hanumana' must stunt the eyes of today's craftsmen.
Another Hatgram based artisan Gopal Nandi who is now living at Bishnupur, is a great engraver not only on conch shells but also on coconut shells and other materials. He was also adorned with President's awards for his carving on coconut shell by Ramaswamy Venkataraman in 1988. His son late Dhruba Nandi was awarded the prestigious Certificate of Merit, 1993 conferred by Ministry of Textiles of Govt. of India for his craftsmanship and contribution to the development of Conch Shell Carving craft. Gopal Nandi's wife Gita Nandi and daughter Shyama Nandi (Roy) are the only women carvers on conch shells. They were also awarded various state and national awards several times. His eldest son Nitai Nandi is also a great artist of national repute. The whole family has great contribution in the craftsmanship not only on conch shells but also on coconut shell, bamboo, dry gourd etc.
At present, the most eminent and dexterous engraver is Subodh Dutta a man of mid-sixty. More than half a century he is working in this field. He is a versatile genius in the field of sculpture. His sculptural works are not only confined in conch shell. "I started engraving on hard materials like conch shell, stone, wood under the tutelage of Bangshidhar Mondal when I was a boy of mere twelve" Mr. Dutta said. Some of his masterpieces include 'Viswarup', 'Goddess Durga with her children framed in a full pavilion', 'bracelets engraved with lord Ganesha', 'Showpieces Carved with the image of Gopal (baby Krishna).
Above all, Mr. Subodh Dutta deserves special mention for his earnest initiative to spread this craft among young generation. Though there are very few youths who show interest in this profession of uncertainty, a few village youths who are now in the profession are the direct students of Mr. Dutta. They are Bablu Nandi, Prasanta Nandi and Santanu Nandi.
Bablu Nandi and Prabir Nandi have also been adorned with a number of state awards several times for their excellence in sculptural arts on conch shell. Bablu Nandi's motifs are not only limited to mythological stories or religious figurines. His modernistic thoughts have made him different from others. His motif on the evolution of people living in caves to modern civilized one carved on a full conch shell earned him first prize in State competition in micro and macro handicraft in West Bengal. Besides, the bed of arrows of Bhishma, Krishnalila, mother pampering her child, Kurukhetra battle and so on vindicate his talent as a master artist. Prabir Nandi, another young artist has been awarded the same. Both the craftsmen are proud of taking name of Mr. Subodh Dutta as their preceptor.
Thus the craft is being handed down from generation to generation. Needless to say, Bishnupur and Hatgram, of the district Bankura, have unwittingly produced a 'shilpa gharana' (a school of art and sculpture) that enriches the art and culture of Bengal. The craftsmen of Bankura get assignments of big orders from Kolkata and different parts of the country and even abroad as well. "Many unscrupulous artists buy our works and pass them as their own. It is very hurting when a masterpiece that entails hard works with devotion, precisions and expertise for months earns fame to others" lamented Mr. Subodh Dutta, the most veteran craftsman.
Setbacks & Disadvantages
The conch shell handicraft as well as the industry suffered a huge blow last few decades due to scarcity in the supply of raw materials. But it could not suppress of the Shankhakar community gifted with innate quality of sense of fine art and sculpture. They first shifted from conch shells to red corals and oyster shells. Now most of them have been well settled in micro art engraved on the surface of coconut shell, bamboo, stone, soft woods and even burnt clay to eke out their livelihood. Different types daily usable articles including pen vase, flower vase, incense stick stand, full set of cutlery, attractive showpieces, key rings, shirt buttons, earrings, necklaces, pendants, multi-shaped pots etc are being fashioned in conformity with the demand and vogue of the market. A void due to non-availability of raw materials stunted the trade and the art of conch shell. On the other hand, versatility and commercial gain in other materials much cheaper than conch shells have pushed this ancient form of art and sculpture on the back burner.
On the other hand, the artisans gifted with the skill in architectural splendour on engraving beautiful motifs and designs on the conch shells and conch bangles are woefully dwindling in number. Their exquisite works are still in great demand in India and abroad. There is perhaps no museum of national and international repute preserving exquisite sculptural works engraved on conch shell by the artisans of Bankura district. Yet, the sculptural conch shell art is on the wane.
A large number of artisans in Hatgram and Bishnupur have been showered with the honours of President's awards and state awards. Of them, late Aswini Nandi of Bishnupur deserves special mention. He elevated this craft to a new height. He was awarded prestigious President's Award, 1988 from the hand of Ramaswamy Venkataraman, the eighth President of India for his excellent work on conch shell. He was honoured with state awards several times for his spellbound craftsmanship. Late Aswini Nandi's son Madan Nandi and grandson Siddhartha Nandi are still carrying the torch of this age-old craft with flying colours.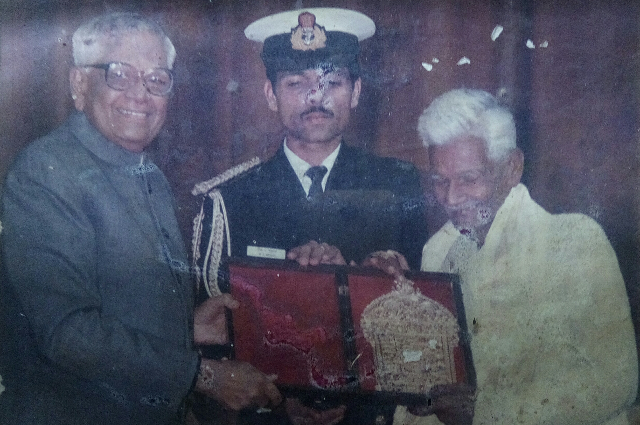 Now most of the Shankhakars are not being attracted to this craft and trade. There are multifarious reasons behind the ebbing of the craft and the trade. First, a long lean period in the craft due to shortage of raw materials had compelled most of the artisans to shift to other forms of crafts. The shops once stacked exclusively with conch shell goods are now selling articles made of bamboo or soft woods or coconut shells or burnt clay.

Secondly, excessive price hike of conch shells. Siddhartha Nandi, the grandson of Aswini Nandi said,

"The price of a giant conch shell suitable for engraving motifs varies from Rs. 2000 to Rs. 3000 depending on the thickness and quality of the shell and the craftsmen have to buy them at their own risk. To complete a motif covering the full outer surface of a conch shell, it takes a few months, whereas, the artisan is generally paid for a single motif ranging from Rs. 5,000 to Rs. 10,000 and full motif ranging from Rs. 20,000 to Rs. 50,000 only." Mr. Nandi with his eyes bright with elation added, "Yet, there's a mystic feeling of ecstatic joy of creativity that draws an artisan to this sculptural craft disregarding monetary profits."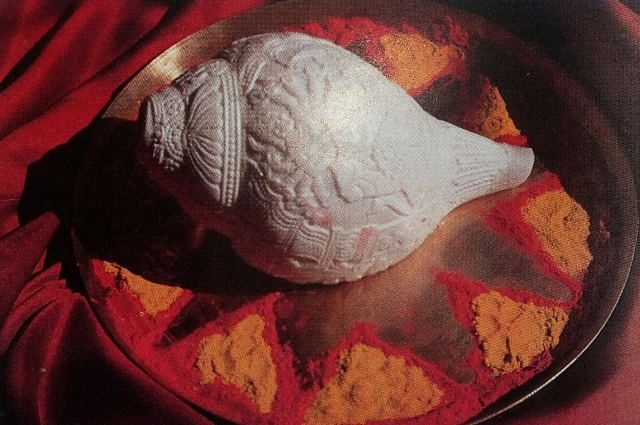 Unlike the Baluchari weavers the shankhakars fail to display innovative ideas keeping pace with the latest vogue of the modern-day consumers. They still engrave ancient designs and motifs. The themes that are commonly engraved on the shells comprise the figures of Hindu gods and goddesses including goddess Durga, Lord Vishnu, Lord Shiva, Laxmi, Ganesh, Saraswati and great personalities like Ramakrishna, Rabindranath, Vivekananda, Lokenath Baba and others.. Other popular images that are sculpted are taken from the tales of the epics like the Ramayana, the Mahabharata and other puranas. On the other hand, conch bungles and bracelets are crafted with the designs of 'magarmukh' (the cavity of crocodile), Ganesha, Capricorn, fish, elephants, peacocks, leaves, creepers, flowers, buds, pitchers, birds, butterflies, paddy sheaf and so on. Thick bungles are specially designed for binding with thin golden belts or wires. The conch shell rings, pendants, showpieces are also designed in traditional ways.

Thirdly, plastic bangles looking more attractive than original conch bangles, conch shell-shaped clay trumpets etc that are much cheaper than original ones enjoy brisk business in the market with substantial profit. Again Western culture has overshadowed the age-old tradition of wearing conch bangles among Bengali women as for marital status. Besides, today's young generation are antipathetic to this art and craft. They are rather eager to build career by doing higher studies. A craze for higher education among the youths has made them antipathetic to this profession of traditional craft.
Both the fishing of conch shells in South Indian states and manufacturing conch shell goods especially in West Bengal and Orissa were lambasted when the Govt of India imposed blanket ban on many marine species including a large number of molluscs and shells as endangered species under the Wildlife Protection Act, 1972. However, the ban under huge pressure mounted upon the government by organization like "Shankha Shilpa Bachao Committee" was revoked from Tubinella pyrum, a sea snail species, widely used as an auspicious item in different rituals of the Hindu religion. But the impact of the ban wreaked havoc among the traders and workers involved in conch shell trade and industry. They shifted to other materials like coconut shell, bamboo, clay, wood etc.
Conclusion
However, there is a silver lining in the conch shell handicraft and trade. The artisans are getting regular orders from Biswa Bangla, an initiative of West Bengal Govt. to connect customers and connoisseurs of the country and abroad to the handcrafted heritage products from Bengal. Needless to say, an enthusiasm about this most ancient craft among the youths is rekindling. Training camps under the aegis of government offices are being organized. More such initiatives need to be adopted to regain the lost glory of this craft of Bengal. What is the most urgent is to grant regular allowance to the poverty-stricken craftsmen who are passing through hard time that cannot be narrated in words.
. . .