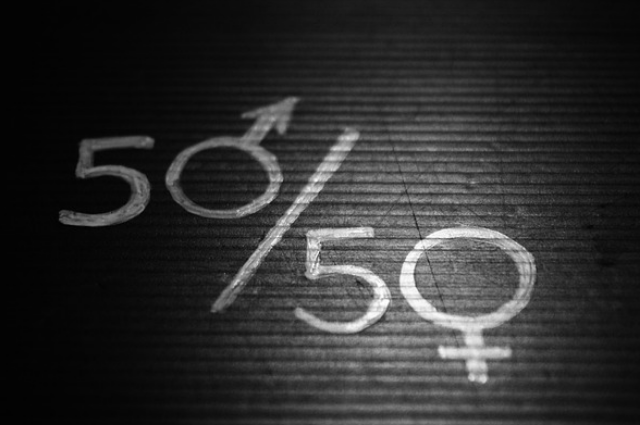 We are undeniably conceived the same way: as people and in this manner merit similar privileges and acknowledgment as long as we as a whole observe the regulations and conform to the standards set to safeguard all people. Yet, over the entire course of time, specific gatherings have confronted separation, isolation, and shamefulness. Among all these discrimination based on gender is mostly rising. Ladies in the general public are frequently cornered and are shunned getting equivalent freedoms as men to wellbeing, schooling, navigation, and monetary autonomy concerning compensation. A country can advance and accomplish higher improvement development just when all kinds of people are qualified for equivalent open doors.

Gender equity is often referred to as identical to gender equality, but there is a very narrow difference between the terms equity and equality. Equality is a state of being equal i.e, each one is having equal opportunities in every sphere but equity is a state of being fair i.e, each one is having equal access to all the opportunities they are getting. So, gender equity is about getting equal opportunities and rights regardless of gender whereas gender equity is about understanding the different needs and aspirations of each gender and providing them with equal access to all the opportunities. Gender equity is a broader concept than gender equality as gender equity takes into account that there is a difference between the participation of males and females in a particular work due to some historical or social conditions, and thus, work according to that so that each one can enjoy equal participation in each opportunity. To achieve positive results by using the concept of gender equality, one has to look that both men and women start from the same initial point i.e, both were standing on the same condition but as our history says that conditions of women are worse so in that case gender equity is a better option in achieving equality among men and women as needs of each gender is being considered separately. To make males and females equal players in the mainstream we must start with gender equity. So, gender equity is a potential strategy for achieving sustainable development in the post-pandemic era.
Sustainable development can be defined as the development that meets the needs of the present without compromising the ability of the future generation to meet their own needs. There is a difference between the terms sustainability and sustainable development. Sustainability refers to a long-term objective whereas sustainable development is the collective steps and processes undertaken to achieve sustainability or to have a more sustainable world. The sustainable development goals (SDGs) were introduced at the United Nations Conference on Sustainable Development, held in Rio de Janeiro, Brazil in 2012. Its main purpose was to design a set of strategies to create awareness about different environmental, political, and economic challenges and fight against them to create a more sustainable world. In 2015, 17 objectives were chosen by the United Nations as global goals for transforming the world into a better place and these 17 objectives are known as sustainable development goals for the period 2015 – 2030. The SDGs are also aimed at working toward ending poverty, hunger, AIDS, and discrimination against women and girls. The 17 integrated SDGs are as follows –
No Poverty
Zero Hunger
Good Health and Well-Being
Quality Education
Gender Equality
Clean Water and Sanitation
Affordable and Clean Energy
Decent Work and Economic Growth
Industry, Innovation, and Infrastructure
Reduced Inequalities
Sustainable Cities and Communities
Responsible Consumption and Production
Climate Action
Life Below Water
Life on Land
Peace, Justice, and Strong Institutions
Partnerships for the Goals
As the SDGs are known as global goals, it ensures that while achieving development no one is left behind so every country started from those communities which are furthest behind. There are three main pillars of sustainable development –
Social Sustainability
Economic Sustainability
Environmental Sustainability
Social sustainability is the ability of a social system to work at a particular level of social well-being and harmony. War, poverty, widespread injustice, and low education rate are indications of a socially unsustainable system. Economic sustainability is the ability of an economy to keep up an outlined level of economic production. Environmental sustainability is when the environment is in a position to maintain a defined level of environmental quality and natural resource extraction rates. Though it is the world's greatest problem yet receives the lowest priority to solve it. If any one pillar is weak then the entire system is unsustainable.
In this post-pandemic era, each of those important pillars has been destroyed to some extent and this has resulted in unsustainability all over the globe. To again bring back sustainability more focus has to be given to gender equity as during this pandemic era women are affected the most. During lockdowns to control the spread of the virus, women also spent most of the time at home. Calls to domestic violence hotlines shot up by 40% in some countries during these periods whereas, in others, they dropped dramatically, indicating that women could have faced new barriers to seeking help. The United Nations Development Programme has shared horrifying data globally, 243 million women and girls suffered from physical/sexual violence in 2020. In France, reports of domestic violence increased by 30%, in Turkey 36 women were killed just in July 2020, and in Quebec, reports showed 10 women killed in the first four months of 2021 versus 12 women in the whole of 2020. The United Nations Population Fund came to know that in 115 low and middle-income countries an average of 3.6 months of disruption was faced by women who couldn't access family planning services, resulting in an increased 7 million unintended pregnancies. In Nepal, the pandemic weakened maternal health services, with a rise in maternal deaths as 258 women died as a result of pregnancy or childbirth between March 2020 and June 2021, compared with 51 maternal deaths in the year before Covid-19. Recent studies show devastating impacts: a study conducted in India by the BMJ Paediatrics shows that gender discrepancies aggravated during the pandemic were noted in areas like marital rape, family violence, and threats of forced marriage, with girls and young women disproportionally affected. In Uganda, increased reports of child neglect and physical and sexual abuse against children were reported, with girls being the most affected. So as a whole it is clear that women are the most vulnerable community to any type of pandemic situation because they are among the most neglected communities all over the world and to get a sustainable world it is important to improve the conditions of women around the world.
Gender equity has had a great impact on achieving the objective of sustainable development in recent years. Empowering women and girls has proven to increase the health and well-being of the entire family and community which can lead to the building of social sustainability. SDG 5 is about achieving gender equality and to achieve this, as stated before, we have to start from gender equity which is about giving equal access to opportunities available, to everyone. Though gender equality is only stated in SDG 5 yet it is the central means of achieving all other sustainable development goals. The present female population around the world is estimated at 49.5% which is approximately half of the total population around the world. When we ignore women's participation in certain areas, it shows that we are excluding approximately half of the total population from participating in building a more prosperous and sustainable world. Women having equal access to every opportunity not only improve their conditions but also helps in strengthening all the pillars of sustainable development. Giving an equal platform to women in all economic activities helps in improving economic sustainability all over the world.
When we suppress women, it means that we are suppressing their abilities, capabilities, and knowledge, which in turn, if taken into account can lead to greater resource productivity and efficiency as a result of which GDP (Gross Domestic Product) rises. If the GDP rises, it shows that people are enjoying a higher level of living standards which helps in bringing people out of poverty. Thus, investment in women empowerment also helps in alleviating poverty. Moreover, gender equity also helps in achieving the goal of a green environment. By using those productive and efficient resources we can enhance ecosystem conservation and can introduce low-carbon food, energy, water, and health systems. This results in the strengthening of environmental sustainability which is the most important issue in recent times.
To conclude, gender equity is not only about strengthening pillars of sustainable development but it's also about human rights. When the whole world is developing with each new day, we can't keep a particular section of the world underdeveloped, because no country can achieve development socially, politically, and economically when half of the population is alienated. Moreover, in this post-pandemic era, if we look at the reports given above, we can see that women and girls were affected the most, so improving their condition must be the foremost focus of the whole world to achieve sustainable development. When we talk about gender equity we refer to women's empowerment but, gender equity also means giving equal rights to men as well. Men or boys, in their daily lives, have to work according to different stereotypical ways. Gender equity also demands that men should be free in their decision-making and no societal or historical stereotypes should rule in their taken decisions. Lastly, for proper sustainable development in this post-pandemic era, achieving gender equity is the only option for its success because, like the pillars of sustainable development, gender equity is the pillar of all other issues.
. . .