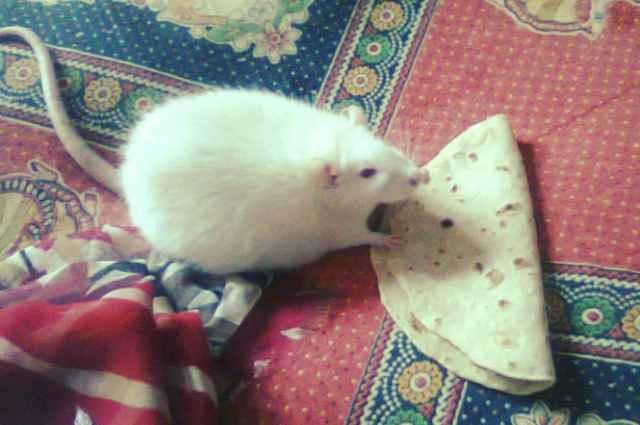 She was crawling towards Kitchen to eat something. The Food was taking time in preparation. So she entered the balcony for the first time. Unknowingly she climbed the railing of the balcony. And she fell off from the second floor. Vehicles were coming non-stop. Sandhya (Name changed-Privacy protected) reached the balcony to search for her. What she saw was awestruck. Pet Chini (a white mouse) was lying half-unconsciously in the middle of the road without making any move. In between of traffic, a two-wheeler was moving towards the mouse. That bike was just a few meters away from Chini.

Sandhya could not understand how to protect her in just a few seconds. Her heart missed a beat. She got her senses and shouted at the biker to stop immediately. In the air of full noises, the biker listened to the voice, he stopped. Sandhya felt like her entire world had come to an end for a second. While descending the staircase, she closed her eyes and imagined Lord Ganesha helping her. Sandhya grabbed Chini in her arms and took a sigh of relief. She served lukewarm milk to Chini in her unique favorite tiny bowl.
The Next day, Chini got her routine back of teasing and annoying everyone in the house. Everyone in the family forgot the incident that happened the last evening. A well-disciplined pet was living with Sandhya and her daughter Laxmi (name changed-privacy protected).
On 11th January 2011, Laxmi's birthday party was about to be celebrated in the home. Friends and relatives had arrived to attend the house party. Like every birthday, this time also the party held in the same venue: The Sweet Home. A divine home filled with the natural fragrance of rose petals and jasmine. A fortune house with loads of happiness. Sometimes the family members felt like every positive thing in the home was because of Chini.
Chini was never habitual to stay home alone. The family molded themselves with their pet's likes and dislikes. They used to say, 'Chini is not living in our house. We are living in the house of Chini.' Such love and affection for a pet were heart-touching.
Laxmi was all set to cut the cake. A piece of cake fell on the floor mistakenly. All of a sudden, one of her friends screamed out loud.
"Hey! What happened! Are you fine?" Laxmi asked her friend.
"Yeah, I felt a bite on my ankle."
"Chini never bites anyone. Who it could be then?!" Laxmi whispered.
Meanwhile, Sandhya entered the dining hall to serve them food. And got slammed in a moment. Hence she overlooked that one of her friends was uncomfortable.
Sandhya first offered food to Lord Ganesha in the temple of the house. She prepared a south Indian dish, Idli, Sambhar with coconut chutney (condiment) on Banana leaf. The most favorite cuisine for Laxmi. And Chini loved to eat coriander (cilantro) leaves, boiled potatoes, wheat bread (Chapati). One of her favorites was Lukewarm Milk. Sandhya prepared all these for her and served her in bowls. And she got busy interacting with guests. Minutes later, she saw all the food bowls got empty. Chini usually doesn't eat at such speed. Among several guests, Sandhya didn't notice it. After an hour, the party got over.
"It's a wrap!" Laxmi screamed.
Guests appreciated the food and left for their homes. Early in the morning at 04:00 am, Sandhya woke up by the weird sound. The sound of loud squeaks coming from the room where Laxmi cut the cake. She saw nothing much but a hidden small tail and a half-eaten cake piece. She was half-sleepy, so she took Chini in her arm and came to her room to sleep.
The next morning, she got up and saw Chini was not with her in the room. She looked at Laxmi to ask. Meanwhile, Laxmi ran outside of the house in heebie-jeebies, as if she got some intuition. She saw Chini was at the main entrance. A wild cat was setting her goal to eat Chini and was crawling towards her in slow motion. The distance was almost not too much. The death was just one jump away. And before the cat attack on Chini, Laxmi grabbed her in the arm quickly.
Destiny once again saved her life. The family started calling her 'Miracle Mouse'. A mouse successfully got saved even after falling from the second floor and in between traffic. And from a wild cat. From the day Chini entered home, the family never faced financial crises. Health issues or any other negativity. A mouse, just a pet, but was everything for the family. Chini used to live in the same room as Sandhya and Laxmi. The family didn't feel good to keep Chini in the cage. Years passed successfully with joy and prosperity.
On 25th August 2016, Thursday (Janmashtmi)
Something was strange this morning. Chini sat in the corner at the main entrance, silently. No mischievousness, nothing. Sandhya and Laxmi offered their favorite foods. She didn't even see them. Her legs got weak that couldn't even crawl. She was at the main entrance but continuously kept staring at the idol of Lord Ganesha. It had been eleven days without eating anything, was getting weak day by day.
On 5th September 2016, Monday (Ganesh Chaturthi)
Sandhya and Laxmi served food to Chini. As usual, she didn't even look at it. Her eyes were at the idol of Lord Ganesha. At 01:00 pm, a priest arrived the home to worshipping Lord Ganesha on this auspicious occasion. Sandhya and Laxmi performed rituals in the temple with Indian tradition in the presence of the priest. After ceremonial worship of Lord Ganesha, Sandhya and Laxmi came closer to Chini. She left the world forever on the day of Ganesh Chaturthi as if she was counting days from Janmashtmi to die on this occasion only.
What else to feel the divine power and miracle?
The story gives goosebumps. A request to everyone out there, pay lots of love, attention to pets, animals, and birds. They can sense everything than we could ever imagine. Selflessly feed them. They are the most beautiful creatures on the planet.
A non-fiction story will remain forever in the memory of Chini. A divine, miraculous soul...
. . .