Introduction
In today's time, it's rare to find a human being who is compassionate and kind. Imagine someone being kind to animals and protecting them from hunger, homelessness, unsafe environment, etc. They are indeed SUPERHEROES! Let's discuss the animal rescuers in India you may or may not know.
Who is known as an animal rescuer?
Animal rescuers are those who work in animal care or do service for animals that suffer from unhealthy or dangerous living conditions. They do various activities for the welfare of animals. You can also take this as a career if you are an animal lover.

While several noted organizations working for the welfare of animals, these individuals have done it by themselves, stood by the cause, and helped countless ones survive.
Animal rescuers, you may or may not know
1. Meet Ashwath, a 24-year-old who is a Global Humanitarian Awardee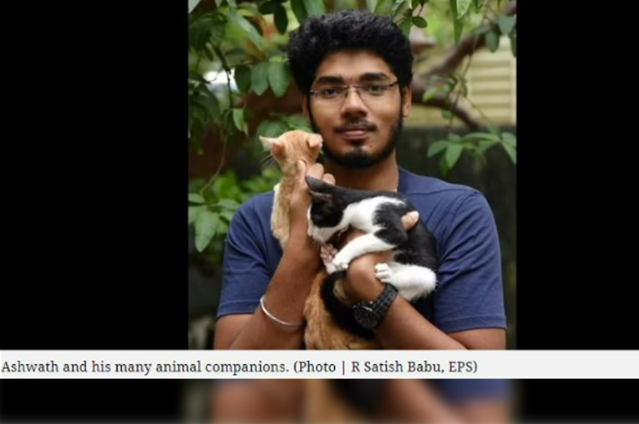 He is a trained rescue professional and actively campaigns for the protection of domestic and wild animals. He had also been awarded the Global Humanitarian Award honouring the people who have worked in the global pandemic 2019 and he is also an Honorary Animal Welfare officer. He says it all started at the tender age of 10 when he rescued a weak kitten.

Helped in tracking the abusive breeders:
Some breeders capture the animals and abuse them for money and they were also selling cat meat to be used as substitutes for chicken and mutton. Ashwath, along with many rescuers tracked down these traffickers to bring justice. Later, municipal corporations tightened the laws and it was controlled. But the situation still prevails, Ashwath added on a serious note.
Rescued animals that got stuck in trees, drainage:
"When a cow gets stuck in any pit, drainage, or railway track it requires some methods to recover them because one doesn't have much space to secure the lift pulley around the animal" he explains. He also gives examples of many incidences such as when a cat is stuck on a tree and how tactics are important to save them.
Raised funds from social media, friends, and family to rehabilitate:
Ashwath and his team mostly attend to domestic issues. They rehabilitate the animals at various pet hospitals or clinics and release them to the places where they were rescued from. They make sure to neuter the animals before releasing them to the street.
Look out for wild:
Ashwath has been trained to calm the animal and rescue them without injury. Due to many rules of government, he watches out for wild and informs particular local authorities about the issue and checks whether it has been taken care of.
Help in time:
Ashwath's latest initiative has been to pool funds for an eco-friendly pet ambulance. The overall cost of the ambulance was 4.7 lakhs. Fortunately, actors Karthi and Surya Sivakumar, Jyothika, and Ranjini (Karthi's wife) contributed the ambulance to Ashwath's cause. You can also see updates of Ashwath on his Facebook profile and can contribute to his cause.
Ashwath can be contacted at 9500149181.
Facebook id – cyber.ashwath
2. Meet the Chennai rescuer who came to the spotlight when he was thanked by the finance minister of Tamil Nadu on social media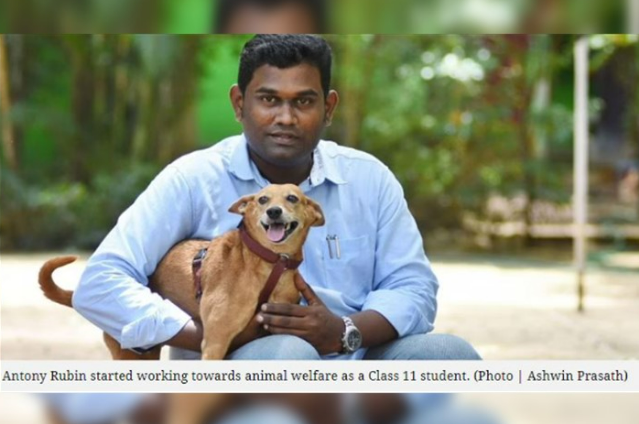 When all of us are preparing eagerly for our public exams during our 11th std, meet Antony Rubin who started working towards animal welfare at that age. He decided to volunteer for an NGO and test the waters. They would work in teams and catch overloaded bullock carts and file cases against trucks that illegally transported animals.

Pressure from the media made government take action:
When he is on a mission of rescuing animals, he realized that four lions were kept in cages, fed vegetarian food, and used for the circus. After his continuous pleas to the government failed, he informed Chennai media, and by their compulsion government moved those lions to Vandalur.
Animals rescued by Antony:
He had rescued Malabar squirrels, exotic species like peacocks and panthers reared by people to appear fashionable in Chennai. He had also rescued four chimpanzees and numerous horses from marina beach that had been kept under cruel conditions.
Reason for the spotlight:
Antony helped in the rescue of a seven-month-old golden retriever that was reunited with family after a 40-day search. The finance minister who is an animal lover himself thanked him on social media for his assistance. You can also see the current updates in Antony's Instagram profile. Antony can be contacted at 9840126263
Instagram id – @antonyrubin
3. Meet a 21-year-old who built the largest animal shelter in Chennai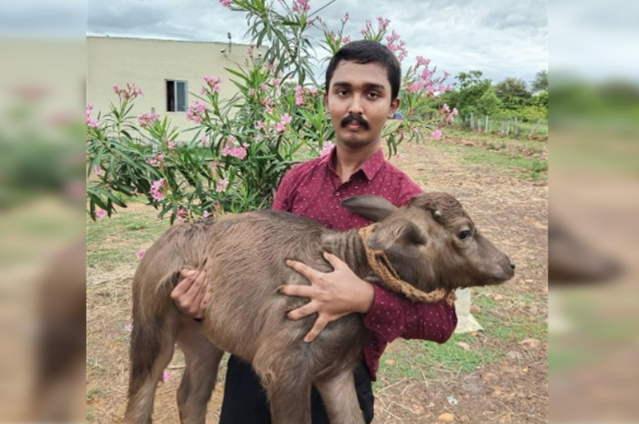 "The love for animals began when my parents gifted a pet dog at the age of two," says Sai Vignesh. Unfortunately, the dog named Bhairava passed away when Sai was 5-year-old but the love for dogs didn't fade away. He kept feeding stray dogs.

Rescued animals during uncertain times:
During the 2015 Chennai floods, he rescued many abandoned animals and also found new homes for them. In 2016 during Cyclone Vardah he rescued and even got the wounded animals treated when he was just 16 years old.
Since 2015, He had rescued 15 dogs and other animals at his house and has also put more than 20 rescued animals at paid boarding centres, vaccinated hundreds of stray dogs, and helped find homes for over 200 animals.
AACT Organization:
Sai set up an organization called Almighty Animal Care Trust (AACT) in 2015 with the help of which he estimates to have rescued close to 300 animals in distress. The AACT conducts several awareness programs, vaccination drives, and sterilization camps across the city.
But what made a young boy think like this? For this question, he has his share of the story.
Sai, his family, and the rescues were forced to shift houses seven times in the past as their neighbours everywhere opposed to keeping dogs at home.
He also noticed that their current neighbours indulged in some atrocious activities such as throwing stones at the dogs, placing poisoned tablets inside the house, and so on. Sai has also raised a complaint about this to the police. After experiencing all this through the years he had thought of building the shelter. The animals need a secure place to live in," he added. Throughout these years he has filed 5 legal cases against animal abuse, including an FIR against the dog poisoning incident at Cooum and PIL at the Madras High Court against abuse at the dog pound within the city.
Sai is additionally about to open a free medical clinic, which will be the first one of its kind in Tamil Nadu.
"The govt. veterinary hospitals charge a certain amount to treat the animals, but in our place, treatment will be free of cost. Our clinic will have isolation wards for animals with contagious diseases. Currently, animals with such diseases aren't usually accepted in hospitals in Chennai. But if they are given proper treatment, they will survive," he said.
Dream come true moment: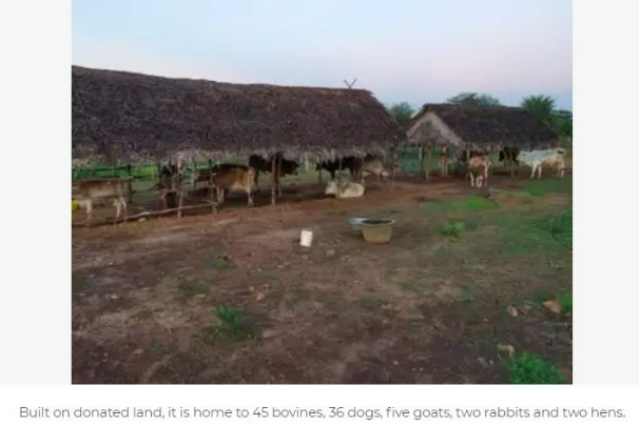 It's forever been my dream to build a centre and a medical clinic as I realised that, eventually, the only thing stopping me from helping more animals was the lack of space," Sai said. So, he decided to construct the largest animal shelter. But where? Tiruvallur. Sai received 8.4 acres of land from Sivamani a free-hearted donor who is also an animal lover. They met at an animal safety rally organized by Sai and got along. He named the shelter Almighty Animal Sanctuary. The sanctuary is home to more than 80 animals, including dogs, cattle, rabbits, goats, bovines, hens, and pigs rescued from illegal slaughter.

The Pandemic turned the situation upside down:
Due to the subsequent lockdown, the funds stopped coming in and Sai had to raise money through crowd-funding platforms. He mentioned that the situation got worse over the recent months. Many regular donors stopped contributing and they were unable to meet the expenses of running the sanctuary, including staff salaries, food, and medical expenses of animals. It costs about Rs 2.5 lakh per month.
"I'm barely managing to run the sanctuary from the part-time job earnings as a web developer, my father gives part of his income too. I'm also borrowing money from my friends. A minimum of 10 bundles of fodder (hay) are required to feed 44 cattle in the sanctuary every day," explains Vignesh
One bundle of fodder costs Rs 100. Over 300 bundles are required monthly. It comes to Rs 30,000 per month for fodder alone, excluding transportation and other expenses. On a rough estimate, monthly dog-food expenses would come to around Rs 42,000. Vignesh can be contacted at 8939320846.
Instagram id – @saivignesh2000
Those interested can send their donations to:
A/c name – Almighty Animal Care Trust
A/c number – 025705007677
IFSC Code – ICIC0000275
Current A/c
UPI ID – AlmightyAnimalCareTrust@icici
Conclusion
How does it sound after reading the above stories? Amazing right!! If an individual can make this much impact on society, just think how great things change when we are all in this together. Each contribution to society makes a huge difference. We can also be a helping hand to these people by contributing to their needs.
. . .
References: