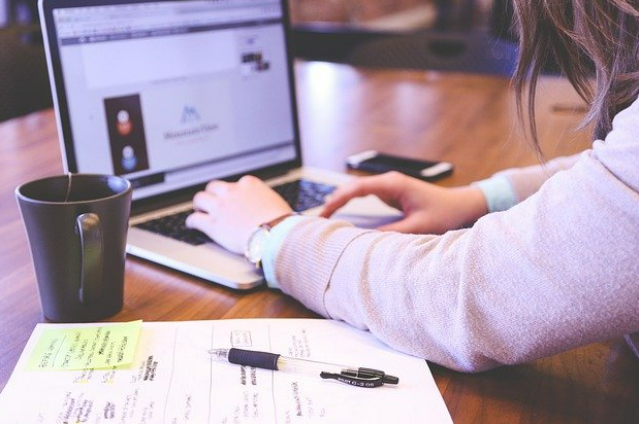 "If you torture the data long enough, it will confess to anything" - said Ronald H. Coase, a renowned British Economist.
INTRODUCTION TO THE IT SECTOR
The 21st century is earmarked as Information Technology driven and India is at the Centre of global attraction and considered as a knowledge powerhouse. The Information Technology & Information Technology Enabled Services (IT-ITeS) sector is a field which is undergoing rapid evolution and is changing the shape of Indian business standards. This sector includes software development, consultancies, software management, online services and business process outsourcing (BPO).
IT based services are indispensable for any organization to increase productivity, ease of doing business, and grow efficiently and economically in this competitive world. Information Technology not only contributed to the economic growth of the country but it has also made governance more competent and approachable. It has made access to government services and information easier and inexpensive. Information technology has also made management and delivery of government services – such as health services, Educational information, consumer rights and services etc. more meritorious with enhancing transparency. The IT industry is the backbone for our economy to prosper exponentially and to generate millions of jobs. Growth in the IT sector will push us to grow at par with China in every sector and will help in grabbing the global market. This will improve the socio-economic status of Indians.
According to an article in the Times of India, India's liberalization was possible due to its IT industry. In the 1990s, the industry started off with an export of nearly $100 million with around 5,000 employees. Now it is an industry that thrives globally and India's IT exports are now around $70 billion with 2.8 million employees working in this sector. The article states that the IT sector is one of the top two industries in the country today.
India's IT industry is expected to grow at a rate of 12 – 14% during 2016 – 2017 as per a report by India's software industry body National Association of Software and Services Companies (NASSCOM.) This clearly shows that information technology is a sector which will likely be one of the emerging markets in the days to come as India's economy requires more hardware, software and other IT services. In a NASSCOM-McKinsey report, India's position in the global offshore IT industry is based on five factors – abundant talent, creation of urban infrastructure, operational excellence, conducive business environment and finally, continued growth in the domestic IT sector.
IT Industry in India 2022
IT BPM industry revenues (excluding hardware) for the Financial Year 2016-17 is estimated to be at US$ 154 billion.
IT sector contributed to India's GDP by 7.7% in the year 2016.
In the Financial Year 2016, TCS stood as the market leader with about 10.4% contribution to India's IT and ITeS sector revenue.
The IT market is quite competitive with the top 5 IT firms contributing over 25% to the total IT revenue.
For the Financial Year 2017, the domestic revenue is estimated to be at US$ 38 billion while the export revenue is estimated to be at US$ 117 billion.
The top IT companies in India that offer job opportunities in this field are Tata Consultancy Services (TCS), Wipro Technologies, Cognizant, Yahoo!, Google, Tech Mahindra, Infosys Technologies, HP, Capgemini, iGATE Patni, Accenture, L&T, EY, Convergys, MphasiS, Genpact, HCL Technologies and Godrej Infotech. Cities like Bengaluru, Delhi, Noida, Gurgaon, Hyderabad, Chennai, Bombay and Cochin are some of the places which have developed into potential IT hubs of the country, thanks to the presence of these top IT companies. These are now key players which contribute to the growth of the Indian economy through telecommunication, software development, design, mobile commerce, e-commerce, BPO and knowledge process outsourcing (KPO).
The IT industry is one which is not limited to software development alone. Technology can be applied in libraries, hospitals, banks, shops, prisons, hotels, airports, train stations and many other places through database management systems, or through custom-made software as seen fit.
Among other sectors, the IT sector in India has been driving growth for the last decade and more, and has the potential to continue doing so for the next couple of years if shortcomings are met and challenges are faced.
How has the IT industry flourished in the last 50+ years?
The exponential growth of the IT industry in India in the last two decades has changed the perception of the whole world about India's storehouse of knowledge and skills and powered economic growth. The swift advancement within the IT industry and liberalisation policies such as reducing trade barriers and eliminating import duties on technology products by the Government of India are instrumental in the evolution of this industry. Also, various other government initiatives like setting up Software Technology Parks (STP), Export Oriented Units (EOU), Special Economic Zones (SEZ) and foreign direct investment (FDI) have helped this industry in attaining a leading position in the world IT industry.
The IT sector has increased its contribution to India's GDP from 1.2% in 1998 to almost 10% in 2019.
According to NASSCOM, the sector aggregated revenues of 180 billion dollars in 2019 with export revenue standing at 99 billion dollars and domestic revenue 48 US billion dollars, growing by over 13%. As of 2020, India's IT workforce accounts for 4.36 million employees. The United States accounts for two-third of India's IT services exports.
In the present time, when the COVID-19 pandemic has grappled the whole world and economies have been hard hit. The Indian IT industry is still showing positive signs and has the ability to overcome this exceptional catastrophe. It has arisen as a global economic force and a major contributor to the Indian economy in particular and the world in general.
In the last decade, India has emerged as an IT hub for the software companies of the world and Indian software companies have taken prominent positions in the global IT sector. India has become the world's largest sourcing destination for the IT industry. Online retailing, cloud computing and e-commerce are all contributing to the speedy growth of the IT industry. The rate of growth in the IT sector for 2019-20 is approximately ten percent.
India's digitally skilled pool has grown over the period and accounted for around 75 percent of global digital talent. India's four large IT companies (TCS, Infosys, Wipro, HCL Tech) have employed more than one million employees. New IT-based technologies such as telemedicine, remote monitoring, etc. are expanding and boosting the demand in the digital economy. The rollout of fifth-generation (5G) communication technology, growing adoption of artificial intelligence, Big Data analytics, cloud computing and the Internet of Things (IoT) will further expand the size of the IT industry in India. As the size of India's digital economy is increasing, IT companies are establishing their centres in tier II and tier III cities which will further enhance the growth and reduce the existing disparities.
The Atmanirbhar Bharat initiative of the current government is bringing big change in the IT sector. Earlier, the Hardware sector was somehow neglected. Now, focus is also on building hardware manufacturing in India. The biggest step is to start manufacturing integrated chips (IC's) in India, TATA has taken up initiative under atma nirbhar bharat and the first manufacturing plant is being set up in Tamilnadu.
India's technology services industry can achieve $300-350 billion in annual revenue by 2025 if it can exploit the fast-emerging business potential in cloud, artificial intelligence (AI), cybersecurity and other emerging technologies, according to a report by industry body Nasscom and global consulting firm McKinsey .
The report said domestic tech services could accelerate growth by 2-4% over the next five years as industries worldwide continue to see rapid adoption of digitalization to make a faster recovery from the covid-induced disruptions.
Future belongs to India with a great share of work from different parts of the world and placement of Indian experts across the globe. Central government has initiated a transformation process in the education sector. In the next few years, the last year of a degree course will be treated as an R & D year and the syllabus is being developed based on the latest technological advancements, skills and knowledge. This will surely add value to our graduates not just as job seekers however will be job creators.
WHAT SHOULD YOU NEED TO GET PLACEMENT IN A IT SECTOR?
It's a dream for many students to get jobs at the top multinational and top companies such as IBM, Oracle, Accenture, Capgemini, Tata Consultancy Services, Infosys, Wipro and many more.
There are some steps to achieve to your goal >>courses>academic performance>projects/ internships, training: soft skills & hard skills, expert mentors from industries>grooming sessions>interview process> placements.
"Soaring ambition should have solid foundation". And to make your base strong, it is necessary to start it from the beginning itself. You have to prepare well for aptitude, Technical. English Speaking. GD. Etc. There are some steps that needs to be followed from the 1st year till end during college -
Be regular and attentive at your classes, as you're sure to get something if not everything. And that will be very useful in reinforcing your superstructure namely "knowledge and skill".
Feel free to get the clarification from your teachers and seniors whenever you even find a minute doubt.
Be careful in the process of making friends during this precious stage , go for just a handful number because good friends are like goldmines in need.
Respect your professors, seniors, college and friends. Maintain conductive atmosphere in the college and keep a good connection with everyone , grow your connection and keep a good relation with them.
Utilize library facilities in an effective way during your free times.
Try to prepare analytical subject followed by descriptive subjects, making notes, marking/highlighting the important portions of the reading material.
Practice introspection in between your studies and test your knowledge and take breaks to relax your mind. Meditate daily atleast once for 5min .
Focus and give efforts more on the topics that you're weak in or you feel bore or hates to study it. Speed up your aptitude skill and reasoning.
Be a problem solver rather than a problem creator, try be on self dependent in understanding details.
Try to complete your semesters before your college so as to get time to revise and prevent backlogs.
Refer to websites for extra knowledge about syllabus and coming exam dates and mock tests. Avoid social networking sites and be productive in every sense.
Participate in sports, extracurricular activities and cultural festivals to develop leadership qualities and improve your network and English and subject vocabulary.
Monitor you grades and correct weak links.
These can be some of the ways to follow a correct start. Besides these we know we needs some skills like coding, our speaking English, way of managing a project. The recruits finds the best of the best applicants for their companies.
Maintain a decent cgpa (at least 8-8.5 is necessary).
Code whenever and where ever you have opportunity.
Learn not just to code, but how to write clean and quality code.
Participate in competitions coding, robotics and whatever comes your way. But coding is most apt.
Learn some new technologies of your interest and MASTER them. Eg. Android App development, Web development, Embedded C coding, ML, etc. Main thing is to master them.
DO lots of projects and learn while doing projects.
Always think about automating stuff and solving real world problem.
Develop Communication skills and team work culture.
Focus to develop yourself as a person. Explore and try unknown things.
Be random. Don't be predictable.
Develop the sense of discipline. At least do one activity on daily basic like Yoga, writing code/diary, calling to a friends, and Revisiting old concepts.
Don't stick to the points mentioned above. Revise and reform to meet your needs.
]Trust yourself and believe your instincts.
Keep doing hard work and make your resume the most attractive. Some key points that a CV have:
Leadership.
Database management.
Innovation.
Programming languages.
Collaboration.
Mobile development.
Budgeting.
Network security.
Developing these skills will allow you to feel more confident in using emerging technology and you will become faster in finishing tasks. For example, having IT skills will allow you to save money and time as you will be able to solve a technical issue independently.
IT'S ALL ON YOU. GET INSPIRED AND BECOME A INSPIRATION FOR OTHERS.
MAKE MONEY. BECOME RICH. CONTRIBUTE TO YOUR SOCIETY.
. . .