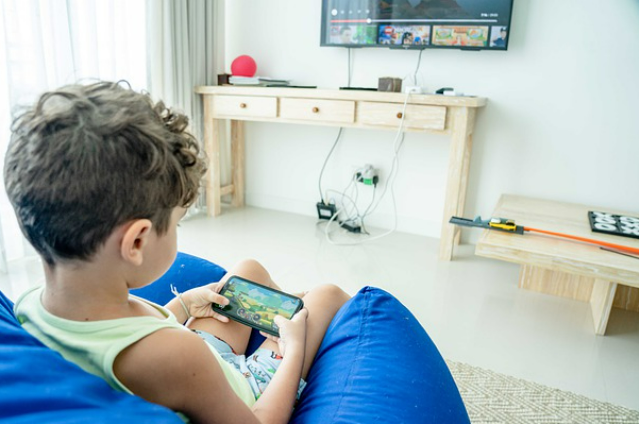 Everything is shared, searched and found nowadays. Is this a problem? Internet is not something that came from another planet but we made it. Our technologists have created it to find new and better ways of doing business. The Internet plays a significant role in information and communication. It is a global system. The Internet touches every sphere of modern life and childhood is no exception.

The Internet has become an essential part of children's life. It connects people globally. According to UNICEF's State of the Worlds Children 2017: Children in a Digital World report, one in every three internet users is younger than 18 years old and 71% of 15-24 years old are online. This report shows that this age group is most connected with the internet worldwide.
Children have greater risks as well as benefits from the Internet. Today's children have access to more digital media in their homes and of course in their lives. But the question is, are they happy? The engagement of parents in their children's lives has a large role to play in defining the impact of the Internet on children.
It is believed that the Internet makes children more lazy, fat, more aggressive and less capable of thought processes. But research has found that the Internet can make children happier, have a better education, and connect more to different parts of the world. One must see how the Internet is changing the way a child socializes, thinks and learns. Children's lives are different from ours. The Internet offers a new way of solving problems.
The concern of Parents about internet usage:
The Internet is always changing and change worries us. Society is concerned with every technology discovered. We are concerned about how this technology will affect our child's behavior and morals. Internet reveals visibility of sexual harassment or bullying at school that parents may not have previously been aware of.
Parents still believe that the Internet is ruining their child's thought processes. They need to make sure that if internet access is in the right direction it is not bad for their child. What is a good use of the Internet? Who will decide what is good or bad about the Internet? What to watch on the Internet? How Much Screen Time Is Good?
There are many things to worry about on the Internet. There are sites that promote chatting with strangers., anonymous message, Pornography and violence is available for free. There are sites that encourage self-harm and hatred between castes. These sites have a huge impact on the psychology of children. They know about such sites before parents.
Parents are also concerned about such issues as child sexual abuse and exploitation crime, cyberbullying rise around the world, self-harm and suicide cases, gambling and child trafficking. There is a greater risk of hate speech and violent content.
This is a matter of great concern to all. In which direction is the next generation going? They are the future of our world.
Possible solutions for better internet usage:
We need to find how children engage with the internet in homes and in schools. We need to give priority to the benefits of spending time on the internet. There is a need to do national surveys in order to draw any conclusion about the use of the internet.
It is important to strike a balance between online risks and online opportunities because yes, children are at risk of being spoiled on the internet. It is true that the Internet is one of the technologies that solve problems and difficult things. But it is the duty of parents to face the risks to which their children are exposed. It is certainly a matter of concern if we leave every child alone on the internet. We have to restrict them. We have to find a point of equilibrium.
We should be listening to our children in order to make the internet better for them. We should not just make assumptions according to our beliefs in the internet. They don't have the same concerns as we have. They have their own way of coping with the things that they find on the internet. We should not overreact when we hear our children's experience while surfing on the internet.
There is a huge possibility that some creative and participatory opportunities are still not in the grasp of children as we as adults do not know how to guide our children about the internet. Moderate use of internet is good for children's mental health but its excessive use is harmful. The Internet provides great information at our fingertips. It increases the chances of making new friends with our kids. Children find new ways of learning and participation on the Internet.
Internet should be used for future studies. Parents and teachers need digital training to teach their children. Internet awareness programs for kids and parents are the need of the hour. Various digital companies have been set up to protect the youth from the pitfalls of the internet. This is a good initiative for our coming generation. UNICEF is running programs to protect children online. They are working with many governments worldwide.
Online opportunities are equal to online risks. The more opportunities a person experiences, the more he faces risks. If we restrict our children on the internet in order to reduce the risks, we will limit their opportunities as well. This ultimately affects their resilience against potential future losses.
Conclusion:
Remember, the internet is not the cause of misery but humans are. We, as adults, need to discuss the usage of the internet with our children. We can think of encouraging our kids to go online and explore various opportunities that can help them tackle real-life problems.
The internet is going to stay so it is high time to give more effort and priority to our children's thoughts with better security and less harm on the internet. Our children have a chance to discover, create and be imaginative online.
. . .