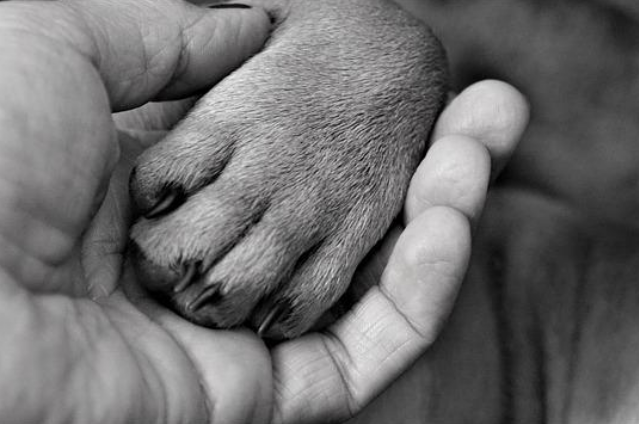 On this day, a few years ago, Pablo came into my life unexpectedly. Like a flood that changed the course of my life forever. Like the disaster that instead of wreaking havoc, made beautiful violet moss grow in the garden of my restless brain. He was a just puppy when I first held him in my arms after the rescue mission in the Mumbai floods of 2005. I spent a long time wondering if I would be able to keep this tiny thing in my hands alive. Will it get enough care from my home? What if it doesn't like me? What if I die in another rescue mission? No thought as unnerving has occurred to me in the past nine years of my life as a Disaster Rescue Attendee.

I decided to keep him, right in the pocket close to my rescue jacket, feed it water and some vitamins, so I can keep it alive for a few more minutes until we get to a safer place.
Time slipped by and seasons changed. He grew a few months older. I was expecting someone to knock on my door claiming his ownership. A part of me, however, never wanted to give him away. I had lived a long desolate life, as an orphan, unmarried and nobody and nowhere to belong. At least we had something in common! But Pablo now belonged to me, and I, to him. We made a home. The sound of my laughter echoed on the walls of my bare house. It took me some time to get used to it. The yap & yip, the growls and little barks brought green to the desert.
Through my four years of battling lung cancer and fighting off the gloom associated with a weak body, Pablo stayed by me all along. He took care of me as I did for him when he was still a puppy. Made sure I ate on time, touching my forearm slightly as I gulped down bitter medicines and breathing heavily, licking me gently to make sure I was alright during the several sessions of chemotherapy that felt like forever. I had always felt like a burden to the world. Existing for Pablo was the sole objective of my life for twelve years. And it felt like I was put on earth to feed him, to snuggle him, to be licked by him, to watch random people on the street and to take pleasure in loneliness together.
Last Diwali, I lost him to the unfortunate fate of death that all mortals fear. He did live a happy life. He was well-loved and well nourished. I've got no choice of mourning, rather, to cherish the memories we had together. As a tribute, I have now established an animal welfare home with my life savings. All puppies and dogs are welcome there. We've got an extensive unit for the healthcare of these precious ones. Many come to "Pablo's Puppy Care" for the sole purpose of wandering in an acre of garden just for the dogs to play! We have also partnered with a few other dog shelters, NGOs and corporates to provide free food and care to a shelter for stray dogs and those of them who cannot afford to care for their beloved pet because of financial tensions.
I dream that one day, someone as kind enough will inherit Pet Care from me and operate it just as good and keep its legacy of Pablo going. Dogs, really are a man's best friend!
. . .