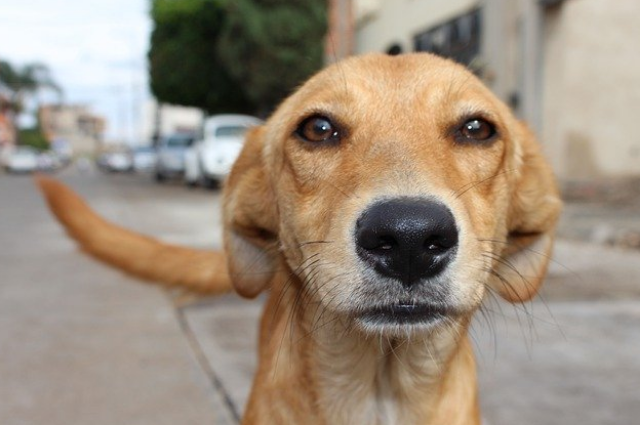 There once was an innocent animal who was saved from a life of captivity and abuse. Because of that one act of kindness, the animal's life was changed for the better. The animal now spends its days living in a comfortable home, where it is given the love and attention it so desperately craved. Animal Rescuers are always grateful for the kind heart of someone who saves an animal from a life of misery.

These lines are sure to arouse a feeling of love and pity amongst us humans to help rescue our fellow beings who are unable to express and act for one's benefit.
There was once a woman who loved animals. She would go to animal shelters and rescue any animal that she could. One day, she heard about a dog that needed to be saved. The woman went to the shelter and saved the dog. She took the dog home and cared for the dog. The dog loved the woman and always followed her around. The woman was happy to have the dog by her side.
The 'She' mentioned in the above paragraph is me. I have had the will of fire to protect our beautiful fellow creations since I was a little kid. If we all start taking up the responsibility of saving one life, the world could become a better place.
Do you ever wonder what goes on behind the scenes at animal shelters?
How many animals need our help every day, and how many of them receive it?
These are just some of the many questions we ask ourselves when taking care of shelter pets.
That is why I wanted to write about the stories of animal rescue. Animal rescue has always held a special place in the hearts of people who understand and appreciate animals for who they truly are —individuals— and not as mere objects that have fur or feathers or scales. Animals come from a world governed by instinct and with no understanding whatsoever of the world beyond their own; an existence devoid because they have no voice and cannot speak for themselves. Their only way to express themselves is through their actions, such as dogs, cats, horses, rabbits, birds, lizards, and snakes.
When these creatures fall victim to cruelty, mistreatment, or misfortune, people step in to help them get back on their feet again.
The first story in my series of fond experiences is about 'The Person Who Gave Up the Job to Save Lives.
Mariana is the founder of the charity "Pedistas de la Salud" (Parishioners in Health), a system of volunteers who collect food from homes and sell it to undernourished people in the slums of Buenos Aires, Argentina. These "parishioners in health" do more than just collect food: they also travel to rural areas to provide health care and vaccinations. When Mariana first started collecting food for the needy, she had a few people helping her. However, as her organization grew, she found herself struggling to find the people she needed. That is when she learned about animal rescue.
"Out of curiosity, I started reading news stories about animal rescues. I was fascinated by the stories of animals that were neglected, abandoned, or abused, and how people were trying to help them. I started to think about how there are many people in the same situation as the animal in need—with no food, no job, no money, and no one to turn to. I realized that if these individuals could help animals, why couldn't they help themselves?" Mariana discovered that she could earn money from home if she started collecting food for the needy. That's when she put up flyers explaining her plan.
Then, one day, she received a phone call from a man who had volunteered to donate food. He told her he had donated the food because he did not have any money to buy food for his family. "After that, I started getting donations from people who could not afford to buy food, but who wanted to help. I also learned that some people only want to help with food donations and want nothing to do with health care. I do not mind because I am happy to help the needy, but I will not collect food for those who do not want to receive health care and who only want to help with food," she said.
Mariana has been collecting food for the needy for over 15 years and she has helped thousands of people with food, clothing, and medicines. However, she has faced some difficulties, like when she was told that she would no longer be allowed to collect food in the neighborhood she has been collecting food in for several years due to a fault in the system. "Now I collect food for the "Parishioners in Health" charity that I founded. I have been collecting food for the needy for almost 15 years. I started collecting food because I had no job and no money. I was searching for food for my children. When I started receiving phone calls from people who desperately needed food, I knew I had to do something about it. I started collecting food for the needy with just a few people. Then, when I got bigger, I started to collect food for a charity. I chose to collect food because I could not afford to buy food for my family. I would collect the leftovers of the people in the neighborhood," she said.
Another story that turns hearts is about 'The Woman Who Refused To Let Her Rescue Go To Waste'.
When they need help, pet owners often turn to shelters to find a new homes for their pets. However, there are a lot of dogs and cats that end up at shelters because they are there by mistake or were abandoned. Such is the case with Gentry, a beautiful Golden Retriever who was surrendered to a shelter in Virginia.
"Gentry's story is just one of the many that end up at shelters due to a misunderstanding or simply human error. Gentry was dropped off with his leash in his mouth, collar, and tags. Unfortunately, staff members did not notice the "left at door" note and leash that accompanied the dog. When Gentry was brought to the shelter, his owners were contacted, but they did not want him back because they already had two dogs. The Gentry's owners reluctantly agreed to keep Gentry until a new home could be found for him. Unfortunately, no one stepped forward to adopt Gentry.
Two months later, the shelter was about to put Gentry down when a young girl stepped forward to save him. She told the shelter volunteers that she was allergic to dogs and that she would never be able to take care of a dog. The shelter agreed to let Gentry go to the girl, but one of the volunteers contacted the shelter director to find out if she had made the right decision. The director told the volunteer that if Gentry had been a cat, he would have been put down. The director said that Gentry was a sweet dog who deserved a home and was not to be punished for something that happened in the past.
The shelter volunteers decided to let Gentry go to the young girl. But one of the volunteers decided to follow up with the director and see if she could find a home for Gentry. That volunteer found a family that was willing to take Gentry. But after two months with no sign of Gentry, the family decided to give up on him and put him down at the shelter where he was originally rescued. The shelter volunteers decided to contact the family and let them know that they should not have given up on Garter, because they had the opportunity to give a rescue a second chance.
Let us all yearn for a world in which we all live with animals in harmony.
Let us all Help save someone's new best friend.
. . .