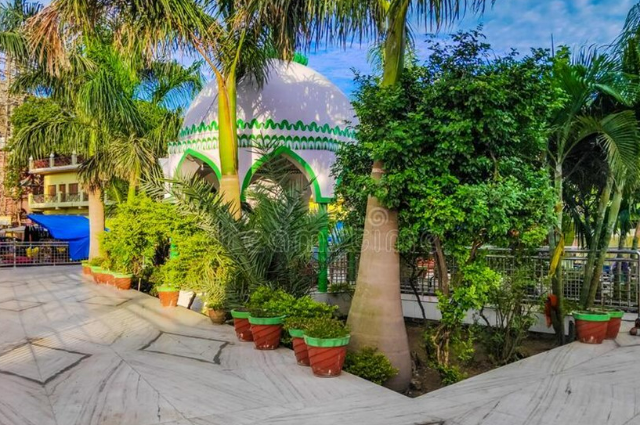 The Dargah of Hazrat Syed Salar Masood Ghazi is a perfect example of communal harmony. It is situated at district Bahraich, Uttar Pradesh and is a cynosure of faith. It is a place where brotherhood, love trust and amiability of many religion has burgeoned.

It is believed that Syed Salar Masood or Ghazi Miyan. also known as Bale Miyan, Bala Pir, Pir Bahlim, and Gajan Dulha was a very respected Muslim figure. By the 12th century, he had become famous as a warrior. His Dargah is a place for respect for Muslims and Hindus. It was built by Firoz Shah Tughlaq.
There is a Kadam Rasool Bhawan in the Dargah complex, which is a unique specimen of the architecture of the Tughlaq regime. The pilgrims who come to the dargah move forward only after kissing the footsteps of Mahfouz Hazrat Mohammad in Rasool Bhawan. This building was constructed 750 years ago. In this building there are hand and foot prints of Prophet Hazrat Mohammad Sahab inscribed on the rock. It was imported from Arabia by Firoz Shah Tughlaq. Seeing these footprints of the Messenger and kissing him, all the troubles are removed. There is also a pond here. It is said that bathing in that pond cures every . The Ghazi Fort in the Dargah is a fine example of architecture. Kadam Rasool's building is established at a distance of one hundred meters from the main fort.
Every day hundreds of people reach Dargah Sharif to see this rock. The pilgrims who come to Dargah Sharif move forward by kissing the footprint and palm of the Messenger. Along with the architecture of the Tughlaq reign, a glimpse of Iranian architecture is also seen in the embroidery of this building. If we look at the history of Dargah Sharif, it took ten years to build Kadam Rasool Bhawan during the time of Firoz Shah Tughlaq. In this building sculpted from priceless marble, Iranian architecture is reflected in the form of flower-leaf embroideries.
The devotees have a strong faith in 'Ghazi Miyan' so you will always found a rush in his shrine. All the religion, Hindus, Muslims, Sikhs, etc. have a great respect, so they come and offer their prayers. Ghzai Mian, who was a Sufi saint only propagated the message of truthfulness and righteousness.
It is a belief of people that no one will return empty handed when he will return from his shrine . All his wishes will come true. So, the devotees, irrespective of any religion visit his shrine in order to attain blessings of the very respected saint, Ghazi Mian.
The Dargah also organise 'Urs' annually. A big fair is organised every year in Bahraich, Ghazipur, Ghaziabad, and Salarkotla that It is attended by thousands of people coming from far-off places of the country. The people of all the communities gather in dargah and pray for the blessings. It is believed that people taking bath in the water of this dargah become free of all skin diseases.
On the main day of this fair, which lasts for a month, vows are sought by offering palang pidhi, kanuri, etc. Every year the marriage ceremony is celebrated. It is considered to be an example of Ganga-Jamuni Tehzeeb of Purvanchal.
Since people of different faith gather here for a common cause that is to show the respect to the Sufi Saint. It is not only a place of brotherhood and tolerance. People forget all their differences.
How To Reach Bahraich?
By Air - Nearest airport : Amausi , Lucknow 145 kms
By Train - There is no direct train root from Lucknow .Distance between Bahraich to Lucknow via Gonda is 160 km by train .
By Road - Distance between Bahraich to Lucknow is 130 km by Road . Distance from ahraich bus stand to dargah shareef is near about 4 km.
. . .