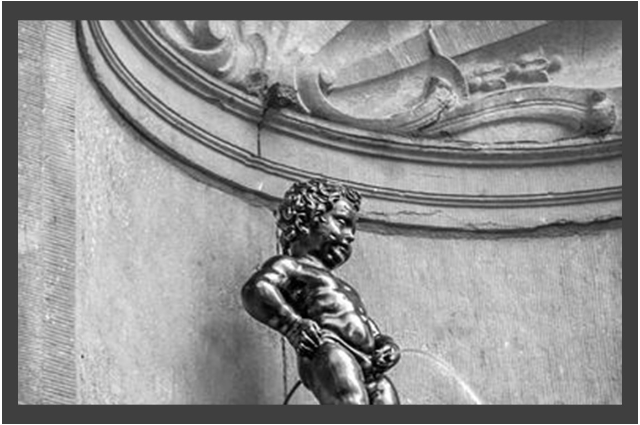 Today, I'm going to tell you about the amazing statue which becomes the mascot of Brussels, Belgium. I know you would laugh and felt ridiculous by seeing this statue image, But there are very funny stories behind its existence. This statue boy was victimized to stop the very horrible battle in Belgium. This statue you will see at a street corner, at the shop, at the festival, in the advertisement, etc. Tourists from the rest of the world explore here to see peeing boy statues. So today, we will discuss the Manneken Peeing boy statue, the story of his existence, and so on.
Introduction
First of all, let's understand the meaning of peeing boy. Peeing boy is a statue of a little boy doing peeing. This statue is known as a "Manneken Pis" or "Manneken Peeing Boy". This statue is located in the form of a fountain. This statue is made from Bronze and has 61 CM in height. This statue is located at the street corner of Reo- De- lietuve / stoofstraat or Reo – Du – chene/ Elikstraat in Brussels city. It is designed by Jerome Duquesnoy the elder and it was put in place in 1618. The peeing boy is known by different names like – Manneken Pis, Petit Julien, little Julien, etc. This statue is considered a gift from god because it protected the people from major problems like – battle and so on.

History & Story
Now we will discuss the history behind the statue of peeing boy. We will know that why this little child statue had been put at every corner of Brussels ?? and how it came in highlight ?? there are some depictions for the existence of peeing boy. Let us see that stories.
1st story
There was a time, the enemies were threatened Brussels with a sudden attack. At that time, a little boy named "Julien" was spying on this city to know the strategy of enemies side. He saw that the enemies were hiding gun powder and doing illegal activities. They were about to the burning the cannon but at that time peeing boy saw that burning flame and immediately he ran and do pee on it so that the burning flame was blown. By this incident, the entire city was saved from horrible war only because of this little child "Jullien" - peeing. Since this day, to honor this little boy, Brussels people put the statue of little boy Jullien in the entire Brussels. lately, little boy Jullien was known as a Peeing Boy.
2nd Story
This story is about to "peeing boy cursed by a witch." Here once, peeing boy do the toilet at the door of witch's house. And at that time angry witch cursed him for not stopping urinating (peeing). This whole incidence was seen by a man and immediately he made the statue of a peeing boy.
There is also an extended version of this story. Here witch does not cursed to unstoppable peeing but also turned that little boy into stone. And that little child becomes famous as a peeing boy.
3rd Story
This story is most popular and common among the people of Brussels. During the festive season, a merchant couple came to visit the city along with his little child. Due to a crowd of people, the little boy was found missing. His parents found him every corner of streets, shops, crosslines, and also another place but they could not found him. At the end of the day, suddenly tired parents saw his child at the corner of the street where he was peeing. By seeing their child, they were so happy that they decided to place his child's (Manneken) statue in the entire city.
4th Story
There is also the famous story behind peeing boy but the story of Duke Godfrey – III of Leuven is got listen at most. In 1142, the soldiers of this 2-year little lord were battling against the soldiers of the Berthoud (the lord of grimbergen). To strengthen themselves, soldiers put that lord child into a basket and hang at a large oak tree overlooking the battlefield. At that time, when his men were in trouble, the little duke (child) come down from the basket, and he urinated onto the soldiers of berthouts by his perch, who eventually lost the battle. To honoring this victory, a statue of peeing was placed at the corner of Rue – Du – Chene/Eikstraat (Oak Tree Street).
Special Facts
Now we will discuss some amazing and special facts about the peeing boy.
During 1451-1452, This fountain statue was used as a water distributor that distributes the drinking water in entire Brussels. It stood on a column and poured water into a double rectangular basin of stone. This statue was designed in 1619.
This statue was stolen seven times.
In 1965, For protection, The original statue was put in a museum and its duplicate statue was placed at the corner street of Rue – Du – Chene/ Eikstraat.
Till the 17th century, the peeing statue was famous around the world.
This Manneken Peeing boy statue is the well-known landmark /symbol of the people of Brussels. It shows their sense of humor and their freedom of mind.
For the tourists, this statue is a famous landmark and tourist place. But the people of Brussels have different feelings and affections towards the statue. They see this statue as playful, childish, spirit, innocent, and emotions.
The peeing boy's statue is dressed up with attractive attire as per special occasions and festivals.
Now peeing boy statue has become popular around the world. In the market, the customized peeing boy t-shirt, small idol, key chain, the batch has been available.
Click here to watch the video on Peeing Boy Statue of Brussels:-
So this was the amazing information about our little and cute Manneken Pis or Peeing boy. We get to know how he saved the people of Brussels with his childish and innocent act. Peeing boy becomes a tourist attraction. People from the world, when come to explore Belgium do not forget to visit the Statue of Manneken Peeing boy.
. . .