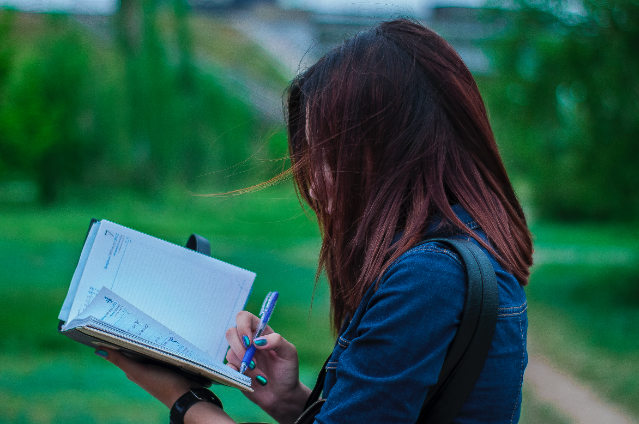 She flowed like poetry.

Pretty words encased in a vintage diary.
I read her over and over again, memorizing; tracing the delicate caramel till the page felt warm and familiar under my touch.
How beautiful was she, summoning art into existence.
It is worship. I am on my knees, before my angel, who showed me light.
Not the blinding flash that could burn my sight;
But a warm glow,
An iridescent sort of hue, made for the sole purpose of bringing out her honey-sweet irises.
Eyes illuminated,
Kindness pouring through.
Our intimacy is a mirror image.
It reflects comfort, adoration and shy giggles, All of the things that made us lovers.
Time was nothing in her embrace.
It made me forget that my beloved piece of writing, Had torn edges and smudged ink.
Scars of a lifetime hidden under strawberry stickers, hidden under shame.
I coax her to look up
Heartbeat quickening, parchment fluttering So many things unsaid; feelings rotting in my veins.
I wanted to give and give.
Offer everything in me, become one with her.
But it watered down to caressing the streams across her hip, detangling long auburn silk strewn over my chest.
A language I hoped we both understood.
Hoping she could listen to me without words uttered, only our shared silence and soft smiles. Would it be too much to ask of a gentle heart? To see herself the way I do?
I could recite this romance countless times, Ever the smitten poet.
Trying so hard to add verses of love in an imperfect classic.
Perhaps it was inevitable; falling for my muse.
. . .