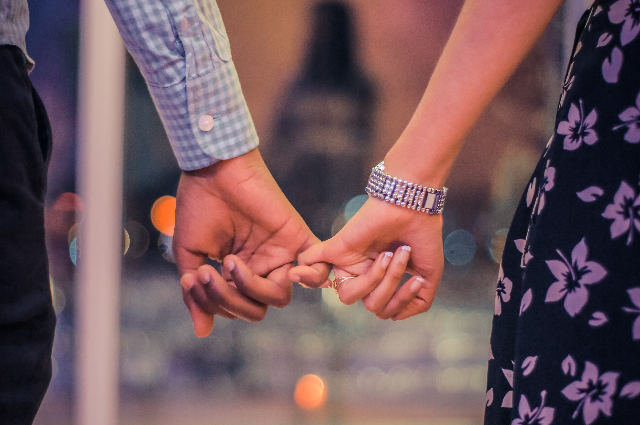 It is indeed said,

"True and Unconditional finds its ways. Nothing can set apart the souls that are meant to be together".
True love exists, and I started believing in this when I first saw him as a teacher to class 12th students for economics during my demo class. I was an above-average student till grade10th, but eventually, my performance and passion for studies started increasing. I don't know, but I always wanted to use the word Dr. before my name. However, I could not opt for science in grade 11th and had to join the commerce stream. The quest to learn and acquire new knowledge kept my performance high even after opting for the subject I didn't want.
I was brought up in a joint, conservative family with limited means and resources, following the rules set by patriarchal society. Girls were allowed to perform household chores with less freedom to follow their dreams. None of the girls or women of my family even dared to be opinionated. Though being the first child of my parents, I was nurtured with lots of love and care. I was also allowed to study further with an excellent academic record.
Life is so unpredictable that I have never thought of stepping out of my house and living life on my terms, but destiny had different plans. Seeing my good academic record, I was approached by my school principal to teach the students of class 12th economics, and I accepted the offer. I stood in front of the students two years younger than me and taught them my favourite subjects. I was never complimented this much before in my life. And those students became my friends with whom I lived the life that was so amazing and exciting. I had never explored this world before, but now I could breathe, I could dance, I could do whatever made me happy.
He was two years younger than me, it may be love at first sight, but I thought he was trying to make fun of me. After having a few conversations, I realised that I had found a person to share my smiles and tears with. He was the first person in the class to approach me for taking private tuitions. He had learnt from his friends about my competency in teaching the subject. I thought my family would mind it, but they allowed it, and "the story began".
I was unsure about his feelings, but I was convinced that he was the person whom I could not lose. His words made me smile. When he was to be in pain, I felt it. I could spend my whole day talking to him about nothing. I stated, enjoying his company. I was two years older than his teacher, but we built a strong friendship with time. After a year of togetherness, he has to leave for Ahmedabad for his higher studies. The memories of that day are vivid to me. I thought something was breaking inside me. I could never meet him or talk to him, and my feelings for him will vanish with time.
But destiny has planned something else for me. We didn't lose touch and managed to talk through social media. We had decided a time during which we could talk and on the whole day, that time used to be the most special. When he used to come back, he also visited me.
Gradually he discovered that he also loved me, but we both could not express our true feelings due to the complications and consequences we were both well aware of. But our love for each other grew stronger and stronger. He was younger than me and belonged to a different faith. My family and this society could never accept what we were dreaming for.
We used to care for each other and be with each other in highs and lows but could never dare to name our relation. Our lives were connected. We felt the love and respect that no one could ever feel. It was different in every aspect. After finishing his graduation, he returned from Ahmedabad and started working hard to get a decent government job. But despite all his hard work, he couldn't get the one.
I was also pursuing my dreams of doing a Ph.D. to earn the word Dr. before my name. He used to bring books for me. He used to help me in whatever way he could. Meanwhile, my family started approaching me for getting married since we had not expressed our feelings because we feared the consequences; I was left uncertain with lots of pain that I would lose him.
With immense faith in God and our pure and faithful hearts, We decided to express our love towards each other without fearing the norms set by society and our families. We agreed that we would reveal at least to each other that this is more than friendship. And we did that. We made promises and committed our lives and souls to each other. Now, whatever happens, we will love each other and are even ready to sacrifice everything for the love that we cherish.
. . .