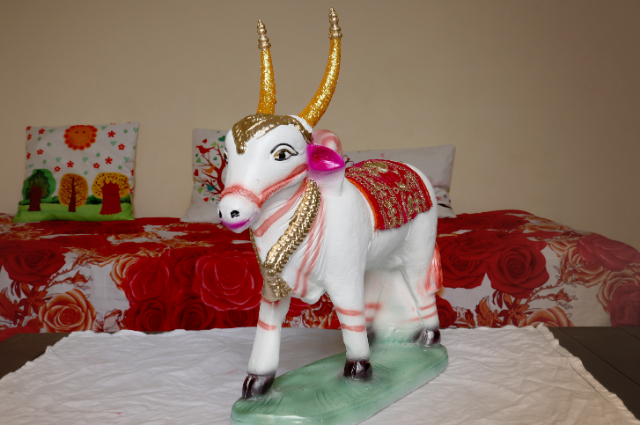 Divine Lord Shiva commanded Basava (a bull) to stay on earth and advise mankind to take oil massage and bath daily. In contravention to this Basava announced to eat every day and oil massage and bath once a month. Being aggravated lord Shiva cursed Basava to reside forever on earth and help humans to plow fields. Counting this, there lie several stories behind the harvest festival of the Dravidian region of India i.e. Pongal. A four-day festival in the month of January during solar Equinox, dedicated towards healthy harvest of crops like rice, sugarcane, turmeric, etc. Pongal in the literal sense means "to boil" in Tamil literature and is motivated toward thanksgiving to the sun, nature, and farm animals. Celebrated across various regions the embracing Tamil population. The Pongal celebration is accompanied by a bull-taming sport known as "Jallikattu" which remains a point of contention between animal right activist and cultural activists.

Pongal is carried out in the span of 4 days starting from the first day as Bhogi Pongal — which includes cleaning and removal of old belongings to signify a fresh and new start; the second day as Thai Pongal — aimed at thanksgiving and praying to Surya Dev (sun god), nature and farm animals; Mattu Pongal — a celebration of cattle and Khanum Pongal—site gazing day. On the third day or Mattu Pongal witness the festival of Jallikattu in various districts across Tamil Nadu.
Not being confined to the mere category of sport, Jallikattu is 2000-year-old cultural practice and tradition prevalent in the South Indian region. The competitive sport is breathtaking and centered on the goal of honoring bull owners and rearers. Jallikattu is referred to with distinct names viz. Madu Pidithal ( Cow Watching), Pollerudu Pidithal (Catching the bull), Sallikattu (Salli -Coins, Kattu- package), Eruthazhuvul (hugging the bull) and Manju Virattu (bull embracing). The sport is mainly played in Tamil Nadu but its epicenters includes—Madurai, Theni, Pudukkottai, Dindigul, Sivagangai, and Tiruchirapalli, in more generalized terms 'The Jallikattu Belt'. Polanedu, Avaniyapuram, and Alanganallur in Madurai witnessed an overwhelming crowd during Pongal for jallikattu event.
The Bull taming sport is antediluvian and the earliest known sources of literature claiming of people enjoying, observing, and participating in Jallikattu is enshrined in Silappatikaram, one of the 5 epics of Tamil Classical Literature (400-100 BCE). Some segmented evidence also occurs in two other Tamil literary sources, Malaipadukadaan, and kaligothai. During excavation at Mohenjo Daro, one of the crucial archaeological sites of the Indus valley civilization, a seal depicting the practice was recovered and currently preserved in the National Museum of Delhi. A cave painting of an individual man coping to control a bull, estimated to be 1500 years old was collected from Kaolin near Madurai and is again primeval evidence. The Ayar people of the ancient Mullai region of erstwhile Tanizh Nadu were the earliest people to practice Jallikattu.
A profuse number of ways are there to organize Jallikattu but the endmost motive is to hold the bull. Sometimes a bull is released into the crowd with a contestant who endeavors to grab the hump of bull and snatch a bunch of coins tied to their horns. One of the highly performed variants is "Vadi Manjuvirattu" in which the bull is taken in a closed embankment (Vadi vasal) where contestant fight to clutch onto the bull's hump and hold for a certain prescribed duration. "Veli Virattu" is substantially akin to the previous form, the slight difference is the bull being released on the ground, not in a closed space. Notwithstanding with former of the two, "Vatam Manjuvurattu" requires the bull to be tied with a 15 m rope, whereas a team of 7-9 members unties a gift coupon hanging on the horn. Contestants are disqualified if the act of grabbing the bull is done through the neck, tail, or horn. During the process, if the contestant falls from the hump he is considered out. Even some organizers describe the time span of such a hold. Moreover, if the contestant fails to tame the bull, the owner wins the prize.
The spectacular event is a controversial sport as it serves as a point of dissent between the symbol of Tamil culture and cruelty to animals. Undoubtedly, Pongal brings exultation and convivial gatherings but somehow there is a significant danger during the happenings of Jallikattu. Now the most unambiguous question of the domain is "Why still Jallikattu is important for the people of Tamil Nadu? Bull or Bos Indicus and its breeds permeate Indian grasses. The community across Tamil Nadu associates pride with the rearing of premium breeds such as Kangayam, Pulikulam, Umbalacherry, Malai Maadu. Furthermore, they fetch lucrative prices when sold in the market. Sense of masculinity is aligned with men who play Jallikattu. Movies in Tamil cinema Kollywood like Aravan, Cheran Pandian, Ilami, Maan Vasnai, and so on portray it as a sign of elevated status and masculinity. Other vital rationale mentions the preservation of native breeds and the prevention of slaughtering. People often champion sport as an ancient tradition carried for years.
Despite widespread acceptance and popularity the enormous amount of danger in the sport remains indispensable. One who endures the largest is the bull. Master and rarer preparing them for Jallikattu often pricks and strike them with sharp sticks. Their tails are bent to the extreme which definitely can cause vertebral damage. To agitate them chilly pepper is spread in their eyes, and alcohol and sedatives are inoculated. Once aggravated the Bull become irresistible and simultaneously barbarous method like punching, stabbing, and beating is used to tranquilize it. In 1990 around a million kangayam breed was grazing on the land of Tamil Nadu but stats show the current population at 15000. Peta—People for Ethical Treatment of Animals, US-based animal rights group identified that between 2017 to 2018, 23 people were killed and 2500 injured as Bull wasn't subdued because of being uncontrolled. The year 2020 alone saw five death due to Jallikattu.
The bellicose act of Jallikattu has faced long legal battles over cruelty to animals and simultaneously the cultural rights of people. The first legal scrutiny of Jallikattu was initiated in 2007 because in 2006 Madras High court banned it due to the death of a young spectator. Animal Welfare Board of India (AWBI) and Peta moved a petition against it in the apex court of India. Tamil Nadu government turned favor on them by the consequent passage of the Regulation of Jallikattu Act, 2009 which is continuation with certain superficial ceilings. More explicitly, on November 27, 2010, the supreme court allowed Jallikattu for 5 months and ordered District Collectors to check animals participating should register with AWBI, and the board would send a representative for supervision. Tamil Nadu government also order $ 2 lakh compensation in case of injury. Later in the notification of 2011 Ministry of Environment and Forest (MoEF) banned bulls from the list of performing animals despite this Jallikattu persisted proficiently.
In May 2014, the supreme court of India halted and put a complete ban on Jallikattu based on the petition sighting 2011 notification. Ban was robust and attracted penalties under the Prevention of Cruelty to Animals Act,1960 if Contravened. Perpetual objection and opposition from people culminated in granting of permission for tradition in January 2016 by MoEF. Later supreme court issued a stay on this order which cause massive eruptions and protests across the state. Nonetheless, the supreme court refused to intervene and ordered that the status quo should be maintained. As a result, people in January 2017 gathered at Maria in Chennai to express opposition to the ban. Due to surmounting pressure, the supreme court stayed the order, and the governor of Tamil Nadu promulgated an ordinance to continue Jallikattu. The main question to be resolved is whether it can be protected as a cultural right under article 29 as a fundamental right or can be seen as a practice that deteriorates the condition of animals. In 2018 supreme court referred the Jallikattu case to the constitutional bench where it is still pending.
Jallikattu is currently practiced with same zeal and enthusiasm despite being the point of contention. Tamil Nadu Jallikattu Federation, organize and supervise various Jallikattu gatherings. For these certain regulations under Jallikattu Act, 2009 is placed like written permission from the collector 30 days before the event, the arena must be double barricaded, and participants required 15 days prior to permission and testing by Animal Husbandry Department. Regulations are placed and maybe their implementation is organized but the fact that animals and mankind both remain vulnerable to the fatal dangers of Jallikattu lingers in the public domain. Karnataka, Andhra Pradesh, and Maharashtra too had similar sports which were subsequently banned. If Pongal still witnesses the formal festival of Jallikattu, that is for sure remains inevitable, the most imperative concern needed to be addressed is the safety of people, animals, and organizers. Hence a comprehensive mechanism to ensure the safety of each stakeholder is the need of the hour.
. . .