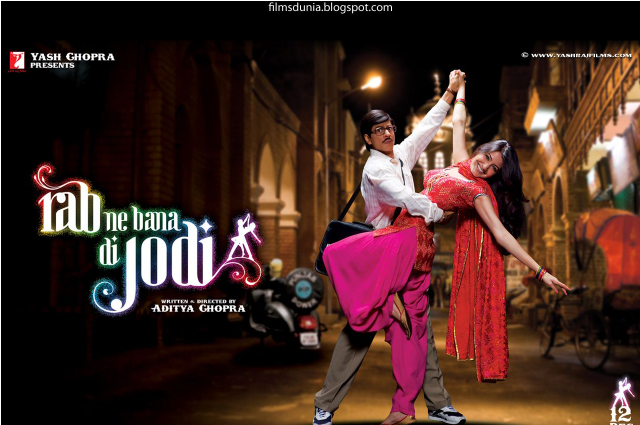 Filmmaker Aditya Chopra, son of late Yash Chopra, achieved superstardom through his debut film Dilwale Dulhaniya Le Jayenge (1995), one of Bollywood's longest-running films. The film also catapulted Shah Rukh Khan to superstardom. Aditya Chopra found his confidante in Shah Rukh Khan and directed him in Mohabbatein (2000), another blockbuster movie from the Yashraj Films camp. If Aditya Chopra took five years to release Mohabbatein after DDLJ, it took him another eight years to release Rab Ne Bana Di Jodi (2008), a subtle love story of a married couple (Shah Rukh Khan and debutante Anushka Sharma).

The Plot
Rab Ne Bana Di Jodi begins with a couple arriving from a train. Surinder (Shah Rukh Khan/ the husband) wears pensive looks. His wife Taani (Anushka Sharma/ the wife) appears sad and out-of-love. Aditya Chopra takes us back to the moment where they marry (cut to the past). Surinder arrives to attend his teacher's only daughter's (Taani) marriage.
Moment of crisis
An accident shatters all her hopes (none from her groom's house survives). Within moments, the marriage function turns into a sad and gloomy affair. Her father suffers a heart attack and while dying at the hospital asks Taani to marry Surinder. A gloomy Taani agrees. Cut to the present. Surinder and Taani are living together, but they do not share the same room. Surinder keeps his romance, hopes of a newly wedded husband subdued under his understanding nature. He never forces Taani to do anything.
Performances
Shah Rukh Khan performs well in challenging roles. He is a treat to watch in films in which he is asked to keep his romantic image hidden. Anushka Sharma, who debuted with this film, also surprised all. Playing a troubled lover and aching wife is not that easy. After all, she does not debut with a college-romance film. Depicting love and romance post marriage is a daunting task in itself.
Surinder is a loving and caring husband who tries hard to fulfil Taani's wishes. Taani, unable to reconcile with her past, confesses to Surinder that 'I cannot love you'. An understanding Surinder accepts his fate and hides his pain with a smile. There, Taani too accepts her fate in the form of Surinder. She slowly begins to take care of him (but only for the sake of a wife's duty and nothing else).
Plot twist
Things take a turn for the couple when Taani joins dancing classes. Taani's only happiness is her dancing classes. She joins it to keep boredom at bay. Surinder, now obvious of his fate, goes for a makeover to woo her. He believes girls need a good-looking, handsome and stud-type macho man. His friend Bobby (Vinay Pathak), who owns a parlour changes Surinder into a dashing, young and cool guy Raj.
Enter Raj. To impress Taani, he tries many tricks. He asks, 'Hi, I am Raj. Naam to suna hoga?' Taani, being a dutiful wife, does not pay heed to Raj's roadside Romeo tricks. Instead, she asks him to focus on the dancing competition.

On Aditya Chopra
Aditya Chopra's ability to introduce complex situations is not unknown. Raj senses that Taani is not at all happy (her married life torments her). Though she respects her husband, she does not love him. Slowly but surely, Raj's romantic gestures and mannerisms woo Taani, who ends up confessing her love for him on a rainy night. Raj proposes to her as he wants to give her all the love in the world (if not possible being as Surinder, then at least as Raj). It is the irony of fate that Taani confesses her love to her lover, who is none other than her disguised husband.
A series of intense and high-drama scenes take us through the emotional depths of Raj/Surinder and Taani. Does she elope with Raj or remain with Surinder? Aditya Chopra uses dancing classes as the background of Raj and Taani's meetings. On the other hand, Surinder and Taani's life is silent, slow and devoid of any fun and frolic.
The music of the film, composed by the talented duo Salim-Sulaiman, won hearts. Haule Haule and Tujhme Rab Dikhta Hai are unforgettable songs of the movie. Yashraj Films is known for giving some of the most melodious songs ever composed in the history of Hindi cinema. The film was released on December 12, 2008.
Conclusion
Rab Ne Bana Di Jodi does not try to preach anything. It shows how a simple man can shower love on his beloved by being simple and honest. One does not need to wear stylish dresses and costly accessories, but all a girl needs is a loving heart. Like all other Aditya Chopra films, this heart-warming love story also makes us believe in love, romance and sacrifice. Rab Ne Bana Di Jodi is all about an extraordinary love between an ordinary couple. Bollywood certainly needs such love stories. In fact, Bollywood deserves such love stories.
. . .