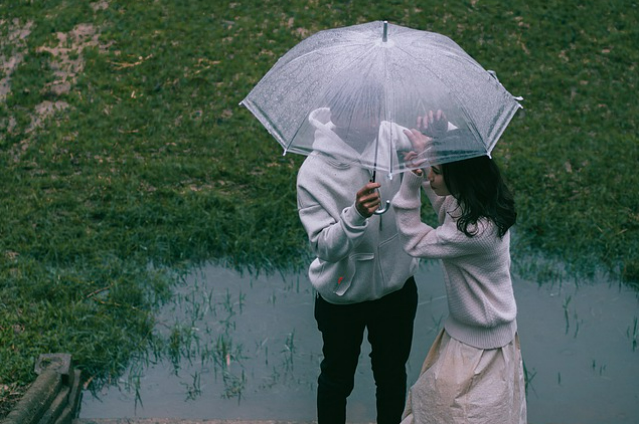 The days of monsoon get started, known for the season of romance and love. These moments become more auspicious when you live in the city of Pune. And for me, it was something special. That was a dark rainy night. I was late from college; the clock was about to strike 9. I open my black umbrella and started walking towards Shivajinagar railway station. The distance between my steps become wider, and my breaths became deeper and deeper.

Somehow, I reach the station. I went to the ticket counter, but it was closed. I saw the train reach on the opposite platform. Somehow, I managed myself and make a run towards the opposite platform. The train gave the horn to move forward, my heartbeat starts to race. As I reached the opposite platform the train took the speed and I couldn't step inside it. I missed my train by a second. I enquired about another train to the man standing behind me. He replied that there is no other train today, due to rain all trains are cancelled and that was the last train till Talegaon. I became more upset.
I sat down on the nearby bench. I saw my dress; it became dirty with mud. I went inside the bathroom and cleaned it. As I came outside. I sat nearby the bench and start thinking about what to do next. Suddenly I noticed, a lady wearing a red saree having a black purse and a big blue trolley. I make a look at her face and I was shocked, she was Neha Kolli. She was worried about something. The old memories started to come in front of my eyes. I started to look around and treated them like I haven't noticed her yet. She came and sat beside my bench. I tried to cover my face, but somehow, I was reacting like a fool. I stand and start a walk outside the station. I want to talk to her, but 3 years ago she broke up with me unnecessarily and went out of my life. That time my ego was not ready to accept her again.
The rain started again. Suddenly, I notice someone standing beside me. I make a look towards it. She was Neha. I signed toward a taxi driver and he parked the taxi in front of me. I asked him for the bus station. He signed 'yes' and I went inside the taxi. The driver started his taxi. I asked him, to call that lady. He obeyed it and with a shout, he called to Neha. At first, she resisted, but after all, she came near the taxi. I sat in the back seat of the taxi. She kept the trolley in the dickey and sat beside me.
I was feeling uncomfortable, but I was trying to show like I am strong. The temperature of my body started to decrease. I was losing control over my emotion. After some time, the driver stopped the taxi and said, the taxi won't go further than this stop, you have to go by walk. After listening to this, my heart started to dance, because we both got a chance to make the journey together. I silently paid my fare and came out of the taxi. Neha started to fight with him, but the driver is not ready to go. At last, she also came outside the taxi. She took her trolley and started to walk towards the station. She wasn't giving any attention to me and walks faster. She was even not able to pick up her bag properly even though she was not asking for help. At last, I went near her and picked up her trolley. She didn't resist me. We were walking beside each other, but only our steps are making noise. I hoped that she will say something, but she hadn't.
After a while, we reach out to the station. I kept the trolley on the bench and went to the inquiry counter, but there was nobody and I returned. Neha was sited there. She was speaking with someone on the phone. I heard, on another side, there was her husband. I came outside and starts to hide my emotions by looking towards the rain and started ignoring what I did a few moments earlier. Suddenly I heard my name. I turned behind; she was behind me. Her beautiful face was before me. She was attempting to ask me something, even though her lips were shut. I was looking in the deep down at her pretty eyes. After a while, she asked, ''How are you, Sid?"
I replied, "Yes absolutely fine." and asked her, "How is your life going on?"
She was constantly looking into my eyes and replied, "Same as other."
I asked her again, "How is your husband? Is he a rich man...?"
"He is the best husband. He cares for me, and he has a rich heart.", She replied.
"But your eyes are saying something else". I continued," If he did care, then he won't send you solitary."
"He had some business meeting, that's why I came alone.", she continued, "You are also saying something. Your eyes are saying something and your tongue something else."
"Leave it. Say something else.", I just don't want to express my feeling before her.
She asked, "Did you miss me?" By listening to this question my tears got heavy and came out of my eyes. She said, "Please don't miss me so much, that I can't forgive myself." Everything around us became silent. The breeze was stopped along with the smashing thunder. There were only two things are alive, me and she.
I asked, "Why did you leave me? Today I became a Professor. I have a reputation, I have everything, except you." At last, my heart starts to express his emotion.
"I was helpless. Sometimes our destiny transforms everything, our dreams, our imagination. But my love was true.", her tears of emotions were started to flow through her eyes. The environment became so real, that the moment is the best moment of my life. There was no need for words to express anything, only silence is sufficient to make the noise.
The bus also came. I took her trolley, and we both step inside the bus. She sat beside the window seat and I beside her. The journey for Talegaon gets started. The whole journey we both sited silently without bothering about any other thing. That was the best moment I ever had. After 1 hour, we reach our destination. We both stepped out of the bus.
I asked her, "Is Somebody coming to receive you?"
"Yes, my Dad is coming,"
"So how many days you are here?", I asked casually.
"For two days. Mom's health is critical. I came to see her" She continue" And Siddharth can't live without me for more than two days. So, I have reached home immediately."
"Who Siddharth?", I surprisingly inquired.
"My son Siddharth.", she smiled back. Her father came there with car. She took her trolley and said, "See you soon. Take care."
I asked, "I don't have your number."
"I have yours. I will call you later.", She replied and went from there. I was just staring at her. And only stare...
The gist: "Sometimes unfortunates are god's fortune miracle...."
. . .