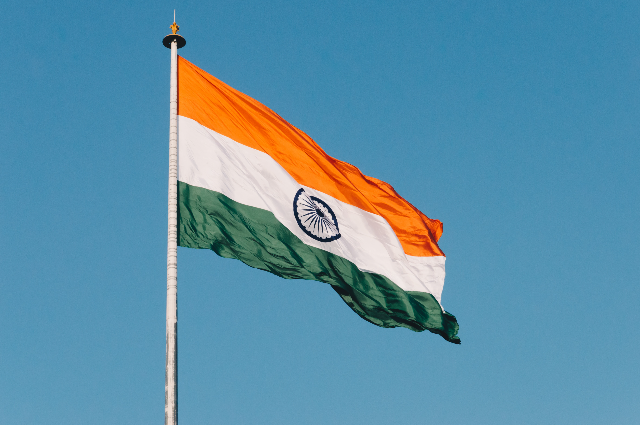 LOVE for anything becomes more exciting when we enjoy every piece of it. LOVE for our country doubles when we get surprised by some fun and interesting facts of our country. Here comes some wonders, fun, and a few interesting facts about INDIA.

I) CURRENCY OF INDIA:
1) Zero Currency Notes:

How would you feel if we tell you there is a ZERO Rupee note too?
It is not a typical INDIAN note issued by 'RBI', but is published by a Chennai-based NGO '5th Pillar' in 2007 to fight corruption. These volunteers distribute these notes at railway stations, bus stations, market places, etc. to spread awareness against bribery and political corruption. The regular 50 rupee bank note of India is the template for this Zero rupee note.
More than 5 lakh signatures are obtained from schools, colleges and public on huge Zero Rupee Note banners of 30 ft in length and 15 ft in height for the last 5 years with a pledge that 'I will neither receive nor give bribe' which is printed in the bottom of the front side of the Zero Rupee Note. It is issued in five Indian languages - Tamil, Telugu, Malayalam, Kannada, and Hindi
2) First Currency Note in India:
The ten rupee note was introduced by the government of India in 1861. Later different denominations were introduced.
5 Rupee note - 1872
10000 Rupee note -1899
1000 Rupee note - 1900
50 Rupee note - 1905
500 Rupee note - 1907
1000 Rupee note - 1909
1 and 2.5 Rupee notes - 1917
3) Series of Currency Notes:
All pre-independence currency notes were discontinued in 1949. The currency notes that were introduced since India's independence to 1996 were known as 'Lion Capital Series'.
The currency notes that are in circulation are introduced in 1996 and are known as 'Mahatma Gandhi Series'.
4) Oldest Paper Currency:
The first paper currency issued by RBI was a 5 Rupee note bearing King George VI portrayed in January 1938.
II) Leaning temples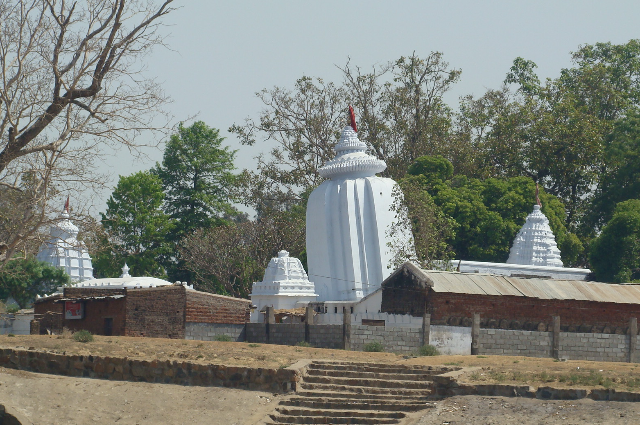 A. Leaning Temple of Huma:

Situated near Sambalpur (Odisha) in India on the banks of Mahanadi river is dedicated to the Hindu God 'Lord Bimaleshwar'. Built by King Baliar Singh during the 17th century. The red-colored fish called 'Kudo Fish' eats sweets and other foods from people's hands is a huge attraction. There have been some interior dislocations of rocky bed due to flood currents or earthquakes thereby affecting the straight position of the temple.
History: In accordance to local people the milkman who was roaming across the river Mahanadi offered milk to the deity daily. One day he was surprised by seeing the idol made of rock consuming milk. This unbelievable incident encouraged rulers to construct temple.
B. Ratneshwar Mahadev temple at (Varanasi) -
Dedicated to Mahadev (Lord Shiva) leans by nine degrees and is of Man Singh's time it remains mostly under water. It has a height of 74 meters which is around 20 meters higher than the Leaning Tower of Pisa.

Legendary story - A boy named Man Singh wanted to pay off his mother's love (Ratnabhai) so he decided to build Lord Shiva's temple and clear the debt of love. Story goes that after construction the mother cursed stating that nothing can pay off the mother's love for a child. And since then a part of the temple got submerged in water and started leaning.
Isn't it fascinating?
III - Temple of rats
Have you ever heard rats being worshipped and a temple has been built for them?

Also known as Karni Mata temple, Bikaner (Rajasthan) more than 20,000 rats survive here and are revered. Popularly called 'Kabbas' these rats have huge attraction from tourists and believers.
IV) Mawsynram (Meghalaya)
This entered the Guinness Book of World Records for the 'wettest place on earth'.

V) Chanab Bridge (Jammu and Kashmir)
It is the highest rail bridge in the world. It is 1,178 feet above the water level.

VI) Skeleton Lake
Want to swim in this lake!!!

India is the home of a mysterious skeletal lake. Located in the Himalayas at 16,470 ft is thought that the skeletons are the remains of people from the 9th century who perished during a severe hail storm.
VII) A village with No Locks and Doors
Shani Shingnapur village of Maharashtra is famous for not having a door or lock on a single house for almost 400 years. It shares a neighborly trust between the residents which has formed protection stronger than the huge gates.

'Trust is the basis for any human relationship'.
VIII) Largest Sundial in Town of Jaipur
It towers 27 meters and is constructed from beautiful polished stone. Visitors witness the shadow moving at about 6 cm per minute. It's listed in UNESCO World Heritage Sites.

Quick Amazing Facts
The Taj - During WWII the Taj Mahal was covered with bamboo scaffolding to avoid bomber planes


Pesticides - In a few places in Chattisgarh state farmers spray Coke and Pepsi instead of pesticides in their rice fields.


North Sentinel island - It is one of the Andaman Islands and is the most 'untouched' place on Earth. Sentinelese made it very clear that they did not want to be disturbed.


Kumba Mela - This is the largest gathering on Earth which is visible from space.


Bandra-Worli Sea Link - Enormous steel cables each with the ability to hold 900 tons of weight were placed and if stretched out they could reach around the circumference of the Globe.


Floating Post Office - Found in Dal lake Srinagar facilitates the visitors who hope to photograph this unique site.


Saare Jahan Se Achcha - When former prime minister Indira Gandhi asked Rakesh Sharma (first Indian to go to space) how India looked from outer space he said 'Saare Jahan Se Achcha!'.


74th Army Day - Hoisting of world's largest Khadi Flag on the occasion of 74th Army Day 2022 called the 'Monumental National Flag' was displayed along Indo-Pak border in Rajasthan's Longewala on Saturday


Chandrayan 1 - It made India proud by collecting evidence of water on the surface of the Moon.


Statue of Unity - The Sardar Vallabhbhai Patel statue (Gujarat) is the tallest of 182 meters standing on the Narmada River facing the Sardar Sarovar Dam.
Breath-taking Facts from Four Corners of the Country


I.Untold stories of North-eastern states -
Golden/Muga silk - This is not produced anywhere else in the world other than Assam. This is woven by the Garo community in Assam.
World's largest weaving village - It's Sualkuchi in Assam.
World's only mother-run market - Also known as Ima Keithel, the mother's market is solely led by mother's rights from grocery to handicrafts.
Matrilineal society - The Matrilineal tradition which the Khasi and other subgroups practice in Meghalaya is unique within India.
Mizoram's Pukzing cave - It is believed to be carved by just a hairpin by a man called Mualzavata. It's called 'a cave of shouting stones.'
II.OMG facts of North India -
Hawa Mahal (Rajasthan) - Constructed by Sawai Pratap Singh. There is no front entrance to Mahal and have to enter from the rear side. The built-in shape of 'Lord Krishna's crown'. It has only a ramp and no regular stairs.

Jaisalmer fort (Rajasthan) - It is India's only well-known living fort.
Highest cricket ground (Himachal Pradesh) - Lahaul valley of Himachal Pradesh which is 10,000 ft above sea level will get the highest cricket ground. We have Chail cricket ground about 7,500 feet built by Maharaja of Patiala Bhupinder Singh when he was forbidden to enter Shimla. His love for cricket made him build this stadium. Surrounded by huge deodar and pine trees, it gives a splendid view of Sutlej, Shimla, and Kasauli from here.
Ellora caves (Maharashtra) - These are 34 caves in number. It is the single largest monolithic excavation in the world.
The Chausath Yogini Mandir (Madhya Pradesh) - It inspired the design of Indian Parliament.
III. Marvels of West -
Rann of Kutch (Gujarat) - It has desert on one side and sea on the other. It enables both mangroves and desert vegetation.
Surat (Gujarat) - It's the 'Diamond Capital' which won the 'NeteExplo smart cities award' 2019 with UNESCO in the resilience category.
Goa - It's home to India's only legitimate two-wheeler taxis. It also celebrates Independence day twice - on 15th August and 19th December.
IV. Extravaganza of Southern India -
1. Golconda Fort (Hyderabad) -
As per legends, there is an underground tunnel built to connect the Golconda tunnel to Charminar. It is believed that king 'Quli Qutab Shah' built the tunnel as an escape route in case of any siege.
2. Hampi (Karnataka) -
Famous as Vijaya Vittala temple. It has 56 musical pillars known as SA, RE, GA, MA, 4 out of 7 musical notes. These produce musical notes when struck with a thumb also. Research tells that rocks are resonant because of the large amount of silicon.
3. Cave temples (Bengaluru) -
Bengaluru is blessed with a temple where sun rays fall only once in a year on January 14 Makar Sankranti. The temple's name is Sri Gavi Gangadhareshwara temple.
4. Elephant Spa (Kerala) -
South India boasts of exclusive Spa for Elephants at 'Punnathoor cottage Elephant Yard Rejuvenation center', the big grey beauties can get massages, baths, and feed.
5. Richest temple in the world (Kerala) -
Padmanabhaswamy temple in Thiruvananthapuram - It is the richest temple in the world, wealth amounting to billions of dollars was found in the temple's vault.
6. Andaman Islands -
Has Asia's only active volcano called 'Barren volcano'.
It is illegal to interact with Jarawa Tribes.
Conclusion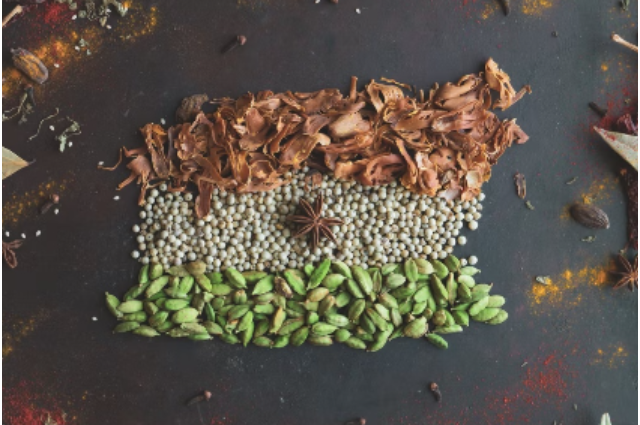 The smell of the street food, diverse species, various languages, different tribes, enchanting temples, church bells, the Namaz of mosques, and prayers at Gurudwara makes India a wonderful land. Different dances, festivals, music, films, cultures bring life into our lives. What else do you need? Where else can you find these?.

Proud to be an Indian.
Jai Hind!
. . .
Reference: