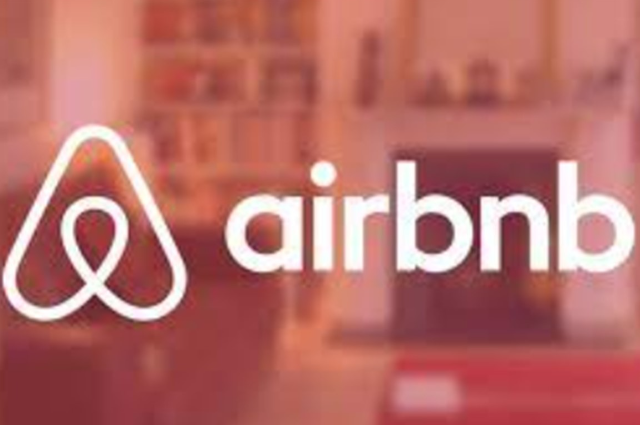 About the company
Founded in 2008, in San Francisco, Airbnb is a revolution in the world's hospitality industry. Unlike hotel accommodations, Airbnb is considered to be the world's largest marketplace offering over 8 million unique and authentic accommodations and handcrafted activities all by the local hosts. It operates in more than 100 thousand cities and towns in over 200 countries all around the world. Airbnb does not have a property of its own. It provides a very convenient way for landlords and homeowners to monetize their residential property and earn that extra income. Airbnb services can be availed by using a website and mobile app that provides travelers a wide range of vacation home rentals and travel experiences for all kinds of vacations, business trips, and solo journeys.
Value Proposition
Airbnb offers travelers a stay in a home-like environment.
It is cheaper than hotel accommodations. Hence, it is very budget-friendly.
Airbnb's website offers a wide range of choices to the customers before selecting a particular one.
Travelers can give ratings and feedback regarding the services offered by Airbnb.
Hosts also have the option to choose who can stay at their homes and can also give feedback and ratings.
Insurance facility is also provided by Airbnb to the listed accommodations and houses.
Revenue Model
Airbnb earns its revenue through fees that are charged from the travelers as well as the hosts. The company's revenue model works basically on listings and stays. The two major revenue sources for Airbnb are:
The transaction fee charged from Travelers: Travelers are charged a 3% transaction fee whenever they make payment for the booking.
Commission charged from hosts: When a traveler chooses host accommodation and property and makes the payment for the same, Airbnb charges 10% commission from the host on the payment amount for availing the services offered by Airbnb.
Market Segmentation
Airbnb's market segment basically includes hosts, travelers, and photographers.
Hosts
These people list their empty accommodations on the website. When someone books these accommodations, they get rent in exchange.
Hosts have complete liberty to accept or deny the travelers based on the review they got from other hosts.
They have the option to mention the facilities that they will provide along with the accommodation, including the check-in and check-out time.
Travelers
These people book the accommodations from the hosts.
They have the option to filter what they need and want based on the facilities, price range, location, check-out timings, etc.
They can pay online without any hassle.
Photographers
Airbnb hires freelance photographers to click pictures of the property which they can put on their website.
Pictures that get the highest no. of bookings, Airbnb pays to them.
Cost Structure
Salary paid to the permanent employees: Employees working in the physical office of Airbnb have been paid a regular salary by the company.
Payment to the photographers: Airbnb pays the freelance photographers the amount for clicking the pictures of the properties.
Operational Cost and Technological Set-up: Airbnb has to pay various operating costs like rent, electricity bills, etc. They also have to pay for servers, websites, and other technology used.
Airbnb and Balanced Scorecard
Balanced Scorecard is one of the most important strategic planning systems that allow Airbnb to:
Prioritize their plan, products, projects, and services.
Align the individual goal with the organization's goals.
Facilitate better communication in the organization.
Monitor and measure the goals strategically and facilitating controlling activities by finding out the reasons for the deviation from the planned target and suggesting corrective measures for the same.
Balanced Scorecard is a holistic well-defined system that enables organizations like Airbnb to connect the dots of various elements of strategic planning and track success based on Key Performance Indicators (KPI's) and have a better vision, mission, and strategy in the organization.
Airbnb's Strategy Design (Balanced Scorecard)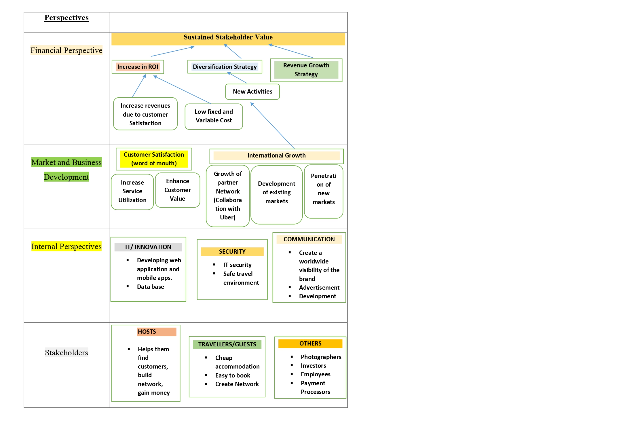 Financial Perspectives: Under financial perspectives, the company's goal is to earn maximum returns on the investments made and manage risks that are involved in running the firm.
Market and Business Development: Under Market and Business Development, the company's goal is to increase customer value and expanding its business operation. Penetrating into the new market and bringing improvement in services in the existing market is what the organization plans to do.
Internal Perspective: Internal perspective determines how well the company functions. Airbnb pays a lot of attention to the technology aspect of the business including web applications and databases. The company ensures that the systems are highly secure and also the services-related information is communicated to the customers in a timely and accurate manner by means of advertisement and other communication methods.
Stakeholders/Customers: This includes how well the company values its customers and also determines the level of customer satisfaction. Airbnb helps its stakeholders by helping them(hosts) find travelers, providing cheaper accommodation to travelers, and handsome perks to their freelance photographers and employees.
Literature Review
Customer Perspective
(Wieditz,2017) in his study stated that Airbnb with over 85 % of the market share is the market leader that is turning residential homes into quasi-hotels more rapidly than any other hotel giant.
Airbnb has partnered with various payment partners like AliPay, PayU, PayPal offering various benefits to customers (Morgan, 2015)
The Interaction/ Transaction Facilitation Perspective
In terms of transaction diversity, consumers are involved in two-way transactions. Guests pay money to the hosts upon receiving the services (Dolnicar, 2017: 69)
Airbnb charges a 6 to 12% commission from the guests on each transaction. (Zarkic, Marinkovic, 2018:537)
The Value Proposition Perspective
As per job value leadership, Airbnb helps users renting a single room or an apartment. (Tarek, 2017:29)
Hosts can now offer unique experiences to the guests as per their interests. (Fauvel 2017: 8)
About 82 % of the people believe that Airbnb has adopted a clever strategy for making money as around 54 % of the people are ready to rent their house through Airbnb. (Leonhardt, 2019)
Airbnb is a disruptive force to the hospitality industry. (Hayden and Webster, 2014)
Financial Perspective
Airbnb gets 8-18% of the total transaction price paid by both guests and the hosts. (OECD, 2019: 87)
Analysis and Suggestions
Strategic Opportunity for Airbnb
Utilizing its technological sources to increase the marketplace in small communities.
Focusing on the type of travelers like families and older people.
Sharing advantages of becoming a host.
During this Covid-19 pandemic, the businesses especially the firms in the hospitality sector need to form strategies that can ensure the firm's profitability taking stakeholders' needs into consideration.
Strategic Implementations
Bring Airbnb to small communities
Advertise through TV, mail, social media, etc.
Recruit new hosts and start the training process.
Implement sanitary procedures
Request Feedback and Review from Customers
Evaluating Strategy
Advertise new host in small communities
Compare performance to standards
Take corrective actions
Performance Measurement
Evaluate Return on Investment
Evaluate reviews and ratings of new host
Balanced Scorecard Mechanism (Airbnb)
1) Financial Performance
(What actions contribute to Airbnb's financial performance?)
Goal: Increase amount of Airbnb's hosts in smaller communities
Measure: Net Income and Return on Investment (ROI)
2) Customers
(How well does the company serve its customers?)
Goal: Customer Retention and Satisfaction
Measure: Through customer surveys and new hosts ratings
3) Internal Business Processes
(What internal activities and processes add value to the customers and shareholders?)
Goal: Ensure new hosts has the necessary tools and resources to meet the Covid-19 safety guideline.
Measure: Weekly feedback from new hosts
4) Learning and Growth
(Is Airbnb learning, changing, and improving?)
Goal: Reach new geographical areas and new consumer markets
Measure: Social media followers and website sign-ups.
Conclusion
A Balanced Scorecard is a powerful tool that aligns business activities in line with its vision, mission, and strategy and helps organizations measure things that are very important for their growth and prosperity. Viewing an organization from 4 different perspectives (Financial, Customer, Internal Processes, and Learning and Growth) improves the firm's internal and external operations. Companies like Airbnb often face problems like competition and trust issues. A balanced Scorecard can be of extreme help by guiding top management on what should be done in such cases.
. . .
References
https://www.hospitalitynet.org/opinion/4082318.html
https://www.cvent.com/en/blog/hospitality/what-is-the-hospitality-industry
https://www.grin.com/document/426904
https://smallbusiness.chron.com/balance-scorecard-systems-used-hotel-industry-78198.html
https://corporatefinanceinstitute.com/resources/knowledge/finance/balanced-scorecard/
https://www.ionos.com/startupguide/productivity/balanced-scorecard/